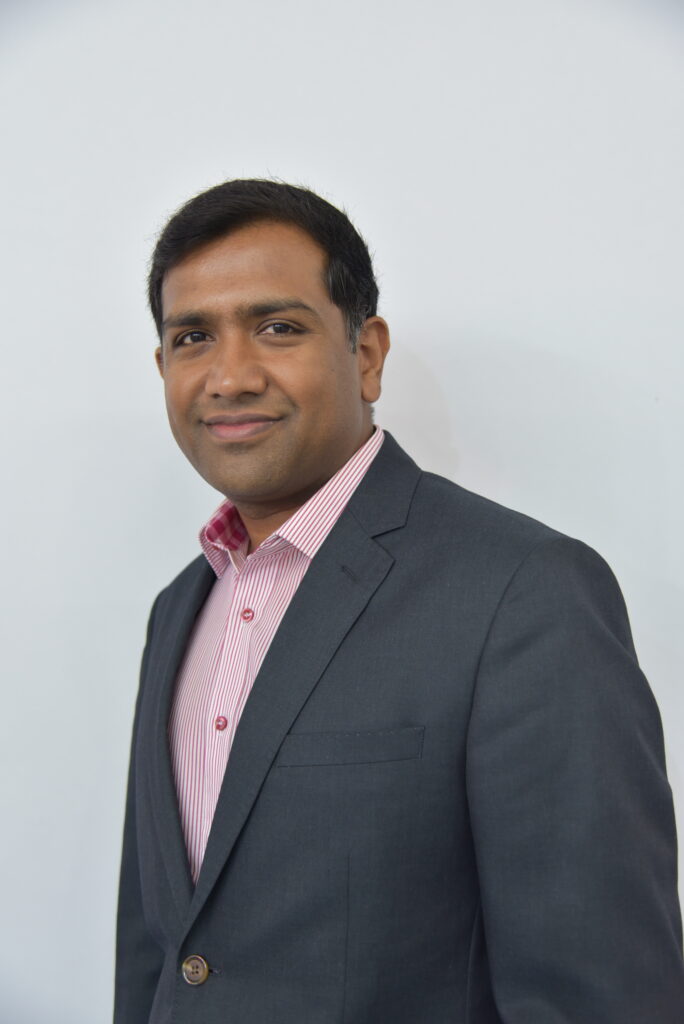 The next development stage of the mobile network is 5G. This new technology allows a significantly higher data capacity and extremely fast response times. This opens up completely new potential applications for a fully connected society.

Electronics Maker spoke to Mr Deepak Bachu, Director & Country Head Sales – Power & Sensor Systems, Infineon Technologies India to understand the status of 5G industry; opportunities and challenges; and the road ahead.
1. How important is 5G for Infineon?
End-to-end 5G networks are critical for seamlessly connecting people, businesses, machinery, and automated processes. 5G only works if every part of the network architecture is ready: across fixed and wireless massive scale access, transport, and core. Any network is as slow as the weakest linking connection. Telecom wireless infrastructure has been a focus application within Infineon for a long time already, including dedicated teams with a good understanding of the market requirements.
With 5G, we from Infineon can bring in even more than before, our strengths onto the table: namely high quality products supporting highest efficiency & power density as well reliability of end products & systems. Within 5G especially massive MIMO is driving the energy consumption up significantly, hence we believe that energy efficiency will become a very important topic.
2. What do you see as the key transformation trends in 5G era?
5G will offer greater bandwidths of up to 10 gigabits per second and extremely low response times. That enables a much faster transmission rate and meets growing communication requirements in an increasingly networked society. 5G will require considerably less power for data transmission: Compared to the previous standard, 5G needs only a thousandth of the power for each transmitted bit. This opens up completely new potential applications for a fully connected society.
5G is addressing mainly three areas with significant improvements compared to 4G:
higher bandwidth
low latency and
enabling connection of much larger number of connected IoT devices
All of these areas will transform our daily lives in multiple areas by enabling Smart Cities, Smart Buildings and a lot of new use cases including remote surgery, autonomous driving etc.
3. According to you, the vital role of semiconductors with the augmentation of 5G technology?
Semiconductors play the most vital role in achieving the key requirements of low power consumption, low latency, reliable network, secure communication and wider frequency spectrum. Implementation of 5G leads to a massive increase of the Capex and Opex of Mobile Network Operators (MNOs). Advanced semiconductor technology paired with new system architectures has the potential to help reducing the Capex and Opex of the MNOs. Some examples include increased power efficiency and power density by deploying advanced semiconductor technologies like wide bandgap devices like GaN and SiC.
 4. What are the biggest challenges in rolling out 5G?
Availability of spectrum, ecosystem for both infrastructure and mobile devices, region specific use cases and user adoptability
One of the major challenges in 5G is that Capex and Opex for the implementation and operation is very high for MNOs, whereas use cases for 5G will need time to develop. This can potentially lead to a delay in getting ROI for the MNOs or alternatively slow down the 5G deployment speed.
As we mentioned above we are glad to contribute to the reduction of Opex & Capex from our side in order to mitigate that risk.
5. What is next for 5G?
While both network infra and mobile device manufacturers are already gearing up their operations in India for the 5G roll-out, we all eagerly await the 1st step towards spectrum availability.
6. Assuming life goes back to normal in the near future, what sorts of things do you expect to see 5G enabling in health care
With the possibility of 100x faster transmission, 1000x greater data capacity and a highly reliable network offering, 5G can greatly benefit in enabling a whole new plethora of use cases for the health care sector. However, too early to comment on the specifics.
Especially low latency feature of 5G will enable topics like remote surgery in similar applications / use cases.
7. Is India ready for 5G? Is R&D, indigenous capability, ecosystem ready to spur in the market?
The new norms pervading into all walks of our lives, with digitalization and virtualization of anything and everything, demand for data is exploding multi-fold and so is the number of users. So, we probably are at the verge of looking beyond 4G. Government initiatives like PLI scheme and mandates on safe and secure telecom networks are pushing both local and global players to intensify local development and manufacturing. It is encouraging to see more and more local value add. Thanks to the adoption of an open RAN architecture, enabling the participation of new and small players.
8. Why will GaN be key to feeding power-hungry 5G networks?
Gallium nitride (GaN) offers fundamental advantages over silicon and will be the technology of choice owing to the trend towards small form factors, high efficiency, low operational & maintenance costs and reliable networks. For a deeper understanding of the relevance of GaN technology in telecom power supplies, please refer to the white paper on our website.
9. In what applications is GaN overkill today?
GaN technology creates the most value wherever (I) highest power density (e.g., charger/adapter or server applications.) or (II) highest efficiencies (e.g., server, telecom applications) are desired. On top of that, GaN offers "ease of integration" via lateral device structure, making it very easy to use (e.g., the CoolGaN™ Integrated Power Stage (IPS) 600 V from Infineon).
10. Can you share a little about the company's plans for GaN for the next two to three years?
Infineon's CoolGaN™ – a new power paradigm, offers outstanding specific dynamic on-state resistance and smaller capacitances compared to silicon MOSFETs, which makes GaN HEMTs great for high-speed switching. Not only because of the resulting power savings and total system cost reduction, but it also allows a higher operating frequency, improves power density as well the overall system efficiency. The most important feature of a GaN power transistor is its reverse recovery performance. As Infineon's CoolGaN™ transistors have no minority carriers and no body diode they do not exhibit a reverse recovery. This enables the use of CoolGaN™ in topologies such as the CCM totem-pole PFC, which exhibit an excellent cost vs. performance ratio, thus becoming more and more popular in SMPS for Telecom 5G applications.
 11. What are some GaN related milestones for Infineon?
Ultimate efficiency and reliability: Infineon's CoolGaN™ is a highly efficient GaN transistor technology for power conversion in the voltage range up to 600 V. With a long experience in the semiconductor market, Infineon brought the e-mode concept to maturity with end-to-end production in high volumes. The pioneering quality ensures the highest standards and offers the most reliable and performing solution among all GaN HEMTs on the market. Reliability is a crucial requirement in Telecom 5G systems to minimize the operation and maintenance costs. Due to pinpoint deployment, these costs are really relevant and significantly impact the OPEX.
Infineon as a key player in the power semiconductor market, is continuously investing in WBG technologies. For GaN specifically, we are increasing our capacity for high volume by going to 8-inch in-house production, owning the whole supply chain from frontend to backend.
Next to moving towards integration – Infineon just has recently launched its CoolGaN™ Integrated Power Stage (IPS) 600 V half-bridge device, we are further expanding our portfolio in voltage classes in the high- and mid-power range and also further, highly integrated GaN solutions (including controllers and safety features) are on our roadmap.
The EiceDRIVERTM family of single- and dual-channel, isolated and non-isolated gate driver ICs complement the high-voltage CoolGaNTM HEMTs, simplifying system design and aiding faster time to market. For more information on the gate drive solutions for the CoolGaN™ 600 V HEMTs, please read this white paper.
Visit us for more info:
www.infineon.com/gan or www.infineon.com/telecom