(Waterbury, CT USA) –Feburary 21st, 2019 – MacDermid Alpha Electronics Solutions', Assembly Division has achieved the International Automotive Task Force (IATF) 16949:2016 certification for its Dunaharaszti manufacturing site in Hungary.
Antoine Pouwels, Director of Quality for Europe at MacDermid Alpha, presented the certification to the Dunaharaszti site. ¨Attaining the IATF 16949 certification demonstrates our commitment to producing high quality solutions for the automotive electronics market", comments Antoine. ¨The IATF 16949 is recognised by leading automotive manufacturers and OEMs worldwide as it ensures suppliers implement and maintain rigorous systems of control to produce the highest quality products with no errors."
As well as the Dunaharaszti site, MacDermid Alpha Electronics Solutions achieved the IATF 16949 certification for all Assembly manufacturing sites globally. The IATF 16949 puts emphasis on defect prevention, continual improvement in the overall supply chain and reduction of waste. It aims to create a culture where employees instinctively strive to fulfill and even exceed customer expectations.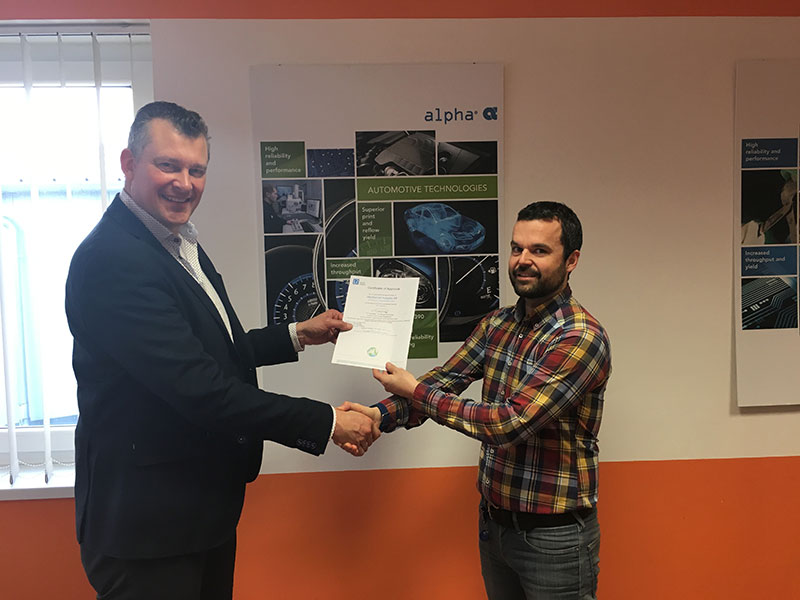 MacDermid Alpha's products for Automotive electronics from its Assembly division include solutions to improve reliability and performance for both ICE and EV/HEV powertrains, as well as ADAS applications and LED lighting. For more information visit the Alpha website.
About MacDermid Alpha Electronics Solutions
Through the innovation of specialty chemicals and materials under our Alpha, Compugraphics, and MacDermid Enthone brands, MacDermid Alpha Electronics Solutions provides solutions that power electronics interconnection.  We serve all global regions and every step of device manufacturing within each segment of the electronics supply chain.   The experts in our Semiconductor Solutions, Circuitry Solutions, and Assembly Solutions divisions collaborate in design, implementation, and technical service to ensure success for our partner clients.  Our solutions enable our customers' manufacture of extraordinary electronic devices at high productivity and reduced cycle time. Find more at MacDermidAlpha.com