For Improved Thermal Management on Bottom Termination Components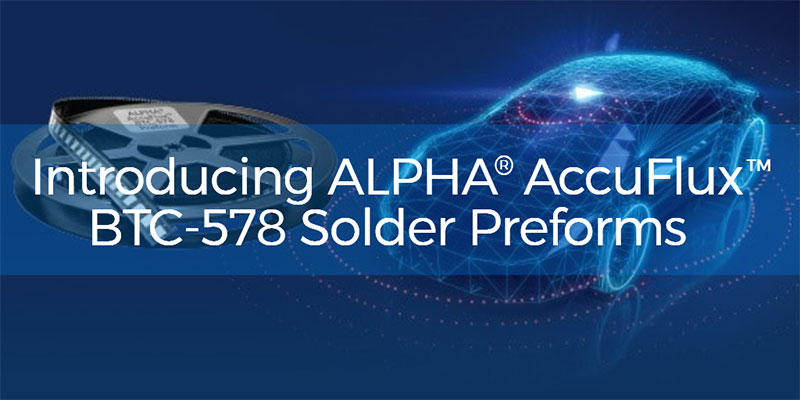 Somerset,NJ–October 30,2018–Alpha Assembly Solutions, the world leader in the production of electronic soldering and bonding materials, has recently introduced ALPHA® AccuFlux™ BTC-578 Solder Preforms, designed to enhance reliability and heat transfer through the reduction of voiding under bottom termination components (BTC).
"Voiding requirements are becoming more challenging as component packages shrink and power densities increase", said Paul Salerno, Global Portfolio Manager for SMT Solutions at Alpha Assembly Solutions. "With the rapid market expansion for smaller, more economic packages, we saw the need to develop a technology for effective thermal management and predictive reliability.  Our AccuFlux™ technology enables precision controlled micro-flux coating of the solder preform to promote repeatable wetting, spread and voiding for large area solder attach applications.  This leads to consistent void reduction and maximizes the mechanical integrity of the solder joint".
Available in tape and reel packaging for fast placement and seamless integration on existing SMT production lines, this new preform technology is offered in all SAC, Innolot and low-temp SnBi alloys.
For more information on ALPHA® AccuFlux™ BTC-578 Solder Preforms, visit the Alpha website.