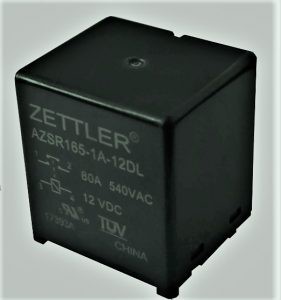 Solar inverter solutions including scalable battery storage options are becoming increasingly popular.
One of the application challenges in these systems is to connect/disconnect the battery block to/from the inverter's control circuitry.
Advertisement

A major clean home automation company approached Zettler seeking a solution that required switching of a 125 VDC battery while carrying load and charge currents of up to 50 Amps. Typically this would be an application scenario for high power DC contactors.
In close cooperation with customer engineering, Zettler's team found an appropriate solution through reduction of the switching current down to 1.5 Amps by means of smart software controls. This measure fully enables AZSR165, a cost-effective solar AC relay, to fulfill the requirements of switching the DC path.
This elegant application-extension for one of many Zettler AC solar relays provided significant cost savings compared to the use of a DC contactor.
As an authorized distributor for ZETTLER, Heilind Asia provides ZETTLER's products and also value added services. Heilind Asia supports both original equipment and contract manufacturers in all market segments of the electronics industry, stocking products from the industry's leading manufacturers in 25 component categories, with a particular focus on interconnect, electromechanical, fastener/hardware and sensor products.