PowerSquare an exciting start-up in the wireless power industry, delivers innovations around existing standards, offers strategy consulting and design customization to educate developers as they integrate wireless power capabilities into their products. PowerSquare most recently launched its Qi Wireless Charging Pad using adaptive position-free (APF) technology and allowing multiple devices to charge at once. Since it was founded in 2012, PowerSquare has grown to include offices in India, Hong Kong, and the U.S. PowerSquare is currently run by Pavan Pudipeddi, a wireless power industry veteran.
Interview with Pavan Pudipeddi, Chief Executive Officer, PowerSquare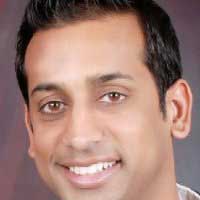 About Pavan Pudipeddi
A wireless power industry veteran, Pavan helped build PowerSquare and is responsible for the firm's vision and strategic direction. As part of the Wireless Power Consortium management team, during his tenure at TI, from 2008 – 2013, he has played an integral role in building major industry alliances that have shaped today's market. Pavan also brings extensive experience from Texas Instruments' Battery Management and Wireless Power division, holding multiple managerial roles over a decade. Prior to Texas Instruments, he held various engineering and marketing roles at National Semiconductor, a $1.4 billion semiconductor company acquired by Texas Instruments in 2011.
Pavan was a vital member of the teams that created the industry's first USB fast charger for mobile phones, wireless power evaluation module, and mobile integrated wireless power system. He holds a Master's degree in Computer Science from Texas A&M University in Kingsville and earned his B.S. in Electrical Engineering from India's Shivaji University.
Give us some background on PowerSquare. When and where was the company founded?
PowerSquare was founded by my friends, Naveen Chava and Anandaram Katragadda, in Bangalore, India. They started an electronics design services company in 2010 and saw tremendous success, placing them on an aggressive path to growth.  As they began looking to expand their presence to other markets, I convinced them to invest in the wireless charging space.  In 2013, I joined them as their partner, Managing Director and CEO.

What is the key initiative for the start up of PowerSquare?
This management team shares a common vision of building a valued brand in the mobile device sector. Given our background in wireless power and its relevance to today's consumer interests and behavior, we've embraced an ideal platform to enter this space and to create momentum behind the PowerSquare brand with innovative and differentiated products.

What products and markets have you served?
While PowerSquare and wireless power is our first consumer-focused venture, the leadership team has a proven track record at various Fortune 500 companies.  The leadership team brings extensive experience in the wireless and semiconductor industries through roles at companies such as Texas Instruments, National Semiconductor, the Wireless Power Consortium, and several others. PowerSquare executives have already contributed to some of the wireless world's biggest milestones, including the first mobile USB fast charger and the first smartphone embedded with wireless power.

Where does the company undertake its research and development?
The majority of our R&D effort is based in India.  We have other offices in Austin, Texas and Hong Kong.  We're looking to expand our engineering operations in the US to be closer to our current customer base.

How are you seeing the evolution in the wireless industry? What are the key influencing technologies?
The wireless industry and mobile phones in general, have improved connectivity across the planet and into remote areas of India. We believe the following two technologies will significantly influence the wireless industry moving forward:
i.      Mobile payment systems – swift, simple financial transactions and accountability of money. Some African countries have embraced this where small transactions like grocery payments are made by mobile phones. India's mobile market is tremendous and therefore, creates significant opportunity for the mobile money industry to grow.
ii.      Eliminating battery anxiety: the biggest worry for most people these days is not about their work or personal life, but is instead about their phone running out of battery. Their entire life revolves around being able to use the mobile phone.  Technologies like wireless power and improvements in general battery technologies can drastically change how these devices will be used in the future.
What are the innovations you are bringing in wireless marketplace?
We're focused on developing differentiated solutions to the wireless power marketplace.  Our first contribution to this space is the Adaptive Position-Free system (APF), which gives the ability to charge multiple phones simultaneously while offering a reasonably large area to charge the devices without needing to worry about placing the device in a specific spot. The best feature of our system is its compatibility with millions of devices that are already using the widely adopted Qi technology from the Wireless Power Consortium. We will continue to develop technologies and innovate around the existing standards. We understand the nuances of the core technologies behind various consortia, namely WPC, PMA and A4WP. As a result, our plan is to ensure that our products complement these standards, while at the same time provide ample differentiations to product line, enhancing our brand.

PowerSquare has developed patent pending technology called Adaptive Position-Free (APF) system that simultaneously refuels multiple Qi-compatible devices, what is this, and what is its impact on wireless charging products?
There are three major consortia working on wireless power and its specifications. While they have differences in how the technology works, they are all trying to reach the same set of capabilities (below).
Free Positioning: The ability to charge the device on a large surface with having to align on a specific point.
Multi-Device Charging: The ability to charge multiple devices simultaneously.
Safety: The ability to meet all safety and regulatory requirements
Backwards Compatibility: The ability to provide new features to already released devices
The good news is that no matter which technology group wins, wireless power will eventually improve consumer experience.  The bad news is that consumers who invest in this technology now will not reap the complete and ultimate benefits of the ecosystem's evolution. With our market ready Adaptive Position-Free (APF) System, consumers don't have to wait for the standards to evolve to solve the challenges mentioned above.  The APF system bridges the fundamental gaps that the consortia are trying to resolve. Our patent pending APF system bridges these gaps, and does so today as it:
Provides a large charging area with emphasis only on charging rather than worrying about properly aligning the phone to the pad
Charges multiple devices simultaneously
Most importantly, our system can charge on all upcoming Qi compliant devices, extending the enhanced user experience to all the early adopters of wireless charging technology
What gives PowerSquare the edge in the competitive wireless marketplace?
Two things: cost-effective implementation, and backwards compatibility with existing devices.  Other companies with similar technologies either have high implementation costs or require changes in the devices to be compatible with the features they provide.   Our APF system puts no such requirement on the RX device—all Qi compatible devices will charge on our pad.  This gives us a big edge, as we don't have to spend our energy convincing the OEMs, ODMs, and other organizations of the system's quality.  Instead, we're able to focus on developing our product and leverage the already existing and growing number of Qi compatible devices.

What is your vision about wireless evolution and its key drivers?
Given our focus in the wireless power market space, our vision is to make the world free of cords, albeit a mobile device, or a kitchen appliance.  We imagine a world where people move from point to point without worrying about plugging in their devices. Fortunately, we share this vision with our partners and competitors, so we don't have to do this by ourselves.  I believe the key drivers, though, are the major OEMs.  They have an opportunity to put an end to standards wars and put their might behind a technology and group.  The end user is ready for this technology.  However, competing standards are a major reason for this technology not being as widely adopted as we would have liked.
      10. What makes India a major market for wireless products?
India is the fastest growing smartphone market in Asia, according to IDC. Ericsson also recently found that Indian consumers spend an average of 3 hours and 18 minutes on their smart phones which is higher than the typical U.S. user at 2 hours and 12 minutes. This, combined with India's large youth population (more than 50% under 25 years old), will continue to drive the adoption of mobile device use. We are ready to take on new technologies, specific to the Indian market and its challenges and opportunities. Ultimately, the OEMs have an opportunity to "grab the bull by the horns" and introduce technologies that may or may not be widely available outside India.
     11. How have been you successful in the market? What is the growth you are expecting in India?
We have just introduced our flagship APF system.  We have been receiving great coverage in the online community, and are inundated with feedback and responses directly from consumers showing their support and willingness to purchase our product.  Our first focus is to leverage existing market opportunities in the US and Europe. We are working in parallel with various players in India to drive adoption of wireless power in general.
      12. Tell us about your distribution network and market strategies.
We are evaluating both online and brick and mortar retail channels.  We will initially launch our product via online stores and will expand our retail product line. Specially for the APF technology, we're looking to collaborate with other brands to develop products such as blue tooth speakers, powerbanks, and other devices integrated with our technology.  To enable this market segment, we're collaborating with a large distributor who would sell our module which could then be integrated into various end products.
      13. Do you have plans for India in coming years?
As mentioned above, we are working with major OEMs, online and retail outlets to not only drive our products but also to further the growth of wireless power adoption in general.  Our vision is to collaborate with private and government sectors in bringing wireless power charging stations across India.  We envision a cord-free India and we welcome any company interested in joining us in this wireless power revolution.