The 2020 International Quality Festival was held in Tianjin, China on July 29, 2020, with the theme "Quality Creates the Future". The Festival was jointly launched by several CCTV public welfares and more than 200 China Medias. To recognize the contribution of Chinese quality manufacturing practitioners, innovators, and leaders, the organizer specially set up "The 2020 Quality Award". By commending their extraordinary achievements and contributions, it will encourage and inspire more companies to pursue the high-quality development of China's economy.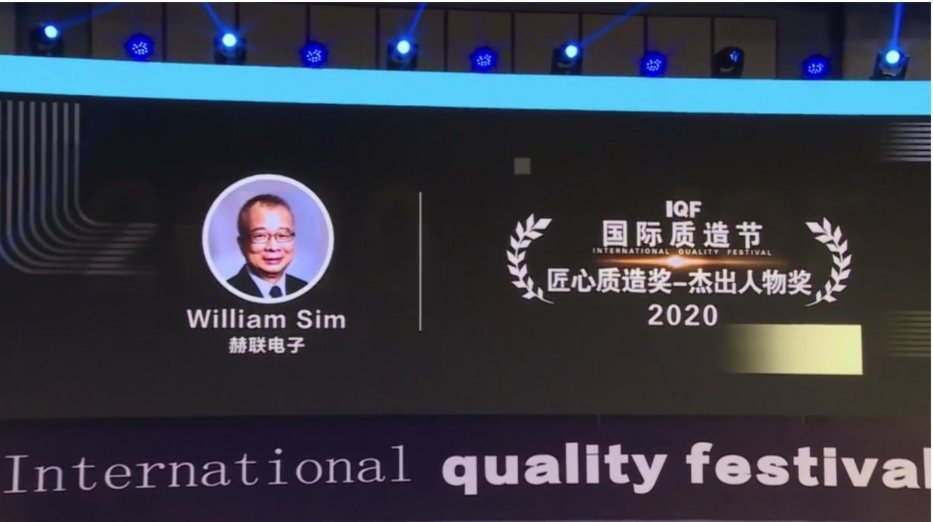 According to the information disclosed (including public information, media exposure, etc.), William Sim, President of Heilind Asia Pacific, was nominated for "The 2020 International Quality Festival – Outstanding Personage Award". The organizer formed a review committee by well-known research institutions, consulting agencies, experts, scholars and media leaders. On the basis of the quantifiable data comparisons according to the comprehensive assessment system approved by the review committee members, William has been highly recognized in his positive influence, impetus, strong sense of social responsibility, and perceptiveness, he finally won "The 2020 International Quality Festival – Outstanding Personage Award".
William has been the President of Heilind Asia Pacific since 2012, with his over 30 years of extensive industry experience, has made outstanding achievements in the industry's leading semiconductor manufacturers and global distributors. Under the leadership of William, Heilind Asia Pacific built a significant presence in the Asia Pacific market, established 24 branches, maintained over 150 authorized industry-leading manufacturers, and achieved 23 consecutive quarters of growth. William is also committed to giving back to the community with the core values of Heilind Asia Pacific. Together with Heilind Asia Pacific staffs, he has supported many charitable activities in Thailand, Vietnam, Singapore, Hong Kong, and Mainland China. He firmly believes that corporate social responsibility is one of the corner stones in seeking success and excellence.
Meanwhile, William said: "This award is a strong endorsement of our corporate culture and achievements of the whole group of Heilind Asia Pacific employees. Whether it is to provide the market with the most innovative and practical products and solutions or to serve the society, I believe the support from a such strong and committed group is the key. Heilind Asia Pacific will continue to bring these core values to the society."
Heilind Asia supports both original equipment and contract manufacturers in all market segments of the electronics industry, stocking products from the industry's leading manufacturers in 25 component categories, with a particular focus on connectors, relays, switches, thermal management & circuit protection products, terminal blocks, wire & cable, wiring accessories, insulation & identification, fastener/hardware and sensor products.