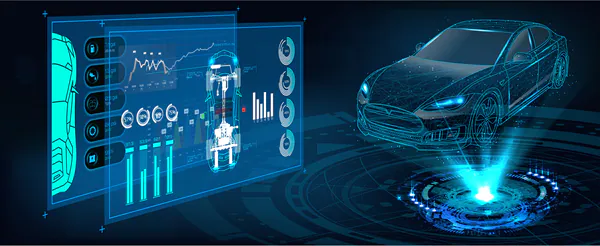 "Software-defined vehicle" is a term that describes a vehicle whose many key features and functions are enabled through software. This shift results from the automobile's evolution of a hardware-based, functional tool to a software-centric user experience. Beyond unlocking new safety, comfort, and convenience features, the software-defined vehicle has several advantages compared to its hardware-defined predecessor while delivering superior performance. Future-generation software-defined vehicles will continue to improve safety and security features while adding increased autonomy, functional and safety-related software updates, and a software platform for connected services, such as infotainment.
Technology Overview of Software-Defining Features
Three primary categories drive automakers to increase sensors' use:
    emissions
    on-road performance
    passenger experience
These areas define the application of the sensors and provide insight into the emergence of software control.
Emissions Output
After the early oil, coolant, and fuel measurements, federal emissions regulations compelled automakers to upgrade their sensor technology to monitor combustion performance, leading to emissions output. Engineers developed manifold absolute pressure (MAP) sensors to control the engine's performance to limit emissions. MAP sensors measure manifold pressure, with which the engine's control unit calculates air density and mass flow rate. The combination of these parameters enables automated control of fuel dosing to maximize combustion. Operating as close to stoichiometric combustion chemistry as possible maximizes the extent of the combustion reaction, limiting undesired combustion reaction products that create harmful emissions.
Further tightening of automotive emissions regulations, first enacted in the early 1960s, drove automakers' need to increase the measurement sensitivity and performance of on-vehicle sensors. In response to this need, they developed microelectromechanical measurement systems (MEMS) sensors. These novel sensors, designed for engine control through pressure measurement, quickly expanded throughout the vehicle. Two intertwined factors of MEMS sensors make them adept for engine control: the integration of electronic intelligence with mechanically measured parameters and the small footprint the sensors consume on-vehicle. The marriage of these two factors provides an economical, high-performing solution for data capture and software control. With present-day vehicles manufactured with MEMS sensors that improve engine performance, reduce emissions, increase safety, and add convenience, software-driven combustion and emissions optimization continue to gain importance.
Improved On-Road Performance (Chassis)
Along with the benefits to powertrain performance, sensors measuring on-road performance at the chassis have advanced. This moment is the point where the features historically linked to vehicular autonomy reside. Examples of these applications include automatic braking systems (ABS), road noise cancellation, traction control, and automated parking. Sensors also measure vibration data for stability control, along with on-wheel tire pressure to prevent a blowout. The data collected enables the software to adapt the vehicle performance to mitigate excessive vibration and address tire fatigue without any action by the driver.
Principally, these features center around safety, although a secondary benefit is a smoother driving and riding experience. Engineers can use this data to design a more stable frame, optimize tire distances and positions for balance and support, and reduce the stop time by improving the ABS performance using traditional driving habits.
Like the way in which cruise control passively adapted to changes in the road grade or other driving conditions, software-driven operation delivers safety through improved driving performance, doubling the benefit of utilizing that approach.
Passenger Experience (Cabin and Exterior)
The third area that sensors have increased in prevalence is the cabin and exterior passenger experience through comfort, convenience, and safety. With the rise of smartphones and connected technology, automobile drivers have become users of the connected interfaces and customizable technology available in their vehicles. With safety at the forefront of the automotive industry, MEMS sensors have improved the deployment patterns and timing of front and side airbags. It also can more accurately predict when to activate headlights in the event of changes in ambient lighting conditions.
Regarding comfort, engineers can use the sensors' data to remember drivers' preferences and settings for features such as seat temperature and orientation in the cabin. Also, sensors can aid in navigation, while driver preferences with the user interface can guide software control preferences. Finally, increased exterior data tells the central processor when a vehicle is veering off course because of driver fatigue or other conditions. This feature dramatically improves safety through safeguarding vehicle operation and substantially reducing human error.
Amphenol ICC Minitek MicroSpace™ Connector System
To transform the car from a tool to an experience, consider working with solutions from Amphenol ICC, a division of Amphenol. They are a world leader in providing interconnect solutions for the Information, Communications, and Commercial electronics markets. Amphenol ICC designs and manufactures a wide range of innovative connectors as well as cable assemblies for diverse applications including server, storage, data center, networking, industrial, business equipment, and automotive.
Software-defined vehicles employ and rely on a variety of crimp-to-wire connector platforms. When designers require a platform requiring compact physical size, robust performance, and extreme versatility, they need look no further than the Minitek MicroSpace™ Connector System. Amphenol provides a range of advanced United States Council for Automotive Research (USCAR2) compliant connectors like Minitek Microspace™, which are compact and meet LV214 (European) Severity-2 standards enabling them to meet the performance specification for automotive electrical connector systems. The Minitek MicroSpace™ Crimp-to-Wire's compact design addresses the growing demand for miniaturizing components. The connector is capable of reducing the PCB footprint by 50 percent due to the increase in signal density. It is the right choice when high-vibration endurance, primary latch, TPA, CPA, Poka Yoke, Kojiri safe are required with flexible configurations (staggered, side-to-side 1 or 2 rows, side or top latching).
Takeaway
As electric vehicles gain more prominence, software-defined features that improve emissions output, on-road vehicle performance and driver experience, convenience, and safety will become even more integrated. When designers use local MCUs and MPUs to help process the vast amount of sensor data in real-time, they can leverage existing processing infrastructure to set the stage for software-defined cars to propel the autonomous movement.
Source: Mouser Electronics