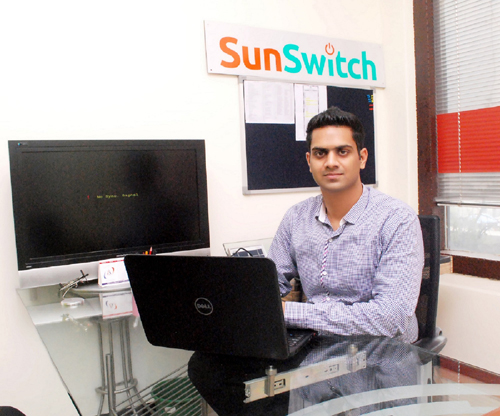 Founded in Nov 2013 by Mr. Abhinav Gupta, Sun Switch is a privately held company and is part of a Steel Conglomerate called Ambica Steels Limited, India's biggest speciality stainless steels long products producer. The company's core competency is to deliver turn-key solar rooftop projects on EPC (Engineering Procurement and Construction) basis. The company has a growing portfolio of rooftop solar power projects, both grid-connected as well as off-grid and has already installed approximately 120 kWp of solar power plant capacity in less than three quarters since its inception.
Interview with Mr. Abhinav Gupta, Founder & CEO, SunSwitch
1. Introduce SunSwitch to our online readers?
SunSwitch is a solar energy solutions provider. We cater to type of consumer needs mainly: those who are suffering in the large energy demand-supply gap that exists in India as well as those paying high energy tariffs due to rising costs of conventional energy. We have a bouquet of services, from pre-feasibility assessment, consulting all the way to project execution, commissioning and operation and maintenance.
Sun Switch has a strong team of power professionals and solar system engineers. Its core competency as on date is to deliver turnkey solar rooftop projects on EPC (Engineering Procurement and Construction) basis. Sun Switch has a growing portfolio of rooftop solar power projects, both grid-connected as well as off-grid. It has installed approximately 120 kWp of solar power plant capacity in its short history benefitting many consumers.
Sun Switch India Private Limited was incorporated in 2013. It is a venture of M/s Ambica Steels Limited, Delhi. Ambica is a family owned business and is a manufacturer and exporter of Stainless Steel Long Products since 1970. For those who want to know more about our parent company, please visit www.ambicasteels.com
2. Why solar technology and what are your specific solutions for solar Industry?
The biggest opportunity for Sun Switch lies in the growing substitution of renewables in the current energy mix of Delhi NCR and the rest of India. It firmly believes that the demand-supply gap in the power sector of India can hardly be met through the conventional sources of power, without causing serious environmental and economic degradation.
Sun Switch provides services major energy segments of the market and due to its core engineering competency, holds the ability to produce niche solutions for specific energy needs of a consumer as well. Some our solutions on offer are described below:
Existing Solutions
Sun Switch Grid-Connected Systems: These are systems meant for the metropolitan rooftops, like government buildings, commercial complexes, hospitals, schools, industries, etc. These systems are very efficient and flexible and mature. They are an ideal way of slashing electricity bills for these customers. These can vary in capacity ranging from 5 kWp to multi MW's.
Sun Switch Hybrid Systems: These systems are PV+Battery+Grid/No-Grid systems. These are generally systems providing power to small consumers of energy. These generally include batteries as backup in the absence of grid. These are ideally suited to areas with interrupted power or no-power. These are ideal for distributed power generation.
 Upcoming Solutions:
SunSwitch Integrated Solar+Diesel+Grid Solutions: These are highly intriguing solutions. It caters to the needs of consumers paying high diesel fuel bills due to intermittent or no power supply.
SunSwitch Solar Water Pumping: Ideal for farmers and remote areas where electricity is absent. Very flexible with a long and reliable service life.
SunSwitch Solar Home Lighting Systems: These are high quality Lithium-ion battery bank based solution made at dirt cheap prices for the Indian sub-urban/rural consumer.
3. Which are the favourable factors impacting the growth of solar technology in India?
The favourable factors impacting the growth of solar technology in India are numerous. Here I would like to discuss only two:
Government Spending: The Indian government and various public organizations have been the most active buyers of Solar energy technology and solar PV electricity. India is implementing projects that are larger than any other country today. In the pipeline are projects that are up to 1500 MWp in a single location, something that has not been attempted anywhere else in the world as on date. In the larger scheme of things, the Indian government can potentially gain significantly if it taps its vast solar resources to produce energy and reduce oil and coal import.
Energy Demand-Supply Gap: Unlike most developed nations that have seen major deployment of Solar energy technologies, India is unique in its endless hunger for energy. We are a country starved for reliable and clean power. Large hydro-projects, coal mining and nuclear power plants have all faced stiff opposition from the people of our country. The technology will develop then to cater to all these people, at prices that are affordable along with some some from the banking sector as well as the government.
4. Let us know about your past and current projects?
Past Projects
| | | |
| --- | --- | --- |
| S.No. | Location | ORDER SIZE (KWP) |
| 1 | Punjabi Bagh, Delhi | 5 |
| 2 | Sahibabad, UP | 18 |
| 3 | Faridabad, Haryana | 23 |
| 4 | Maharaja Agarsen Institute of Technology, Rohini, Delhi | 23 |
| 5 | Patwari Kaabagh ,Lal Kuan Ghaziabad, UP | 20 |
| 6 | Transport Center, Punjabi Bagh | 10 |
| 7 | Plot No 32,Loni Road Mohan Nagar Sahibabad | 18 |
| 8 | Bulandshar Road ,Lal Kauan Cheeprola Ghaziabad | 5 |
| 9 | No. 37 ,Vasundhara, Ghaziabad | 5 |
| 10 | Sidharth Enclave ,New Delhi | 2 |
|   | TOTAL | 129 kWp |
Upcoming Projects
| | | |
| --- | --- | --- |
| Sr. No | Client Location | Capacity |
| 1 | Faridabad | 550 kWp |
| 2 | Patparganj | 75 kWp |
| 3 | Mohan Nagar | 250 kWp |
| 4 | Lal Kuan | 250 kWp |
5. What are your company advantages offerings to the customers?
SunSwitch is a Solar EPC company where we engineer a solution for your energy consumption patterns​ and expertise in providing solar energy solutions ​to commercial, industrial, and utility clients across India.
We don't only cater to B2B but covers B2C segment by providing various supportive schemes. Our overall journey has been wonderful in the B2C segment, the response we have received from our house owners are very satisfactory and up to the mark. The total number of products we have installed so far in the households are generating 2 kWp hybrid system at Siddhartha Enclave, New Delhi and 5 kWp hybrid power at Punjabi Bagh, New Delhi and we are in the process of installing across other cities as well. The installation process are done by our most reliable and experience team and this can be designed / customised as per the requirement. SunSwitch also provide​s service backup for all our installation​s, which is on-going technical support​​​for a hassle free solar experience.
6. How are you eying India opportunity?
As mentioned earlier, India as part of the BRICS nation is in a peculiar situation: Great hunger for reliable energy, lack of options for actually catering to the energy needs of its growing economy from conventional sources of energy and abundant sunshine. Sooner or later, we can see that solar power would have to shoulder the responsibility of effectively reducing the dependence on expensive coal and petroleum imports. India receives enough sunlight across the country to one day become truly independent from these commodities. We believe that at the rate of adoption we are at in India, we should be at an inflection point by around 2017-18 wherein the acceptability of solar would increase and it would be affordable for the larger masses of our country.
7. Are you targeting other regions as well?
SunSwitch is currently present in Delhi NCR and Uttar Pradesh. These two markets are representative of the entire nations energy scenario. On the one side, we have a state with high power availability and high power tariffs. On the other hand, we have UP with high power absence and low energy tairffs at the same time. As we learn from these markets, we will also be growing into other markets like Maharashtra and Rajasthan to cater to the energy consumers in those states.
8.Your comments on Government support for solar industry boost?
The Indian government has been the strongest promoter of Solar Power in India. This has happened through their flagship scheme, the Jawaharlal Nehru National Solar Mission. This has caused a great spur in execution of MW scale projects. We are currently in the second phase of the JNNSM and it has been a mixed support from the government so far. Anti-dumping duties are in the pipeline on cell and panels from certain countries like the US and China. The Off-grid scheme which was really popular (the subsidy scheme for project below 100 kWp) has been suffering due to lack of funds and it might even be scrapped all together as per the latest information after being increased. On the positive side, we have large project coming from the centre under the JNNSM scheme, and we have seen Uttar Pradesh and Haryana providing an opportunity this year for a total of 350 MWp project capacities. All in all, the intention is certainly there, however there is a lack of policy clarity, direction and probably the nation is also learning to how to best utilize our abundant solar resource and our limited funds.