The growth of the smart home industry is highly driven by a large base of internet users, increased adoption of smart devices, the increasing trend of healthy lifestyles, cost reduction measures, rapid proliferation of smart gadgets and the need for energy- saving and low carbon emission solutions as well. Atomberg's Gorilla ceiling fans are equipped with brushless DC motors and operate noiselessly while producing excellent air circulation in the room. The best part about these fans is that they consume 65% less energy than regular fans. Atomberg already captures 10% online market share of ceiling fans industry and is poised to grow its online business by another 3x. Manoj Meena, CEO and Founder of Atomberg Technologies spoke to Vaishali Umredkar of Electronics Maker more about their innovations and research, technology, future plans and market growth. Excerpts: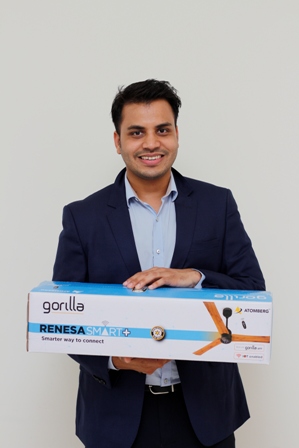 Can you share the history of Atomberg with us? What initiative has been taken by Atomberg in launching smart tech products in the market?
I graduated from IIT Bombay where I also completed my B-tech and M-tech in Electrical Engineering. Atomberg Technologies was founded in 2012. Initially, we were based out of the incubation center at the campus and started exploring different ideas for energy-efficient devices and home appliances that would be a right fit for the smart homes market.
For the first three years, we bootstrapped by executing projects for various research institutes like IITs, DRDO, ISRO and BARC. These projects were related to motor controls, software development and hardware design. This helped us to learn more about electronics hardware and motor design.
With the basic technology fundamentals in place, we started looking out for a scalable product. We then decided to shift our focus from B2B to consumer products in 2015. We began identifying smart homes as an emerging category with potential for growth and decided to take an existing product smarter, strategically. We were earlier biased about motor-based appliances and understood that most of the home appliances are actually motor controlled like fans, mixer-grinders, air conditioners, washing machines and refrigerator compressors.
According to you, what attracted you to start with ceiling fan as your first smart home product?
There were multiple criteria behind choosing the ceiling fan. The most important factors are:
Business size- The ceiling fan market size is approximately a Ten Thousand Crore in India. It continues to grow at the rate of 7-8%, turning out almost 60 million units every year.
Manufactur ability- Manufacturing can be a challenge for any start-up. We observed that in ceiling fans, if we design the motor the product was almost finished. The accessories were easy to manufacture.
Market Validation- We started meeting retailers and distributors and asked them if they would purchase the ceiling fans that would be much smarter and more energy-efficient. We were encouraged by the positive response received from distributors and retailers.
Competitors in the ceiling fans industry: While researching about the competitors, we realized that there wasn't much innovation introduced in this category by the incumbents and established brands of the industry. They were using decades-old induction motor technology which is inefficient.There was a possibility to differentiate ourselves by innovating the motor technology.
Please share your journey of making smart fans.We introduced our first prototype of the BLDC motor fan in 2015 and the results astounded us. Unlike regular fans which consume 75-80 watts of power, this prototype consumed on 28 watts! That's almost 1/3rd its power consumption. Even before our launch, we received 1500 pre-launch bookings from various players in the market.
We then made our business plan and validated the market before raising our initial round of funding. Earlier we were functioning from a very small office at the IIT Bombay campus. We shifted to Navi Mumbai in 2015. We have a full-fledged manufacturing plant with the capacity of manufacturing around 50,000 units a month. Our team has, in fact, increased from 5-6 members to more than 300.
In 2016, Atomberg Technologies listed its products on Amazon, Flip-kart and atomberg.com. This was the first step towards interacting with real household customers. Much like LED is considered to be energy-efficient in the lighting industry, our products play the same role in fan industry.
We launched our new range of products keeping their feedback in mind. These are remote-controlled fans integrated with smart features like timer mode and sleep mode.
How has Atomberg proved to be a pocket-friendly product in the long run?
When we launched the product in 2015, our key value proposition was energy efficiency. We focused mainly on B2B players like educational institutions, hospitals and industries who were aiming to savings with reference to electricity bills by being energy efficient. Fans help in saving up to Rs 1500 per fan every year. Atomberg Gorilla Fans consumers can, in fact, recover their costs in less than two years! Furthermore, Atomberg also offer our customers a three-year warranty.  As most customers understood that motor technology, we received positive feedback that they are aspirational and interested in smart looks, design and innovative technology.
Atomberg Technologies, as a brand, considers itself a motor technology company.We believe that motor technology can bring better value and experience to customers. In short, energy efficiency is an integral part of all the products. We now have a better understanding of the consumer, about distribution and the online market.
We have completely redefined the look and feel of the product. Unlike traditional fans on the market that can only use metal bodies, we exploited the low heating feature of our motors to integrate electronics to make them smart and started using different grades of plastic in the casing. This has enhanced our product quality because it is more aesthetically pleasing. Our new design also uses a bottom plastic diffuser and is an integrated LED interface. Our innovations have made the retailers get interested since the existing players were only focusing on better coatings and anti-dust fans.
How are you expanding your business into general trade? 
Our digital marketing is doing very well, owning almost 15% of the online market. We started exploring the distribution and general trade by 2018. Since we were based out of Mumbai, we experimented by launching a pilot there. It was easy to place the product, because retail shops understood the product, its new technology and the value it could offer to the customers. Additionally, retailers helped us understand that the market is shifting towards the premium category in the smart products' market. This encompassed ceiling fans priced at Rs 2000 and beyond.
Since this is a different product, we trained shopkeepers on how to pitch it to the consumer. The customer needed to be told about the energy efficiency and smart integrations of our product. When we started getting repeat orders from the same retailer, we realized that we were doing well in the market. Currently, we have almost 700 premium counters in Mumbai. At these counters, we have managed to grab a 10 per cent market share, since they're selling other products too. This has been an encouraging factor in the Industry. We are available in all metro cities like Pune, Ahmedabad and Hyderabad. We are also planning to target 15 more cities in the next few months. We have almost 350 service partners across India.
The ceiling fan was just the beginning. The mixer grinder is the next appliance we are soon going to role out. With time we will launch other home appliances like the air cooler too.
IoT plays a role in your products. How do you integrate sensors into your appliances?
Since the BLDC motors we use are energy efficient, there is no heating. This allowed us to integrate electronics and remote-control applications into our product. In April 2019 we launched IoT based products in the market. We integrated a WiFi module with the fan. This allows users to control their fans with their smartphones.
Atomberg, in fact, has its own fan control application which you can download from the Google play store and IOS app store. We have also made it compatible with smart home appliances like Alexa and Google homes so that you can give voice commands to our products. This makes our product very easy to operate with commands like 'Turn ON', 'Turn OFF', 'Set to speed ONE'  etc. We are making our products intelligent too.
We, at Atomberg, strongly believe that IoT solves certain problems and adds some value to the consumer's life. It is a very common problem that the temperature drops early morning and people need to wake up to reduce the fan speed. Our temperature sensor is in the R&D phase. This sensor controls the speed of the fan as per the detected ambient temperature.
Another R&D that has been validated further aims to synchronize the working of fans with air conditioners. Air conditioners are responsible for cooling. However, they don't circulate the air. Ceiling fans are responsible for circulating the air. Therefore, ceiling fans are used together with ACs. Ceiling fans with a temperature sensor can command ACs at what speed it needs to work. This is facilitated by an algorithm that is integrated into the fan. This, in turn, contributes to overall comfort and bigger electricity savings as one doesn't need to run the AC at 22 degrees all night and get better comfort at 24 degrees instead. This algorithm will bring comfort to users in the next few months i.e. March or April 2020.