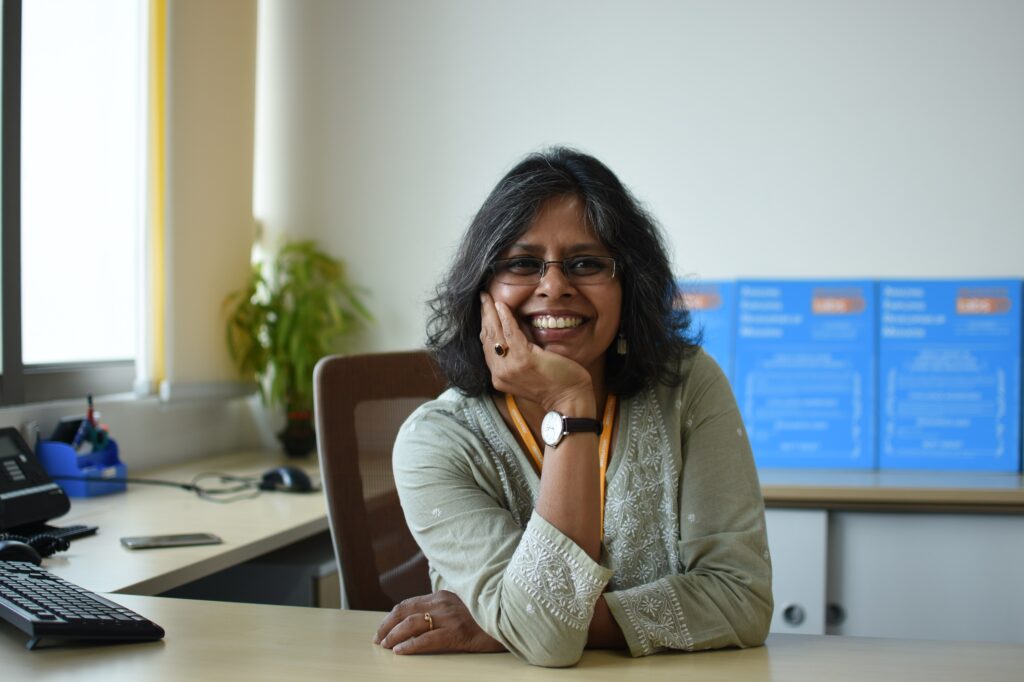 In this time of global crisis, it becomes difficult for the companies to manage workforce and maintain productivity.  MediaTek , the leading fabless semiconductor player is handling this situation in a well planned manner and keep the positive spirit.

Rituparna Mandal, General Manager, MediaTek Bangalore spoke with Vaishali Umredkar from Electronics Maker about the challenges they are facing during this time and how they are effectively managing it.
What are the challenges being faced by MediaTek due to Covid-19?
As with every organization, MediaTek also faced some challenges due to Covid-19. As ours is a technology-intensive company, and the Bengaluru team is involved in extensive Research and Development work for innovative chipsets, collaboration within and across teams, as well as lab work,was a challenge due to the pandemic and the ensuing lockdown. We were working on several critical and aggressive projects when the lockdown was announced so teams had to evolve quickly to adapt to the new working scenario.
Several of the projects were in critical stages and, for such situations, we typically have dedicated war rooms in the office where we collectively work on problem solving, brainstorming,and taking important decisions on the fly. Work from home made such brainstorming sessions and coordination more challenging but we are proud to state that,across the board, all teams at MediaTek Bengaluru stepped up and we put in place several new initiatives to overcome the challenges and delivered splendid outcomes.
How has the lockdown impacted you as a whole?
The lockdown has helped us all understand that being resilient in times of crisis is the only way to drive productivity and success. While we had never imagined such a situation, where entire teams would be working from home, continuously, for over five months, the lockdown made us resort to creative and innovative channels to get the work done while keeping employee motivation high. At a personal level, the lockdown has made me more mindful and patient. It has reinforced my sense of gratitude and made me appreciate the importance of health and wellbeing. It has also taught me to let go of things that are not in my control and instead focus my efforts on things that I can positively influence. One other life lesson I have re-learnt is that no act of kindness is ever too small, and the world today needs far more compassion and empathy than we generally offer.
Do you think WFH is as productive for employees and companies, as compared to employees working at their workstations?
Before the lockdown, work from home was an option that employees chose sparingly, to manage personal situations. But this was a situation where everyone was required to work from home simultaneously, which had its own set of challenges, but also made us all aware of the potential benefits of work from home. At MediaTek,employees across the board have been greatly productive and motivated during the lockdown. We completed several critical projects in this duration, including the recently announced advances in our collaboration with Intel to bring 5G experiences to next-generation PCs. All teams, across the site, were involved in the development of critical pieces of the 5G modem data card, starting from the CPU to the actual modem PD and integration to the modem software. With exemplary productivity, our team was able to deliver on all critical projects, and we met all deadlines, and even delivered ahead of time, during the lockdown.
Is there any impact that you have seen on the productivity side after the lockdown?
While we did have difficulties in managing coordination and research in the initial days of the lockdown, the team managed to innovate and ensure a quick resolution for all issues. As I mentioned earlier, we have seen tremendous productivity across projects, driven by our business strategy which was focused on diversification. As MediaTek looked to diversify its portfolio during the pandemic, several of our project deadlines were pulled in and we had to innovate to complete the tasks on time. The lockdown has, therefore, impacted our productivity positively during work from home. I firmly believe that when we fully empower employees, give them flexibility to manage their health and safety, and continue to have well defined outputsand milestones – employees will always step up and deliver to their best potential and that is exactly what we have seen at the site.
How are you evaluating your employees' performance while working from home?
MediaTek is a technology-based company and we have always evaluated employee performance based on what they have delivered. Our deliverables are well defined and quite tangible, and we have certain milestones that need to be met in a specific period of time, making performance appraisal convenient. Appraisals are also based on how innovatively a project is completed and the specs of the chip, like higher performance, lower power, or lower area,justify the innovations done.
Considering we have a very well-defined evaluation process the emphasis remains on the output being delivered. We are pleased to share that employee output has remained constant and has even scaled up, during work from home.  Going ahead, we will continue to evaluate performance based on how they have met the commitments on projects.
What is the way forward for the new initiatives taken by your company to engage with the employees working from home, helping them to boost their morale?
As MediaTek readied itself to tackle work from home head-on, we put in place several initiatives to enable our associates and engage with them while also boosting their morale during these tough times. Some of the initiatives we followed include –
Daily sync up meetings,a couple of times a day, to replicate the war room virtually
Having experts on standby forfixed time slots to ensure seamless collaboration and brainstorming
Remote access to labs in HQ
Keeping up the positive spirit by engaging employees at all levels, for both fun and technical meetings
We also formed a technical committee to drive Technical Talks and discussions to keep stimulation and innovative spirit alive
One of the backbones to making WFH effective was the extraordinary support we got from the IT teams at MediaTek and the infrastructure put in place to make work from home as seamless as work from office
As we move into the next phase of unlocking, we aim to maintain the right balance between employee engagement and business productivity. In terms of the way forward, we are focusing on the situation in India, where the pandemic is not easing, and our priority remains on ensuring that employees are safe and healthy. We plan to extend work from home for another few months even as we constantly evaluate the evolving situation. Our aim is to ensure employee security even as we fulfil all the commitments we have made to our partners and customers. Additionally, we are also creating a special safe zone and environment for employees who need to access the office or lab for work requirements.
Several Women involved in technology work. Do you think that the crisis has changed their professional life? How?
The crisis has, indeed, increased the number of tasks a working woman is required to complete. While professional work has increased, due to organizational requirements to scale up during the lockdown, the additional chore of taking care of the household and managing children's productivity also falls largely on women. According to the last edition of a period global UN study on "World's Women", women in developing countries do unpaid work for over 4 hours, every day, while men do only over an hour of unpaid work. Therefore, while the working woman may have equal professional responsibilities as the man, the proportion of unpaid work done by her is far greater than that done by the man. The crisis has, hence, increased the workload and stress faced by women professionals.
Being a technology company and having many women employees in your workplace, how are your supporting them to manage their working environment? Are there any special initiatives you are doing to make the working environment healthy for them?
At MediaTek, women form approximately 22% of our workforce. In fact, almost all our women employees, excluding one, are working in the R&D department, across key technical and engineering roles. To support them during the lockdown and ensure collaboration and engagement, we have started WIT (Women In Tek) forum, a platform where women find solidarity and can share technical and personal stories, and discuss change management.As the chair of the platform for the APJ segment, I work with the team on driving meaningful interactions and events on the forum. In our next session, we have invited some key women tech leaders from within the industry to share their journey and tips of trade to stay ahead of the game.
During the lockdown, we also had a remote Bring Your Kids to Work Day where a Friday afternoon was dedicated to children. The event saw active participation and included activities like remote storytelling, quizzes, etc.