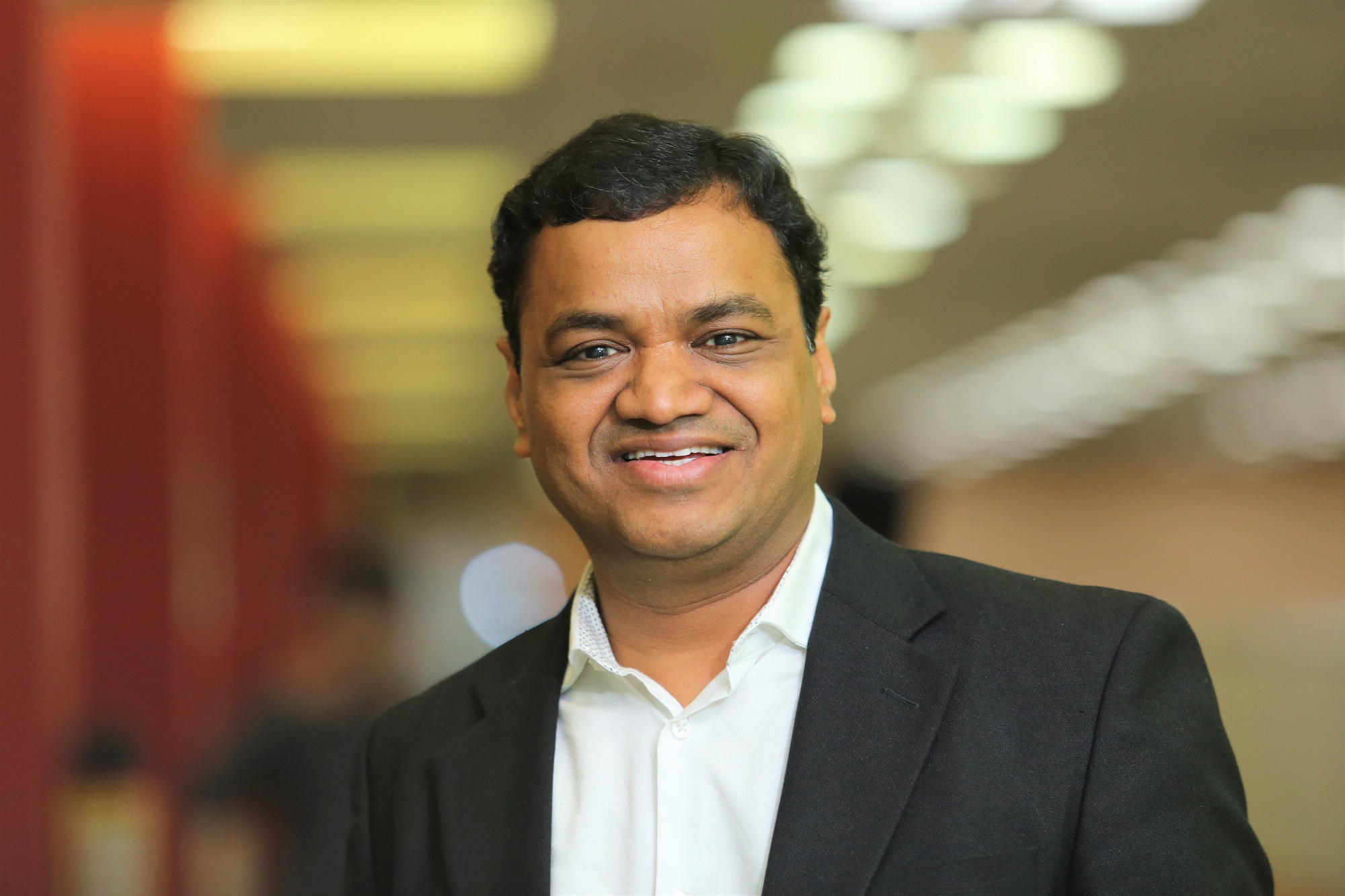 NXP is one of the world's largest semiconductor manufacturers. NXP Ultra-wide band technology (UWB) is unlocking a whole new world of opportunities in the wireless connectivity space and is acting as a bridge to a smarter contactless ecosystem in the times of COVID-19. 
Mr. Sanjay Gupta, Vice President & India Country Manager, NXP says, in the Post-Covid world, we will likely see the emergence of a contact-less society, which will transform the way one interacts, ensuring minimal human intervention. In an interview with EM's Vaishali Umredkar, he adds, "To tackle the situation at hand, a wearable sensor with UWB technology can warn an employee when they get too close to anyone. With UWB built into portable devices, it is expected to provide a true contactless experience in the post COVID world".  Excerpts:
What makes contactless technology an important part in semiconductor innovation?
As the world adapts to the new normal, contactless technologies are playing a critical role in paving the way ahead. In fact, the pandemic has further encouraged innovators to continue making breakthroughs in the contactless ecosystem and this trigger has fueled innovation in the semiconductor industry as well. As a direct result of the growth of Internet of Things, we are going to witness a more evolved ecosystem of smart devices, where advanced semiconductors lie at the core. More smart devices mean more semiconductors and ICs which will further enable these smart devices in providing secure transactions, algorithms, IPs, hardware, software, etc. to users. To adopt the new, on-the-go contactless lifestyle, the technology at the core should be reliable, safer and always provide seamless connectivity, and all this gets enabled only when advanced processors and chips come into play.
During COVID-19, how do you see this technology will drive transformation in businesses and people's lives?
In the Post-Covid world, we will likely see the emergence of a contact-less society, which will transform the way one interacts, ensuring minimal human intervention. There will be a greater focus on the evolution and rapid adoption of new-age technologies in both our professional as well as personal lives, as innovations based on disruptive technologies will assist in social distancing and maintaining hygienic practices. While we are already seeing greater adoption of contactless digital payments, we will be seeing more aspects of our daily lives going contactless.
Even as the nation is gradually opening following the unlock guidelines by the government, the fear of contracting COVID-19 continues to exist. Amongst the other elements driving the contactless ecosystem, one factor that is of utmost importance is social distancing and contact tracing. As organizations devise a strategy on how to safely return to work, they also need to establish guidelines for social distancing. To tackle the situation at hand, a wearable sensor with UWB technology can warn an employee when they get too close to anyone. With UWB built into portable devices, it is expected to provide a true contactless experience in the post COVID world. The technology can further be leveraged for patient monitoring to check if the patient is in bed, standing, walking along with his/her vital signs – all of it without even being physically present. NXP's innovative solutions empowered by UWB technology have pushed the masses to embrace the Internet of Things as they brace themselves for a contactless lifestyle on-the-go in this new normal.
Please explain contactless technology innovation in automotive space?
The drive towards contactless society has propelled a lot of innovation in several sectors, including the automotive space. The outbreak has tremendously increased the conversations around autonomous mobility and delivery standards in consumer and industrial space to help limit the physical intervention between humans. Driven by the Internet of Things, the connected vehicles segment is paving the way into fully autonomous mobility already.
Through technologies like UWB, we are already seeing smartphones being turned into digital car keys that can give a hands-free experience in unlocking and locking the car. The digitization of car access is developing rapidly and at large is driven by the need for secure solutions that enable seamless connectivity for everyone in the ecosystem. For instance, through NXP's NFC chipsets and Secure Element technologies, one would be able to unlock and start the car with an NFC-enabled smartphone, key fob or a smart card comprising of the digital keys to the vehicle. To add to that, the digital keys can also be shared with families, associates, fleet and car sharing companies over the cloud allowing the concerned user to access the vehicle.
Contactless technologies can further be used to make on-the-go payments at toll booths instantaneously while also enabling remote valet parking. In fact, they are also helping the supply chains and smart cities ecosystem, in delivering products remotely via Robot axis and unmanned aerial vehicles (drones) to distant places while effectively minimizing the chances of contracting the virus. We at NXP are constantly leveraging our expertise in automotive space to build solutions that could revolutionize the autonomous and connected vehicle segment in the times to come.
What are the benefits of UWB technology over other wireless technologies and how it enables smart connectivity in automotive?
Ultra-wideband (also known as UWB) is a short-range wireless communication protocol that can provide precise, secure, real-time localization capabilities unrivaled by other wireless technologies such as Wi-Fi, Bluetooth, NFC, and GPS. Through UWB, one can transmit large amounts of digital data over a wide spectrum of frequency bands for comparatively shorter distances. Data pieces can be carried over a distance of up to 230 feet at a very low power of not more than 0.5 milliwatts but they have the capacity to conquer obstacles in their way such as doors and walls that otherwise appear to reflect the signals. We at NXP, also leveraged the tech's localization capabilities, in addition to using UWB for communications. UWB transmits pulse packets at particular time intervals, from which the transmitted information can be further used by the systems to evaluate Time-of-Flight (ToF) and directional information. This helps the system to verify the exact transmission position by calculating the distance and the Angle-of Arrival (AoA). It also avoids the interception and retransmission of information in what is called a Man-in-the-Middle (MITM) attack as a result of transmission in fixed time intervals where further encoding of the information makes the solution apparently impregnable to attacks.
As an enabler of ground-breaking applications across sectors, UWB has several characteristics that gives it a competitive edge over its predecessors such as putting wireless devices into spatial context. Its steep and narrow pulses are identifiable even in noisy channel environments. Moreover, UWB pulses are better suited in dense multipath environments compared to other technologies as WiFi or BLE. Another distinctive quality of UWB is even when working at a typical power level, ranges up to about 10 meters are possible. Whereas using higher-power impulses, UWB can even have a range of 200 meters. As a communication technology, UWB can also carry data with the payload portion of a UWB packet sending data at a rate of around 7 Mbps and could scale much higher, possibly up to 32Mbps.Unlike GPS which is known for its outdoor localization capabilities, UWB further extends its services to both indoor and outdoor environment accurately; whether it is finding out where we parked our car, allow users to unlock doors (with key fob and mobile devices), device to device communication (locating a particular person), pinpointing other UWB-enabled device or providing secure hands-free experience to users.
Last year, NXP collaborated with BMW and Continental, to enable a global standard for handsfree smart access with precise, secure and real-time localization capabilities based on Ultra-Wideband chip, which can transform smartphones into digital and secure car keys. There are many new potential applications in automotive beyond smartphone access. This includes smartphone valet parking, where cars can be sent to park autonomously via a smartphone application; electric vehicle charging, for autonomous positioning of the vehicle on the charger; drive through payment, using localization for secure on the go payment; and using the car as a key, where it can seamlessly access a garage door and parking.
Does it help in car security? How?
Technology and automotive companies are today working with organizations like Car Connectivity Consortium (CCC) and the FiRa Consortium to ensure the finest customer experiences at the intersection of the vehicle, mobile, and consumer devices, while leveraging UWB technology. Last year, NXP also collaborated with BMW and Continental, to enable a global standard for handsfree smart access with precise, secure and real-time localization capabilities based on Ultra-Wideband and introduced a new automotive Ultra-Wideband chip capable of turning smartphones into car keys. Users can open and start cars, while leaving their phones in their pockets or bags, and enjoy secure remote parking via smartphone. Furthermore, the new UWB IC brings maximum level of protection against car theft through relay attacks as UWB  usesToF (Time of Flight) calculation effectively to combat them. In an event of an attack/theft, usually two people are involved, one near the key and the other near the car. One of them gets close enough to the key to send the same kind of query the car sends to detect the key. When the key responds to the query, the first thief captures the response signal and then relays it to the second thief, who is around the car and can now use the captured response signal to trick the car into being unlocked and started. But with UWB, any signal retrieved through fraudulent ways will be marked with a timestamp indicating the signal was generated from somewhere out of range, resulting the pirated UWB signal to be a failure for the thieves as the signal will show wrong time and will have essentially expired by then. Thus, marking the users safe from such relay attacks.
In addition, UWB can also enable remote-controlled parking by implementing the autonomous parking of the car on its own through an application, while also assisting in the placement of the car in electric charging stations, on-the-go payments, facilitating car as authorized personnel to enter garage and other buildings, and providing access to friends and relatives via smartphones.
With UWB, a car can also detect how the owner with the smartphone approaches the vehicle and can authenticate and allow certain features within certain distances as described in Vehicle Connectivity Consortium specifications. For eg, if the user is about eight metres away, it can turn the lights on, and if the user is less than two metres away, it can unlock the car.
As per recent news Samsung used your Secure UWB deployed bringing the First UWB-Enabled Android Device to Market. Please share more details about this product and its key benefits?
Recently, NXP's UWB chip was integrated in the latest flagship smartphone – Galaxy Note 20 Ultra by Samsung. This embarks the first UWB-enabled android device leveraging a variety of applications and services for smartphones as the world moves forward with full speed in adopting the digital life. The pandemic has made the world realize that smartphones/appliances will pave the way in a world full of digital possibilities. The integration of NXP's UWB chip in smartphones will not only make the sharing of files easier but would also offer superior location tracking capabilities, allowing the phone to position the user even in a crowded area with numerous signals and obstacles such as walls or others.
The technology is sufficiently accurate to enable completely hands-free interaction with IoT devices such as security doors and connected cars, without even having a need to take the smartphone out of the pocket. With AR technology, the device will locate items more accurately and holds the potential to unlock homes and doors through the digital keys.A whole wide range of applications can be accessed through UWB-enabled smartphones, such as sharing files in a go through the 'Nearby Share' application, 'SmartThings Find' application that utilizes AR effects to track items in real time and lastly the 'Digital Key' service to unlock smart locks on doors and cars equipped with UWB technology, without using a separate key. To summarize, UWB-enabled smartphones will provide an automated and intuitive connection experience between multiple smart devices in the future.
How do you see the future of digital payments with contactless payment mobility?
The behavioural changes due to Covid19 are going to leave a lasting impression on how we live. We will see a new trend where people choose to go for contactless payments even after the danger of Covid19 subsides, not just because of increased awareness of hygiene factors in the battle against Covid19 but also because of the greater convenience that many of the first-time digital payment users have experienced. Cashless payments have emerged as a safer way to pay while following social distancing norms.
Over the last 6 months during lockdown, we have seen a wider adoption of digital payments across markets and it isn't something confined to the big cities anymore. In fact, a study suggests that usage of digital payments in the post-Covid period is set to be the highest among Indians at 75%, followed by China at 63% and Italy at 19%. Interestingly, the study also shows that among senior citizens, Indians are more likely to make the switch to digital payments in the post-Covid era. We are going to witness a permanent push towards digital/online interfaces in times to come.
The Indian transit systems are also getting ready for the fight against Covid19 through contactless payments. Metro corporations like DMRC in Delhi have already done away with the tokens and are using only smart metro cards to implement a contactless ticketing system. And then we have FASTags which the government has already made mandatory sometime back, which again minimizes the interaction between drivers and toll booth operators. In fact, we at NXP are enabling over 95% of transport ticketing implementations in India through our NFC compliant Mifare technology platform.
What are your recent innovations for contactless payments?
The pandemic has acted as a catalyst in the growth of digital payments. Since currency bills carry a risk of virus transmission, contactless digital payments, either in the form of cards or e-wallets are becoming the norm so as to avoid the spread of COVID-19. We at NXP recently announced our new MIFARE DESFire EV3 IC that enables service providers and end users to benefit from convenient and reliable contactless access and payment solutions. In combination with its advanced security features, the new IC delivers faster, more secure transactions that are truly contactless. In fact, it is built upon the MIFARE portfolio's heritage of powering mass transit ticketing by also delivering the next level of convenience for end users and reliability for service providers.
In another addition, our MIFARE offering was utilized for mobile credentials for Google Pay that enables university students, faculty, and staff to use their Android mobile phones to easily access facilities and make contactless payments on and around campus. They can add their ID card to Google Pay to enter secured areas such as labs, classrooms and dorms, borrow books from the library as well as pay for lunches and other essentials in a seamless and secure way.
As the worldwide impact of COVID-19 makes contactless transactions a necessity, NXPs solutions will allow for smooth rollout of digital payment services through smartphones, wearables and other mobile devices.
Can you please share details on NXP BlueBox: Autonomous Driving Development Platform?
NXP BlueBlox is a comprehensive research and development framework for autonomous vehicles up to level 4 autonomy, which is a classification for vehicles that are completely capable of driving themselves. It consists of two chips — one for processing visuals and a beefier one for making decisions. The bigger processor is eight integrated 64-bit ARM processors running at 2 GHz that can run 90,000 million instructions per second at under 40 watts of power.
Critically acclaimed, the BlueBox combines sensor technologies to provide self-driving cars with complete awareness of their surroundings, strengthening autonomous vehicles and vehicle-to-vehicle technology (V2X) communication and intelligence by enabling the car to establish a clear view of the world around it. The platform will further leverage embedded intelligence and machine learning capabilities required for vehicles to create complex situational assessments.
In addition to that, the BlueBox system is an open-source system where car manufacturers and OEMs can further customise and introduce specialised functions that can boost certain efficiency or safety features on their vehicles.