Particularly during summer season, people in many Indian cities suffer from power outages. During such hindrances, an inverter is used for emergency power. It guarantees smooth electrical continuity at home or office. Be it working on the computer at home, watching television or meeting with customers, the power inverter kicks in and deliveries electricity to electrical devices as soon as the grid power supply disconnects.
A primary function of an inverter is to convert Direct Current (DC) to Alternating Current (AC). However, before you buy an inverter, you must know about various electrical appliances that are important to use during a power outage. Reputable brands like Luminous offer a variety of power inverters to ease any hassles due to power outages.
Here are the details about Luminous Zelio I 1100, and how better it is than its rival Microtek SEBZ1000.
Luminous Zelio I 1100
Luminous Zelio I 1100 is one of the smartest inverters for homes in India that comes with mobile app control. Luminous. As an intelligent inverter, it can also be connected to a mobile device via Bluetooth connectivity, making it a future-ready inverter in India. In addition to data monitoring, the Mobile App also lets you manage the inverter with its iControl features.
Luminous Zelio 1100 facilitates a wide array of batteries, making it one of the most well-suited models. It is a 900VA capacity inverter that can handle a load of large and sensitive appliances like a refrigerator, along with other home appliances such as mixers, grinders, fans, and lights. Aside from performance, its LCD display provides valuable information on battery charging time, backup status and other fault warnings. If the inverter system fails, the LCD display alerts you so that you can by-pass the inverter using a By-Pass switch at the back of the inverter.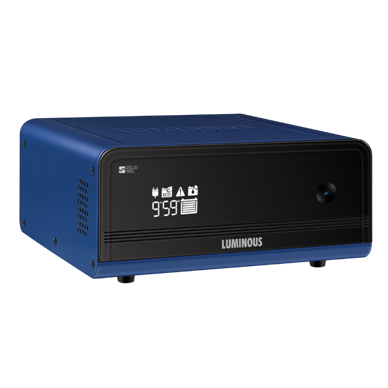 Features:
Connect to Mobile App via Bluetooth
Pure Sine Wave Output
32-bit DPS processor
Indicate the water level in the inverter (however, the water level sensor is not included in the box)
Quickly know the backup time, charging time, load per cent on the inverter, health of the battery, and input voltage from the grid
By-pass Switch
MCB for short circuit, deep discharge and battery overcharge
Pros
Supports a large variety of batteries; Flat Board, Tubular & VRLA (SMF)
Inverter can be monitored and controlled via Smartphone App
Noiseless operations, using low harmonic distortion
Pure Sine Wave Inverter
Microtek SEBZ1000
The higher is the power efficiency of the inverter, the greater the charge it can carry. This Sebz 1100 VA UPS inverter from Microtek is suitable for large Indian homes (3BHK, and more). It can run diverse electrical equipment smoothly, such as fans, lamps, computers, and even mixer/grinders and fridges.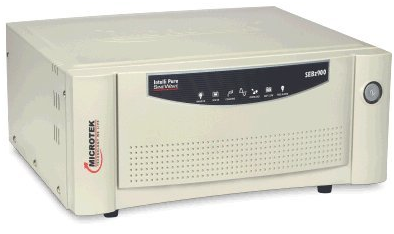 Features:
Capacity 900 VA
Pure Sine Wave Inverter- Low harmonic distortion
Voltage series of 100V to 300V
Highest output power – 725 Watts
Appropriate protection features
Switchover time- 15 milliseconds
Pros:
Old standard LED display for several indications
Sufficient shield of inverter components
Short circuit protection
Difference Between Luminous Zelio I 1100 and Microtek SEBZ 1000 :
S. No.
Parameters
Zelio-i
High selling competitor brand 900 VA inverter
What does that mean for the user?
1
Active Power
756 W
725 W
Greater capacity to handle the load
2
Max Charging current
15 A
14 A
1 hr difference in 180 Ah battery charging
3
Connectivity
Bluetooth connectivity available
Not Available
1. Customer can convert their Zelio-i to a smart inverter for home and monitor the health characteristics of the inverter battery on a mobile app

2. Users can control the inverter for home use with iControl features on the App: a) ON / OFF Inverter; High Power Mode, Performance Optimization Mode and Holiday Mode are some of its characteristics.

4
LCD Display
Real-time information of battery and inverter
Not Available
Advanced LCD display showing Inverter battery health statistics and battery charging information
5
Design
Stylish design with glossy black and Matt blue blend
Same old and outdated square wave design, white in color which gets dirty over time
Modern inverter for the home can be placed in the living room, and it matches with Luminous trolley
6
MCB by-Pass switch
MCB switch dedicated to isolating the inverter from the circuit in case of failure
Fuse gets burnt, and you need to contact an electrician
Frequently Asked Questions:
How do I by-pass connections to an inverter?
Press the By-pass button on the back panel in Zelio series inverters, and consider it done.
What is the use of I control feature of a Luminous Zelio-I inverter?
You can self- monitor the inverter using iControl features accessible through Zelio-I App:
a) Inverter ON/OFF
b) High Power mode
c) Performance optimization mode
d) Holiday mode
Older people need not drift because Bluetooth communication in their phone enables them to control the inverter from their place itself.
You can run loads greater than 125 per cent in high Power Mode than their rated load for 10 minutes. It is useful to run loads of up to 900W, such as electric iron, mixer grinder in about 10 minutes.
You can balance between longer backup time and high-power efficiency in performance management load, helping the user plan the day in a better way.
Holiday mode prevents the discharge of batteries during a power cut while you are out on a long vacation.