The Need for a Universal Power Adapter
As more consumer electronics devices shun mains power in favor of battery operation, how we charge these devices becomes an important question. We can all remember the wide variety of power adapters we had for our early cellular phones, some of which are probably still lurking in the back of your drawer. Alongside these chargers, we needed power adapters for other devices, such as razors, cameras, and handheld gaming consoles. Going away on business or vacation meant taking a bag of chargers with you because it was extremely rare that you could use the charger for one device with another.
This started to change when USB micro-B emerged as the connector of choice for many low-power devices, such as smartphones, smart watches, and smart home thermostats. However, because it can only deliver low amounts of power—up to about 5W—it is unsuitable for larger devices.
USB-C Is Becoming Ubiquitous
Launched by the USB Implementers Forum (USB-IF) in late 2014, the USB Type-C connector standard was innovative in its approach by using two symmetrical sets of 12 interface pins, which enable the connector to be plugged in with either side up. The new connector standard was made available about the same time as the USB 3.1 interface specification, though USB-C need not necessarily adopt the 3.1 specification for communication. Furthermore, USB-C introduced the ability to transfer other data signals—such as those used for DisplayPort, HDMI, and Thunderbolt—in addition to USB data. The other key thing is that USB-C offers a Power Delivery (PD) capability that is agnostic of the USB data mode. It provides two dedicated pins (CC1 and CC2) for negotiation with the host to deliver up to 20VDC at up to 5A (Figure 1).
Consequently, with its 100W power delivery capability, it is no surprise that USB-C is fast becoming the universal power connector of choice for a wide range of consumer electronics, replacing both the micro-B connector and the multitude of cylindrical 'barrel' connectors that were once common.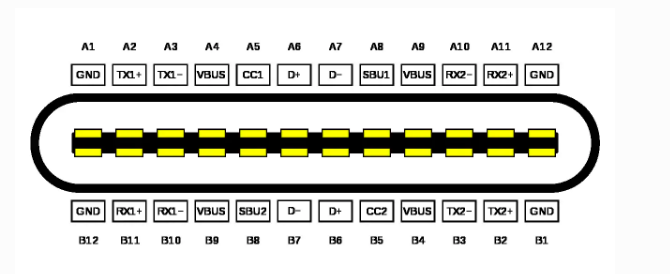 Figure 1: The diagram shows the pinout specification of a USB-C connector. (Source: USB Implementers Forum)
How USB Power Delivery Works
The current USB-PD revision 3.0 specification stipulates four nominal voltage levels of 5V, 9V, 15V, and 20V with the option to fully program the voltage in 20mV steps. In addition, the specification offers support for output power levels up to 100W, and the capability to provide constant-voltage or constant-current charging. This approach opens up a multitude of new opportunities for charging devices, including laptops and other higher-wattage devices, however, to benefit from USB-C, the application would need to include a microcontroller, additional circuitry, and software stacks.
Technical Challenges with Barrel Connector Replacement
When implementing USB-C PD as a barrel connector replacement, the engineering team needs to become fully conversant with the USB PD specification and ensure the device meets the USB-IF's stringent certification requirements in terms of compliance and interoperability. A USB-C-compliant power adapter is, by nature, a programmable power supply that requires communication to enable the load to request the desired voltage and current. As such, any design requires both a microcontroller and the associated firmware to operate a full USB PD stack. Introducing more components into a design will increase the overall Bill of Materials (BOM) and require numerous iterations to optimize the power circuitry and ultimately create a technically and economically workable solution.
Designing an Optimal Solution
Rather than attempt to implement USB PD from scratch, engineers can use a USB-IF pre-certified solution, such as the Cypress EZ-PD™ Barrel Connector Replacement (BCR) Evaluation Kit (CY4533) (Figure 2). This can be used to easily prototype how to replace a conventional barrel connector with a USB-C connector without the need to develop any firmware (Figure 3). This retrofit approach offers an extremely quick way of switching an existing product to work with a universal USB-C power adapter.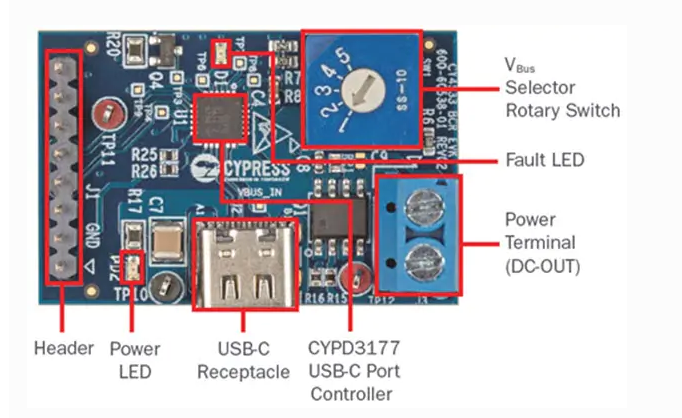 Figure 2: The Cypress EZ-PD Barrel Connector Replacement (BCR) Evaluation Kit showing the major components and connections. (Source: Cypress)

Figure 3: Easy integration steps of USB-C into an end device using Cypress EZ-PD BCR Eval Kit. (Source: Cypress)
Cypress' EZ-PD Barrel Connector Replacement (BCR) Evaluation Kit embeds a Cypress CYPD3177 power delivery controller, which designers can set to the desired load voltage and current values by resistor ladder combinations without the need to create any firmware or custom device programming. After initial prototyping is done, Cypress provides an easy-to-use reference design so that the CYPD3177, plus six resistors, can be incorporated into the end product along with a suitable USB-C receptacle, such as the Molex USB-C Connector(Figure 4). This connector is part of Molex's family of compact USB Type-C connectors and cables, which support up to 10Gbps transfer speeds and have full 100W power delivery capability. The receptacle is manufactured with a high-temperature nylon insert-mold housing inside a metal shell and has a middle connector plate that provides a robust and reliable mating action.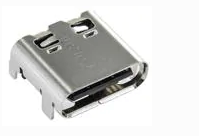 Figure 4: The Molex USB-C Receptacle supports up to 10Gbps transfer speeds, has a 100W power delivery capability, and reduces battery charging time by 64 percent over the micro-USB 2.0 current rating of 1.8A. (Source: Molex)
Next Steps
Would you like to learn more about how to implement a combined Cypress and Molex barrel-connector-replacement solution in your product design? Click here to register for the forthcoming webinar on this topic.
Source:
https://www.mouser.in/applications/