How are Test and Measurement Manufacturers looking at key trends and what they bring to the market?
A key part of any product or system development plan is the testing, measurement, and analysis of critical components and overall product performance. Those important functions require reliable, high performance test equipment and software at cost-effective prices. As a rule, test and measurement companies need to be at the forefront of technology – their products need to be at least as capable as the equipment which they are being used to design.
Major technological trends driving the T&M industry in India include urbanization, growing infrastructure, cloud computing, wireless intelligence, broadband applications in future, and smart and green technologies amongst others.
Test and measurement Equipments manufacturers are working on high performance technology to meet the demands of complicated and advanced test design process.
The advancements in processor technology have completely changed testing methodologies. Ten years ago, test engineers were using analog technologies and acquired test data on 28-or 56- track analog tape recorders. Data was processed manually or by complex methods using mini- or mainframe computers. This testing process used to take days before engineers could get test results.
Even today, there are still many analog test devices in place. In today's world, analog testing is starting to give way to digital technology, providing engineers with real-time displays and instantaneous results once a test is over. Digital technology lets engineers use a large number of sensor channels with very high sampling rates, allowing them to look at frequency regions and perform tests which are not available to them with analog equipment.
Manufacturers are taking advantage of new multiprocessors, DSP and FPGA processors, multidisplays, real time processing, terabytes of data storage, and networking to provide customers with high performance testing products at competitive prices.
National Instruments discusses Technology Trends that Accelerate your Productivity
Eric Starkloff, Senior Vice President of Global Sales and Marketing, National Instruments, "NI tools are used in so many different industries and applications, NI is in a position to examine the latest trends in measurement, sensors, networks, test, and more—as they happen. We compiled what we learned in this report to help you take advantage of the latest technological breakthroughs and stay ahead of the competition. NI isn't just a supplier—we're a technology adviser. We hope this information helps you be more productive and focused on what you were hired to do."
The Cyber-Physical Design Challenge
Modern engineered systems are rarely designed once, rarely designed in isolation, and rarely ever complete. The braking mechanism in your car evolved from the mechanical lever brake on horse carriages and was soon enhanced with hydraulics to improve braking power and stability. Electrical components were introduced with the advent of power-assisted brakes. Antilock brakes began as mechanical feedback control systems to prevent airplane wheels from locking and eventually migrated to automobiles.
Big AnalogData—The Biggest
In test, measurement, and control applications, engineers and scientists can collect vast amounts of data in short periods of time. When the National Science Foundation's Large Synoptic Survey Telescope comes online in 2016, it should acquire more than 140 terabytes of information per week.
The SDRification of RF Instrumentation
The modern RF instrument has evolved from merely a measurement device into a premier tool for system design. This evolution was fueled by a broad range of technologies from the software defined radio (SDR). The flexibility of the SDR is revolutionizing not only the wireless industry but also RF test equipment.
Change the Way You Think: The Evolution of System-Level Design
Simply put, a model of computation is one of many languages or development approaches for solving complex issues. Whether it's exploring new sources of renewable energy or advanced cancer research, the complexity of the problems that today's engineers face continues to escalate. As a result, a single solution can sometimes require the integration of several models of computation. However, in most cases, engineers are typically trained professional developers in only a single language. To efficiently and effectively solve these increasingly complex issues, the mental model used by today's engineer must evolve.
Using Mobile Devices as Remote UIs in Measurement and Control Systems
The mobile computing era is in full swing. People now use smartphones and tablets on a daily basis for a variety of useful tasks. Tablet unit sales will soon surpass PC unit sales, something many commentators thought to be a fantasy when Apple announced the iPad in early 2010. Forgetting that these technologies became available only recently is all too easy given how quickly we have integrated them into our lives.
Making Waves in Technology Education
The days of being responsible for a single engineering or scientific domain are ending. The days of designing complete, integrated systems are upon us. Look at the consumer products making an impact on everyday life. Today's automobiles include more than 70 embedded controllers to tune an engine's performance on the fly. Some of these automobiles can place and receive phone calls, provide navigation, and drive and park on their own. Basic cellphones are a thing of the past—smartphones are in everyone's pocket, have millions of applications, and wirelessly connect to a growing array of devices. Using smartphone apps, you can even control home security and lighting while away on vacation. These examples are only the tip of the iceberg.
So what can you learn from today's innovations to help shape science, technology, engineering, and math (STEM) education and prepare the engineers of tomorrow to solve grand challenges?
Power Analysis T&M equipments market is different
Naresh Narasimhan, Country Manager, Tektronix India, "Making products with optimum power efficient has been a growing challenge for the design engineers. Low power consumption design and the need for portable design (typically battery operated devices) are driving the need for power analysis. Today's power supplies are driving to a level of efficiency never seen before, requiring design engineers to perform specialized power measurements that are time-consuming and complex. There have been growing demands for increased energy efficiency is exceeding the capabilities of traditional power electronics test instruments. Better power conversion efficiencies, higher switching speeds and signal ranges, lower leakage semiconductor devices, as well as the use of advanced SiC and GaN power modules are pushing test conditions to new extremes.
Few key features, which current market needs:
• Full suite of power measurements capabilities
• High crest factor tolerance
• Fast autoranging for voltage and current inputs
• Application-specific test modes
• USB, LAN and GPIB interfaces standard
• Responds quickly to changes in input levels, ensuring that you get good data even under variable conditions
Key Markets:
We see a growing demand from across industry verticals; Industries designing power conversion products: Examples : UPS and Motor drive manufacturers, Embedded systems designers who are building battery operated portable device, Power Supply Measurement and Analysis, PWM Motor and Drive Measurement, Appliance Energy Consumption, Energy STAR Power Measurements, Measuring Power on Lighting, Power Supply Power Measurements, Standby Power Measurements, Educations institutes with research facilities on power electronics
Tektronix Offers First in the Market
With the emergence of new power conversion technologies, engineers have struggled to perform critical current measurements with the necessary degree of precision and accuracy. The Spiral Shunt used in the PA4000 offer superior stability compared to other shunt technologies and contributes to the instrument's accuracy and repeatability over highly variable signal conditions.
The spiral construction also minimizes stray inductance and provides high overload capability and improved thermal stability. The PA series of power analyzer / wattmeter instruments provide precise measurements of power (watts), power factor, harmonics and efficiency via PWRVIEW PC software as well as on their colour graphics displays.
Featuring Spiral Shunt™ technology, the new Tektronix PA4000 Power Analyzer delivers consistently accurate measurements, even with challenging power waveforms. While most power analyzers rely on zero-crossing point to detect and track fundamental frequency, the PA4000 Power Analyzer uses a unique method to lock onto signals, no matter how complex.
Yokogawa offers solutions for recent power analysis trends – you need to have a precise and very accurate power test solutions
Traditional power measurement instruments cannot provide accurate time measurements; oscilloscopes are not designed to measure power. Power analysers provide a number of capabilities beyond what's possible with oscilloscope based solutions. While it may be possible to cobble together functionality that approximates the capabilities of a power analyser, such an approach would be lacking the necessary accuracy and repeatability provided by a dedicated power analyser.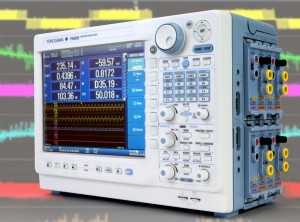 The PX8000 is the world's first precision power scope, bringing oscilloscope-style time-based measurement to the world of power measurement. It can capture voltage and current waveforms precisely, opening up applications and solutions for a huge variety of emerging power measurement problems.
Yokogawa introduces PX8000 Precision Power Scope. The PX8000 brings oscilloscope – style , time – based measurement to the world of power measurement. It can capture voltage and current waveforms precisely, opening up applications and solutions for a huge variety of emerging power measurement problems.
The PX8000 is powered by Yokogawa's isoPRO technology, which offers isolation performance at the highest speeds. isoPRO core technology, designed with energy – saving applications in mind, delivers the performance needed to evaluate high – efficiency inverters that operate at high voltages, large currents and high frequency. The instrument also supports the capture of power waveforms over specific periods of time and cycle – by – cycle trends through the definition of start and stop "cursors." This is particularly useful for examining transient phenomena and in the design of periodically controlled equipment.
Typical application sectors include inverter and motor testing, reactor loss measurement of inverter boost circuits, transient responses of industrial robots, wireless charger efficiency measurement, and voltage and power measurements in electricity distribution systems.
Yokogawa Test & Measurement Division is a major worldwide force in the test & measurement market, with products that include oscilloscopes, power meters and optical communications test equipment, portable test instruments, recorders and data – acquisition systems.
High-Capacity Test Capabilities Address Next-Generation Test in R&D, Manufacturing
Today's increasingly complex chipsets and UEs require a new generation of instruments designed to meet present needs and provide extensibility to satisfy future requirements. Following in the footsteps of the 8960, Agilent has recently introduced two new additions to its industry-leading family of testers: the E7515A UXM wireless test set and the E6640A EXM wireless test set.
R&D: Gaining Clarity at Crucial Handoffs
Design and validation are essential stages of the R&D process. At key handoff points, engineers make judgment calls about every design, deciding if a chipset or UE is ready to clear the crucial hurdles imposed by internal specifications, conformance tests and operator requirements. Testing covers areas such as functional behavior and RF performance. Clarity around each decision comes from accumulated insights about standards, technologies, in-house design practices, and more.
Defining an Architecture for Today and Tomorrow
The Agilent E7515A UXM wireless test set is the most highly integrated signaling test set created for functional and RF design validation in the 4G era and beyond. It provides a wealth of capabilities that enable testing of the newest designs, delivering LTE-Advanced category 6 now and handling increasingly complex requirements in the future.
The foundation of these "now and later" capabilities is an extensible architecture that can evolve as technology changes: the UXM includes upgradable processors, multiple expansion slots and high-speed interconnects. Through its industry-leading combination of two independent 100 MHz RF transceivers, the UXM enables multiple cells, carrier aggregation, MIMO up to 4×2 and integrated fading. The instrument also provides built-in servers for extensive functional test applications. Building on that, the UXM is a future-ready, multi-format-capable platform that will handle the next advances in antenna techniques, component carriers and data rates.
The net effect: the UXM enables test engineers to ensure that LTE/LTE-A devices can sustain maximum category 4/6 rates and handle realistic fading and MIMO scenarios. As a result, engineers can wring out every design with integrated fading, flexible receiver testing and trusted transmitter measurements—and the UXM is poised to handle more complex test applications in the future.
With its wealth of integrated capabilities, the UXM lets engineers dive more deeply into functional testing by emulating a wide range of complex operations. For example, with two independent cells built in, the UXM makes it possible to check LTE handover behavior with just one instrument. Connecting a UXM to an Agilent 8960 wireless test set supports verification of the increasing number of inter-radio access technology (IRAT) handover scenarios. The inclusion of Wireshark-based logging software enables thorough analysis of protocol messaging.
The UXM also ensures greater confidence in RF performance with flexible automated testing and industry-proven Agilent X-Series measurement science (see Figure 2). One key area of testing is the full range of 3GPP channel configurations. The UXM provides integrated capabilities and flexible automation software with Agilent's Wireless Test Manager (WTM), making it easy to efficiently step through the full range of 3GPP channel configurations for a device-under-test.
To support the development process from early designs to finished products, the UXM supports signaling and non-signaling (i.e., test mode) operation. This lets engineers focus on characterization of RF performance: the UXM pushes aside the protocol barriers and enables the engineer to "just connect" to the device under test.
Manufacturing: Solving Today, Evolving Tomorrow
In the wireless industry, successful manufacturing organizations need tools that help them meet ever-tougher goals and tighter schedules. In addition, access to the best resources will help them deal with the technical, business and operational risks that, when managed carefully, ensure success. When these factors are under control, the organization is able to achieve several key goals: ramping up quickly; achieving and optimizing volume production; minimizing the total cost of test; meeting budget; and reducing wastage.
The measurement challenges generated by today's multi-format, multi-band devices are difficult—and the key to success is finding test methods that are more efficient and more effective. Within this context, the Agilent E6640A EXM wireless test set builds on the non-signaling and sequencing capabilities of Agilent's previous test sets. In addition, the EXM provides a new architecture that expands parallel testing and provides scalability to match changing production needs. To support the fastest testing of the newest chipsets, the EXM is in sync with the latest cellular and WLAN chipsets. It delivers the speed, accuracy and port density needed to ramp up rapidly and optimize full-volume manufacturing of a broad range of multi-format devices, including those that use LTE-Advanced carrier aggregation, 802.11ac WLAN MIMO, and more.
In the new product introduction (NPI) stage, the EXM provides certainty through chipset compatibility and validated test capabilities that directly control chipset functionality. This includes the fastest, most reliable calibration and verification functions offered in each vendor's chipset. The EXM's broad multi-format, multi-port flexibility handles today's complex chipsets while allowing easy upgradability for tomorrow's features. For greater scalability, the EXM can be configured with up to four independent transmit/receive (TRX) channels, each of which is a complete vector signal generator, vector signal analyzer and RF I/O section. To further extend port density, the EXM can be customized to connect up to 32 DUTs through multi-port adapter (MPA) technology.
The EXM enables manufacturers to easily keep pace with production capability and capacity needs. In addition to its multi-port and multi-format capabilities, the EXM helps maximize throughput and yield with fast and accurate parallel testing of multiple devices. This comes from the ultra-fast data processing and transfers, advanced sequencing and single-acquisition/multi-measurement (SAMM) capability built into the EXM. The flexibility of the EXM preserves initial equipment investments by making it easy to evolve with changing production needs. Each unit can be expanded with up to four TRX modules, and these can be upgraded with higher frequency coverage and wider analysis bandwidth.
For maximum reliability and uptime, the EXM has been tested to survive the rigors of the factory floor. When calibration or repair service is needed, Agilent's global presence ensures fast turnaround times. The EXM is designed, built and supported to ensure success in manufacturing.
The drive for faster data speeds and compelling new services seems likely to continue without end. So does the trend toward ever-denser integration of new capabilities into user devices. To help developers and manufacturers keep pace, Agilent has created two highly integrated wireless test sets—the UXM and EXM—that offer the flexibility and extensibility enabled by modern, modular architectures. Both platforms provide the future-readiness needed to meet present and future requirements, and both offer the investment protection that comes from a platform that is easily reusable and upgradable.
New-generation test hardware offers tremendous benefits, but there's more to the story. Agilent also offers access to a broader set of resources—application engineers, manufacturing test integration teams, worldwide support, and more—that can help developers and manufacturers handle the unknown, stay on track and meet their goals for the newest chipsets and UE.