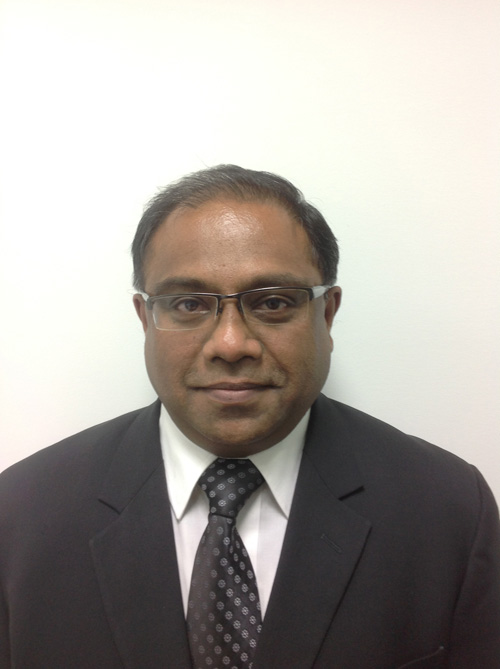 Jayanth Ramachandran, Rohde & Schwarz India Pvt. Ltd. gives his insight on current communication test and measurement industry, its trends and how this industry offers a big opportunity for Rohde-Schwarz.
Seeing a fresh round of growth
The communications test and measurement market is highly dependent on the growth of both wireless and wireline telecom industry. An increase in subscriber base, operators move towards 3G, WLAN, LTE, LTE-A etc and R&D investments in the ongoing LTE and LTE-Advanced technologies have fuelled the growth of the industry. These initiatives demand for the increased R & D of LTE/4G devices and also commercial launch of next gen networks which in turn trigger the demand for communication test solutions to optimize the networks.
The communications test and measurement products helps chipset and handset providers, network operators, equipment manufacturers and broadband service providers to deliver high quality triple-play services: voice, video and data over mobile and fixed networks. The test solutions helps network operators in deployment of new services, helps in reducing CAPEX and assist in delivering QoS across each phase of network life cycle, which include: research and development (R&D), manufacturing , deployment and service assurance.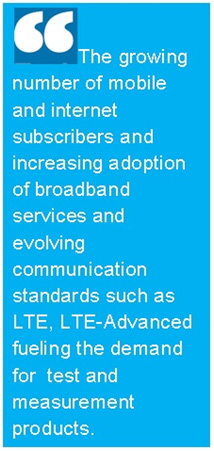 The communications test and measurement solution also helps broadband service providers and operators to deliver high-quality experience (QoE) to their users and ensure effective management of services such as, voice over Internet protocol (VoIP) and Internet Protocol TV (IPTV) services by providing visibility into end-user experience and facilitates repair, calibration, instrument management, deployment and maintenance of networks and services.
The wireless industry is offering tremendous growth opportunities for the test equipment vendors and are evolving rapidly with increasing bandwidth demand and higher data transmission rates. The growing number of mobile and internet subscribers and increasing adoption of broadband services and evolving communication standards such as LTE, LTE-Advanced fueling the demand for test and measurement products.
Key Drivers to Success
Evolving wireless communication technologies are the key driving factor for communications test and measurement market. The overall complexity of wireless technology drives the need for test equipment which can support new technology standards, such as, LTE and LTE-Advanced. By adding additional features to the Release 10 version for the relevant technical specifications 3GPP ensured that LTE becomes truly a 4G mobile communication technology, while meeting the IMT-Advanced requirements set by the ITU. These enhancements are also known as LTE-Advanced. Carrier aggregation (CA) being one of the most important features required by the industry with the goal to increase peak data rates. The real driving force behind CA, however, is to obtain a much more efficient use of the fragmented spectrum allocations available to network operators. The push of network operators to deploy these new features leads to a high-workload in the wireless industry, especially on the chipset and handset side, including a strong demand for test solutions. Another trend is intelligent traffic offloading, due to exponential increase of data traffic operators running into capacity issues. The addressable solution is a smart offload of data traffic from LTE to WiFi to address capacity issues efficiently. Many different modus operandi are currently under discussion, using slightly different technical approaches, which leads to different requirements in terms of test and measurement solutions. Connected car services using various cellular and non-cellular technologies will be another interesting area to look out for.
Trends Driving Advancements
From the infrastructure perspective, Network Operators need to make sure that their network is inter-operable with currently available 3G & 2G networks & be able to do seamless handover from one technology to the other. This boost the operators demand for the need of T&M instruments for testing the inter-operability with various devices in-house. Apart this there are other technical advancements that drives the T&M market. In addition to hi-speed data service, LTE will also provide more efficient voice communication (Voice over LTE) with improved voice quality, device battery life and user experience compared to the legacy 2G/3G networks. But VoLTE isn't an easy technology to deploy, it's very new and there's still a lot of testing going on in the lab.
The key challenge in high speed networks is to ensure a good quality of service for which the networks operators need to perform more extensive testing of their network / devices for the maximum Data throughput (E2E), Audio / Video quality and interference measurements. Another challenge is to optimize the Mobile network for improved spectral efficiency. One way is to include additional access technologies like WLAN for data offloading from LTE to achieve the maximum throughput. This is getting included in the WiFi standardization which includes access methods in the joint network, security, IP mobility, as well as network discovery and selection. These enhancements will also need more testing in future.
Challenges to Understand
Majority of the challenges in this market are the pricing pressures that ICT companies throw at Test & Measurement companies. In order to keep the development cost low, companies try to keep the testing costs very low. But in general the T&M products will come with high capital investments & to keep in line with the futuristic technologies T&M companies needs to continuously work on their product ranges which results in frequent hardware and software upgrades with a significant yearly maintenance cost. Vendors also need to pay high import duty for getting these products to India.
Why Rohde & Schwarz
Rohde & Schwarz product portfolio is continuously growing with the evolving wireless technologies & future market demands. Rohde & Schwarz test solutions are scalable multi-standard platforms support all major technology standards like LTE / LTE-A, WCDMA, GSM, WLAN, etc. Recently Rohde & Schwarz launched R&S SMW200A a high-end vector signal generator which combines a baseband generator, RF generator and MIMO fading simulator in a single instrument. Exceptional modulation and RF characteristics make it ideal for developing high-end components, modules and complete products for wideband communications systems such as LTE-Advanced and WLAN IEEE 802.11ac. The generator performs especially well when it comes to the verification of 3G and 4G base stations.  We have expanded the functionality of R&S FSV and R&S FSW signal and spectrum analyzers to also support the IEEE 802.11p wireless standard for the development of vehicular communications components, modules and systems. The R&S®CMW500 is the single-box Radio communications tester that supports the largest number of technologies. It can handle both the widely used mobile radio standards (e.g. GSM and WCDMA) and new standards such as LTE/ LTE-A. To increase the wireless device test depth, it also supports non-cellular standards such as WLAN or Bluetooth® as well as broadcast standards. It can be flexibly used in all stages of development & testing – from RF / Protocol Development and functional to production testing. Recently Rohde & Schwarz has successfully tested and verified the Release 10 feature – uplink carrier aggregation using R&S CMW500 Wideband Radio Communication Tester which is one of the significant milestones in the commercial implementation of LTE-Advanced.
Contact us: email- sales.rsindia@rohde-schwarz.com | www.rohde-schwarz.co.in
New Delhi: +91-11-42535400 | Bangalore: +91-80-41780400 | Hyderabad:+91-40-40003200 | Mumbai: +91-22-26743848