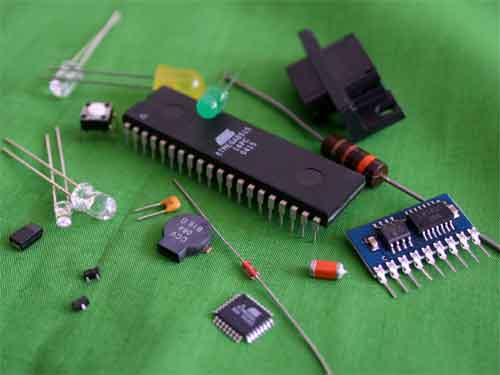 In the present Hi-Tech business world, electronic components form the nervous system of most of the industries and are a subject of continual progression. This, in turn means that a plenty of electronic components utilized in modern industries become obsolete just in the wink of the eye. Moreover, this progression is forcing a paradigm shift in the manner electronic component distributors should do businesses, at present and in the near future, if they want to achieve success.
Electronics Maker editorial team examined 2013 most promising industry players in electronics components distribution and here displays top leading players based on revenue details and performance over the years.
Digi-Key Corporation
President/CEO: Mark Larson
URL: www.digikey.com
Company email: webmaster@digikey.com
Number of locations: 1
Total number of employees: 2600+
Year company was founded: 1972
2013 Global sales revenue: $1.6 billionAddress: 701 Brooks Avenue South, Thief River Falls, Minnesota, 56701
EDOM Technology CO., LTD.
President/CEO: Wayne Tseng
URL: www.digikey.com
Company email: sales@edom.com.tw
Number of locations: 19
Total number of employees: 600+
Year company was founded: 1996
2013 Global sales revenue: $1.1BAddress: 8F, No. 50, Lane 10, Kee Hu Road, Nei Hu, Taipei 114, Taiwan, ROC
Elektronika Sales Pvt. Ltd.,
President/CEO: Sunil Hasija
URL: www.elektronikasales.com
Company email: sunil@elektronikasales.com
Number of locations: 10
Total number of employees: 135
Year company was founded: 1979
2013 Global sales revenue: INR 2200 million2013 India sales revenue: INR 1800 million

Address: 16, Narasingapuram Street, Mount Road, Chennai, Tamil Nadu, 600002
S.M. ElectronicTechnologies Pvt. Ltd.President/CEO: Mr. Manjunath
URL: www.smetgroup.com
Company email: rajivanand@mysmindia.com
Number of locations: 6
Total number of employees: 80
Year company was founded: 1990
2013 India sales revenue: $ 20 MillionAddress: #1790, 5th Main, 9th Cross,RPC Layout, Vijayanagar, 2nd Stage, Bangalore – 560040
Anand Industrial Components
President/CEO: Anand Bhansali
URL: www.aic-india.com
Company email: sales@aic-india.com
Number of locations: 2
Total number of employees: 15
Year company was founded: 2004
2013 Global sales revenue: INR 60million2013 India sales revenue: INR 60million

Address: 11, Mody House, Padamji Street,Grant Road East, Mumbai, Maharashtra, 400004
Saboo Components & Relays LLP
President/CEO: V.N. Saboo
URL: www.saboocomp.com
Company email: info@saboocomp.com
Number of locations: 2
Total number of employees: 15
Year company was founded: 1985
2013 Global sales revenue: INR 110 MILLIONAddress: 8/18, Nav Jivan Commercial Premises Csl, Lamignton Road , Mumbai, Maharashtra, 400008
Other Players
Mouser Electronics                                              www.mouser.com
element 14                                                                 in.element14.com
RS Components                                                      www.rs-components.com
Rabyte Electronics Pvt. Ltd.                             www.rabyte.com
Integrated Industrial Electronics                    www.iielectronic.com
Componix India                                                      www.componixindia.com
Metrocomp Ltd                                                     www.metrocomp-group.com