Quick and reliable assembly of Ethernet networks.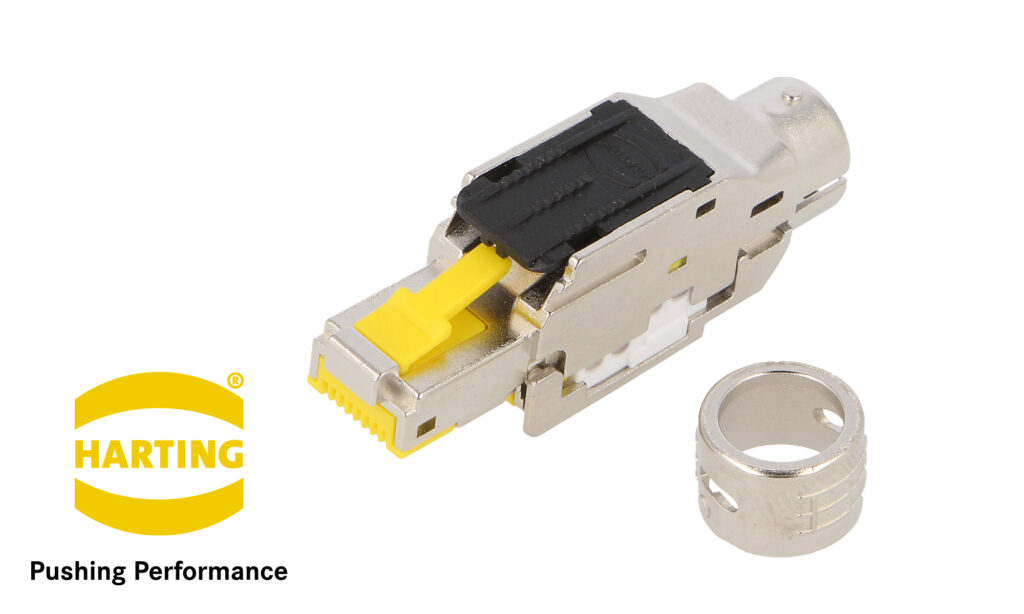 Harting is a world leader in the production of industrial connectors. Its products are characterized by an innovative, durable design and precise workmanship. We are constantly expanding our range of products by Harting available in TME's catalogue – most of the manufacturer's components are available directly from our warehouses, which guarantees quick shipment.
09451511141
An example of an angled connectorby Harting.
A new item on Harting's offer are the RJ45 connectors for toolless assembly. They are made of metal alloy, which ensures resistance to various external factors. They are available in straight and angled versions. These connectors can also be mounted in places with difficult access and will help organize cables in control cabinets or server rooms. The innovative IDC termination and cable cutting system allows for quick and reliable assembly.
Some Harting connectors can be used for Category 6a Ethernet networks. This means, among other things, that they support transmission speeds of up to 10Gb/s. All connectors are compatible with the PoE technology, i.e. they allow for powering devices with a network cable.
| | |
| --- | --- |
| | Specification |
| Type of connector: | RJ45 |
| Connector variant: | shielded |
| Operating temperature: | from -40°C to 85°C |
| Cable external diameter: | from 4,5mm to 9mm |
| Connector application: | solid wire, strand |
| Cable size: | from 26AWG to 22AWG |
The Original Source of this article: https://www.tme.com/in/en/news/about-product/page/42763/toolless-rj45-connectors-by-harting/