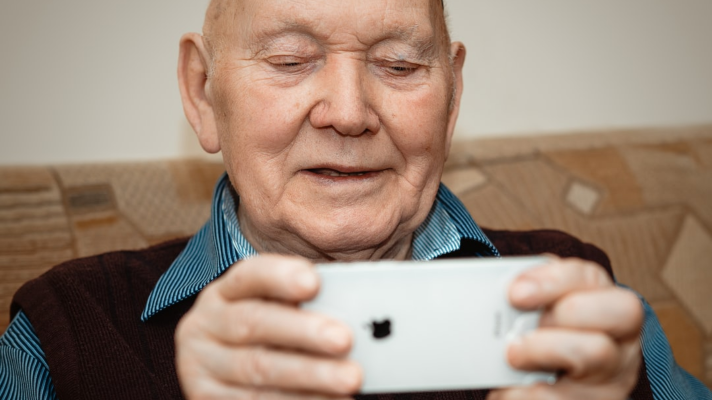 The threat associated with the contraction of COVID-19 is especially pronounced for older individuals. Between 2015 and 2050, the world's population of those aged 60 and over is expected to double — but in order to stay safe, those who are members of this vulnerable group need to take extra precautions during the pandemic. It's become necessary for many older folks to limit their interactions with family members and friends as a result. And while nursing homes and assisted living facilities can normally provide a foil to pervasive loneliness among seniors, the inability to interact with others during this health crisis can have massive consequences.
When it comes to choosing between sheer survival and temporary isolation, however, the decision isn't usually up for debate. Still, this leaves a major problem for many older Americans. Subsequently, many are turning to new ways to keep the loneliness at bay — which may mean that seniors are becoming more tech-savvy thanks to the pandemic. Sure, playing with your action figures can help pass the time, but technology offers a whole new world for seniors!
According to a survey published in April, seniors were already embracing technology early on in the pandemic. During a two-week period that month, nearly one-fourth of seniors surveyed said they'd purchased groceries online (either for pickup or delivery). That's a pretty significant jump from the year prior, when only 11% of Americans of all ages said they'd shopped for groceries online. What's more, 28% of seniors said they'd downloaded a new app and 7% had used a video conferencing platform. Around 77% of seniors answered that they had paid a bill online or made some kind of monetary transaction on the internet, with 70% saying they'd participated in any kind of online shopping during that period. Of course, the fact that the survey itself was conducted online hints that the pool might have been filled with seniors who were already using technology quite a bit pre-pandemic.
Still, that doesn't mean an old dog can't learn new tricks. From food delivery services to digital assistants, many seniors are willing to expand their knowledge — sometimes with help from community programs — in order to stay connected. Streaming services can sometimes help keep seniors occupied and entertained; whether they watch an animated film (which likely features staging, one of the 12 basic principles of animation) or a live-action comedy, they may feel better about staying home if they don't have much of a chance to get bored. Video chats have also become increasingly popular among people of all ages, but seniors can arguably stand to benefit the most from these digital interactions. Already, users prefer visual content — which is why online content video views have now topped 50 billion per month. But getting a chance to connect with friends, family, and even medical professionals in a way that won't put anyone at undue risk can be extremely valuable.
Whether someone you love needs better companionship or you're a senior who needs a bit of help getting essential goods, technology can provide a viable solution. And with more companies making devices and platforms specifically to address the challenges seniors face, many are hopeful that this trend will continue as a way to promote greater safety and connectivity for all.