Widest voltage range logic translation devices reduce board space by more than 50 percent
Bangalore, Feb. 21st, 2014 — Texas Instruments (TI) introduced the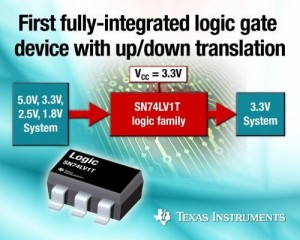 industry's first logic devices to fully integrate logic gate and up/down translation functionality operating from a single power supply, reducing board space by more than 50 percent compared to discrete solutions. The SN74LV1T family also offers the widest operating voltage range, from 1.8 to 5 V, for flexibility in the computing functionality of applications like tablets, smartphones, PCs and servers. Because the SN74LV1T family is 5-V tolerant and supports up to 125C temperatures, it can also be utilized in industrial and telecommunications applications as a logic gate, translator or both. This eliminates the need for multiple logic ICs and eases procurement management. For more information and to order samples, visit www.ti.com/sn74lv1t-pr.
The SN74LV1T family is available in nine different logic gates: NAND and AND, NOR, OR and XOR, as well as several different buffer functions. In addition to the SN74LV1T family, TI provides a complete logic portfolio including buffers, drivers, gates flip-flops, switches, I2C and voltage translation to provide increased application flexibility, higher performance and design longevity compared to competitors.
Key features and benefits of the SN74LV1T family
More than 50 percent board reduction: Integrates the up and down level shifter with the logic gate driver to cut board space by more than half compared to multiple device and discrete solutions, to support space-constrained, cost-sensitive consumer applications.
Widest voltage range: To satisfy the requirements for a broad range of applications, the family offers the widest voltage range compared to competitive devices.
Eases routing: Needs only a single power supply to perform up/down translation across multiple logic functions, easing routing for the designer during board layout.
Extended temperature range: Satisfies the needs of harsh industrial environments with an extended temperature range from -40 to 125C.
Availability, packaging and pricing
The SN74LV1T family is available in standard 5-pin SOT-23 and SC70 packages. Suggested retail pricing in 1,000-unit quantities starts at US$0.17.
Learn more about TI's logic portfolio by visiting the links below:
TI analog for industrial
TI provides a diverse and readily available portfolio of analog integrated circuits (ICs) for a broad range of applications, including smart grid, factory automation, high-voltage power, LED lighting and control.  TI data converters, amplifiers, interface, isolation, clocking, and power management devices enable customers to differentiate their products, while TI software, design tools and reference designs simplify and accelerate design cycles. Learn how TI analog innovations are improving industrial safety, efficiency and reliability at www.ti.com/analogindustrial-pr.