First dual-mode 5-W power solution to ship in volume production reduces power loss by 50 percent — enabling faster, more efficient charging
BARCELONA, Spain, Feb. 27, 2014 — Improving the mobile charging experience, Texas Instruments (TI) announced it is shipping in volume production the industry's smallest, most efficient wireless power receiver to support both the Wireless Power Consortium's (WPC) Qi 1.1 and Power Matters Alliance (PMA) specifications.
The new bq51221inductor-less, 5-watt receiver's high efficiency and programmable output reduces power loss by as much as 50 percent compared to existing receiver solutions, allowing consumers to more efficiently and quickly charge their mobile phones, headsets and power banks from a Qi or PMA charging station. To order samples and a development kit, visit: www.ti.com/bq51221-pr.
Features and benefits of bq51221:
Dual-mode, 5-watt receiver: Compliant with Qi 1.1 and PMA communication and control.
High efficiency for fast charge time: Achieves up to 96 percent power efficiency, and the device's adjustable output voltage helps reduce power loss by as much as 50 percent.
Industry's smallest, thinnest solution: 3.6-mm by 2.9-mm by 0.5-mm single-chip wireless power receiver achieves a solution size of 75 mm2 without the need for an inductor.
In addition to the dual-mode receiver, TI also introduced its bq51010B next-generation Qi 1.1-compliant receiver with an integrated 7-V regulated supply and foreign object detection. The single-chip receiver, also shipping in volume production, achieves 93 percent power efficiency and ensures the lowest possible power dissipation when charging a Qi-compliant smartphone.
TI and wireless power
TI's wireless power management products and support enable innovative, efficient wireless charging capabilities for smartphones, tablets and other portable electronics, and wireless power charging transmitters ranging from stand-alone charging pads to those embedded in cars and furniture. The company offers the most extensive portfolio of power integrated circuits that support WPC's Qi standard. TI also is a member of the Alliance for Wireless Power (A4WP) and PMA.
Availability and pricing
The new bq51221 and bq51010B wireless power receivers are available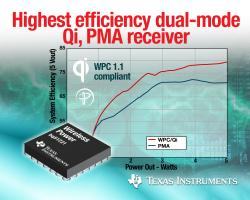 now in volume production to customers worldwide. The bq51221 dual-mode receiver comes in a 42-pin, 3.6-mm by 2.9-mm by 0.5-mm package at a suggested resale price of US$3.00 each in 1,000-unit quantities. Qi-only versions of the bq51221 are currently sampling to select customers, and are expected to be available in volume production in the second quarter. Designers can order the new bq51221EVM-520 evaluation module to get started on dual-mode wireless power receiver designs. The bq51010B comes in a 28-pin, 1.9-mm by 3-mm BGA package at a suggested price of US$2.50 each in 1,000-unit quantities.