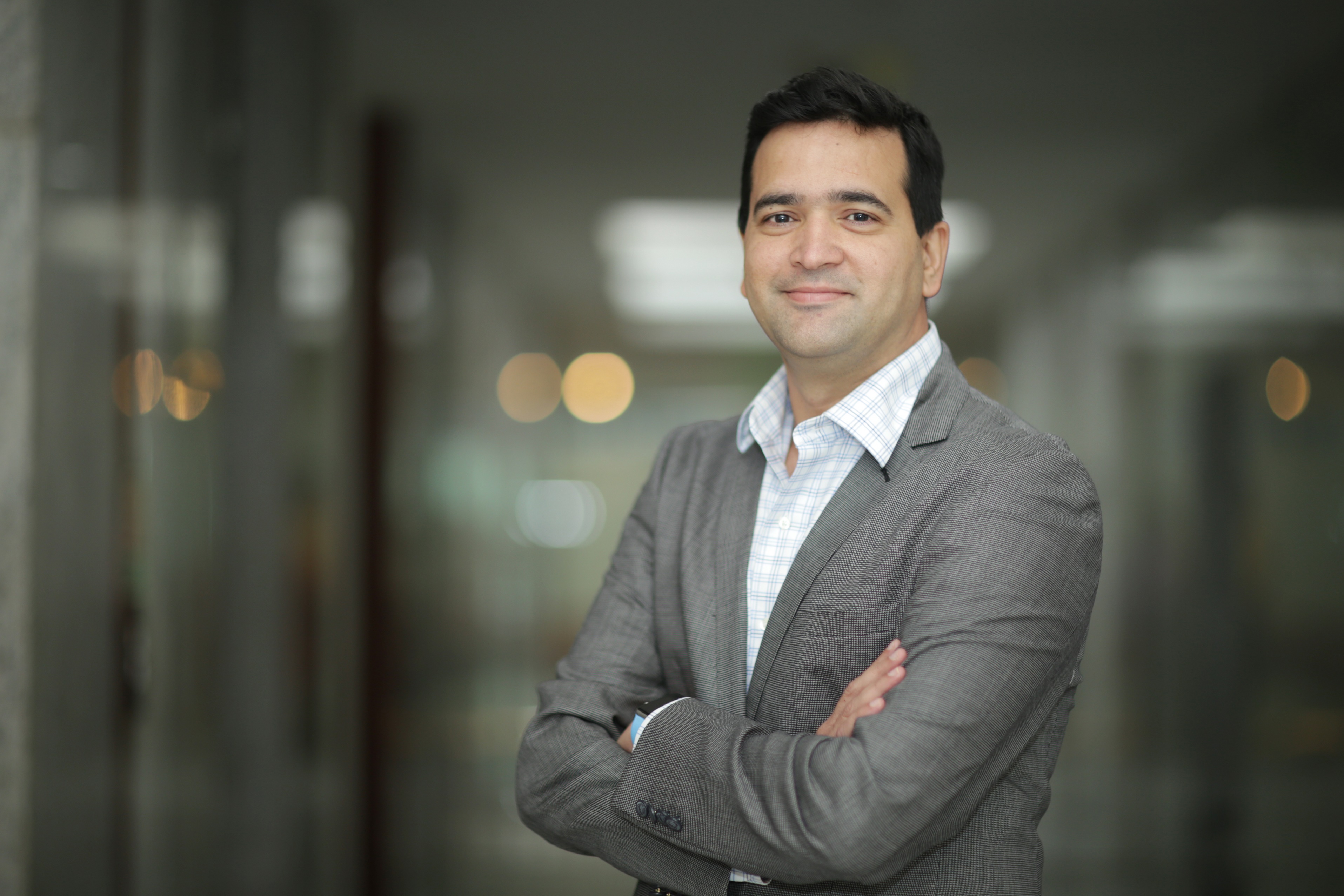 The global leader in smart lighting solutions for more than 125 years, Signify, is constantly innovating to create a 'brighter' future for the world. After bringing various revolutions in the field of lighting, the company has now introduced its Interact IoT Platform that enables connected LED lighting systems and embedded sensor networks to deliver insights, benefits and new services to customers. In an email interview with Mr. Sumit Joshi, Vice Chairman and Managing Director, Signify India (Previously known as Philips Lighting India)
Please start by introducing Signify as a rebrand of Philips Lighting, why it is formed and its business shaped so far?
Founded as Philips in Eindhoven, the Netherlands, we've led the lighting industry with innovations that serve professional and consumer markets for more than 128 years. In 2016, we spun off from Philips, becoming a separate company, listed on Amsterdam's Euronext Stock Exchange.
The renaming of our company was the next logical step in our transformation journey since we became a standalone company in 2016 and marks another milestone in our rich history extending back more than 128 years. We had to change our company name in line with contractual requirements of the Company Name License agreement with Royal Philips, which requires that we change our company name after Royal Philips no longer has a controlling interest. Following the amendment of the company's articles of association, the company has changed its name from Philips Lighting N.V. to Signify N.V. and this name change has also been implemented across our global operations.
Signify will continue to use the Philips brand, the most trusted lighting brand in the world, for its products, under the existing licensing agreement with Royal Philips.
The choice of our new company name originates from the way light has become an intelligent language, which connects and conveys meaning. It is a clear expression of our strategic vision and purpose to unlock the extraordinary potential of light for brighter lives and a better world.
We turn light sources into points of data to connect more devices, places and people through light, contributing to a safer, more productive and smarter world. Therefore, we believe that our new name will further shape our company's profile as both the world leader in lighting and the lighting company for the Internet of Things.
What are the specific brands and products offered by Signify?
Signify proudly markets and owns the best lighting brands in the world, starting from Philips – our global brand in professional and consumer lighting, Interact – our Internet of Things platform and connected lighting systems, Modular Lighting Instruments – our international brand in Architectural Lighting, Color Kinetics – our global brand for dynamic Architectural Lighting Systems and Philips Hue – our wireless connected lighting system.
Under the consumer category, Signify offers a wide range of products in different segments such as Lighting Fixtures, Bulbs and Lamps and Philips HUE – The ambient lighting technology. Philips T-Beamer, Ceiling down secure, Philips Eye Pro and Philips Smart WiFi LED bulb are some of the recent products in the consumer category.
Whereas in the professional category, Signify offers Indoor Luminaires, Outdoor Luminaires, LED and conventional lamps and tubes, Lighting Electronics and lighting controls. Most recently, the company launched its Interact and LiFi solutions in India.
What is Interact connected lighting systems and what it addresses?
Interact is our new Internet of Things (IoT) platform that will enable our professional customers to unlock the full potential of connected lighting for the IoT. The platform delivers new insights to help customers drive operational efficiencies and take more effective decisions. It also supports our company's strategy to deliver new data-enabled services as value expands from lighting products and systems to services.
We have already installed 53 million connected light points worldwide and plan for every new LED product we produce to be connectable by 2020. This growing number of connected light points, sensors and devices, as well as systems, can collect large volumes of data for which Interact was designed to handle. The highly secure, scalable cloud-based Interact platform uses sophisticated and modern data management and data processing capabilities, including machine learning, to bring sense to all manner of data – creating data-enabled services for customers that will deliver benefits beyond illumination. It also offers a growing suite of licensed open application program interfaces (APIs) which will foster innovation from third-party developers, development partners and customers, enabling various data enabled services to be developed.
A typical example of such a service is occupancy data from different buildings, combined and analyzed to help managers to understand and predict how people use office space. Such insights can help deliver savings by optimizing the use of existing office space and support better designed, more efficient buildings.
In addition, data from authorized third-parties can also be analyzed by Interact. For example, for a municipal authority, news articles and social media posts, reacting to a new lighting installation on a bridge, can be analyzed and data sent to a social impact app dashboard that summarizes the public sentiment.
Tell us about your newly introduced product 'Philips EyePro' and about its patented Interlaced Optics technology.
Philips Eye Pro is our newest offering in the Indian market. This is a new LED bulb range designed with patented Interlaced Optics technology to enhance Eye Comfort. Its design, inspired by the pattern of sunflower seeds diffuses and reflects light. This reduces glare – the excessive brightness caused by an intense light beaming from the center of the bulb – by up to 35% and ensures no visible flicker. The result is a uniform light output that is comfortable on the eye. The micro Interlaced Optics are imprinted onto lamps, cleverly increasing the light beam angle, so wider areas of the home can be lit more uniformly, making it ideal for high concentration tasks like reading and writing.
What are the benefits of LiFi and your innovations in this technology?
Light Fidelity (LiFi) is a technology in which high quality LED lighting provides a stable and fast broadband internet connection through light waves. Unlike other forms of wireless communications (e.g. WiFi, 4G/5G, Bluetooth, etc.) that use radio waves, LiFi uses the broader spectrum of light waves to transmit and receive data wirelessly. LiFi's bandwidth is more than 1,000 times the size of the radio spectrum and it works in such a way that each luminaire is equipped with a built-in modem that modulates light at speeds imperceptible to the human eye. The light is detected by a USB access key/dongle plugged into the socket of a laptop or tablet (in the future such technology will be inbuilt into laptops, mobile phones, and devices). The USB access key returns data to the luminaire through an infrared link.
While radio frequencies are becoming congested, with more devices trying to connect and overloading networks, the visible light spectrum is an untapped resource with a large bandwidth suitable for stable simultaneous connection for a vast array of Internet of Things devices. As the lighting company for the Internet of Things, we are the first global lighting company to offer LiFi-enabled luminaires from our existing office lighting portfolio. In the coming year, we will focus on new LiFi installations, trying to expand to new user applications.
LiFi has multiple applications and can offer a stable Internet connection. It is especially useful for areas where radio frequencies may interfere with equipment, such as in hospitals and factories, or where WiFi signals are poor or can't reach, such as underground places.
In addition to a better and uninterrupted connectivity, LiFi can be used in high-security environments as it adds an extra layer of security as light cannot pass through solid walls and a line-of-sight to the light is needed to access the LiFi network. It offers a secure, personal connection for anyone concerned about data privacy. User cases include environments demanding high security such as the back office of a financial institution or government service. LiFi is also safer for the human body, as it doesn't generate an electromagnetic environment like other wireless systems. Hence it can be easily used in sensitive environments like schools and hospitals.
Can you highlight LiFi commercial presence in India, and challenges if any?
There is a lot of potential for LiFi in India, as millions of Internet devices are being added into the connected ecosystem every day, resulting in radio networks becoming congested. With more and more digital content being consumed through mobile devices, in the future, consumers will also demand a faster Internet connection that can be easily enabled through LiFi.
With our efforts and constant drive for LiFi in the market, we already have 7 pilot installations in India across different segments, including banks, Information technology, Co-Working spaces, B2G, Infrastructure amongst others. We were also specially invited by the Prime Minister's Office (PMO) and Government of Gujarat to showcase LiFi as a Futuristic Technology at the Vibrant Gujarat summit which received a footfall of 25,000 delegates, including Central and State Ministers, several corporate houses and government officials.
LiFi is a new and upcoming technology. At this stage, it is crucial for end users, as well as the ecosystem around those customers to get familiar with the technology and become aware of the numerous benefits of the solution. We have set up a demo for LiFi at our Gurgaon HQ in India and are in the process of setting up a lot of first (small) installs in various applications to stimulate and accelerate this as well.
How do you see the current market demands and growth for Smart Lighting products in India?
In India, smart lighting for homes is an INR 100 crores+ category and is expected to grow by 45% over the next 3 years as many more houses adopt connected lighting in a major way. We are by far the market leader in this segment as well, as we virtually created this category when we launched our Philips Hue range in India 4 years back.
While smart lighting for homes constitutes a very small share of our overall business right now, it has a lot of potential for growth in the future owing to increasing urbanization and internet penetration. Ultimately our focus is on new homes and renovations, where we see a lot of consumers trying out connected lighting for the first time.
As the business scenario in India matures, expectations of a new generation of employees from their workplaces have increased and we also see employers adopting new technologies to boost their employees' engagement and productivity. These developments have led to the emergence of smart and connected offices, wherein the 'Internet of Things' drives new ways to collaborate, innovate and socialize. Hence, it is not surprising that in today's fast-changing business environment, new ideas such as connected Lighting are being implemented in workspaces that facilitate a culture of innovation based on collaboration.
Applications of light continue to grow, redefining the role of light but also the way employees can optimize and interact with their workplace. Therefore, with connected lighting, offices can offer employees the ability to personalize the lighting in their immediate work area that can have a profound effect on their wellbeing and effectiveness.
With a profit orientation, organizations are also focusing on building energy efficient green offices, enabling optimal use of available resources. Connected LED lighting also allows building managers to monitor and analyze building usage data in real time, enabling them to identify inefficiencies and control other facilities such as air conditioning, heating and meeting room availability. This can drive down energy consumption by up to 80% compared to conventional lighting, allowing businesses to slash their carbon footprint and drastically reduce their running costs.
Which are the areas where you find your maximum growth in India?   
The overall market size of the Indian lighting industry is INR 15,000 crore with LED lighting constituting almost 80% of this. The LED portion of the industry is expected to grow in high single digits. The conventional lighting market is however expected to decline in double digits, owing to faster conversion towards LED.
We have managed to increase our profitability over the last 3-4 years, thanks to new innovative products like Philips T Beamer, Philips Eye Pro and Philips Smart WiFi LED bulb. We will also focus on expanding our presence in the rural channel with our customized offerings.
Our focus is on innovation and expanding the premium segment where nobody focuses on right now. For example, the T-bulb that we launched has thrived and constitutes 15-18% of our overall LED Bulbs revenue. It sells at two times the price of a normal bulb which shows that customers are willing to pay that extra premium if you give them innovation and value addition which they appreciate. Hence, we believe that companies that don't innovate, companies who are in the mentality of trading, companies who are entering lighting industry from other backgrounds, all these non-serious players are going to have a difficult time surviving in this market.
We are also investing significantly to grow our smart home lighting business in both offline and online channels, through our exclusive Philips Smart Light Hubs and with our presence on all major e-commerce portals. By the end of the year, we expect to double our retail presence for smart lighting in the country with new Philips Smart Light Hubs.
In the professional lighting space, we will strive to grow our Interact connected lighting installations in offices, public buildings, retail stores, hotels and landmarks. Signify has already installed 53 million connected light points worldwide and plans for every new LED product it produces to be connectable by 2020. The highly secure, scalable cloud-based Interact platform uses sophisticated and modern data management and data processing capabilities, including machine learning, to bring sense to all manner of data – creating data-enabled services for customers that will deliver benefits beyond illumination.
What is your current growth and expected growth in next year?
Signify India witnessed high single digit growth in the first half of 2019, however it was "slightly muted" during the remaining half of the year due to overall economic slowdown in the country. In Q2 we saw some projects getting delayed due to elections in the country, however we were expecting a recovery but it looks like it is getting slightly delayed. It will take another three-to-six months for things to start picking up in the Indian lighting sector. The current economic slowdown has impacted industries across sectors in India and we are no different.
We are the clear market leader in the ₹15,000 crore lighting market in India. We have maintained our leadership position ever since we entered the Indian market 90 years ago as Philips. Every third consumer in the country uses a Philips' lighting product. As a result, we enjoy high brand affinity and customer loyalty in the Indian market.
In 2020, we intend to further grow our market share by focusing on innovation, creating new products and services for the benefit of our consumers. We spot customer needs before anybody else focuses on them and grow in that segment by coming up with ground-breaking and futuristic solutions.
What are the new innovations you are working on?
With the world around us becoming more digital, we are transforming light sources into data points to enable connectivity to more devices, places and people through light and contributing to a safer, more sustainable and smarter world. Our company name Signify is inspired from the fact that light has become an intelligent language that connects and conveys meaning. We are positioning ourselves as the lighting company for the Internet of Things.
We are pioneering breakthrough innovations in products, system architectures and services – making bold investments in sensors, cloud-based controls platforms, connected lighting, indoor positioning technology and consumer-based personalized lighting systems. Our recent innovations such as LiFi and Interact reiterate our focus on driving customer value through connected lighting systems.
India is among the top 5 markets for Signify and plays a major role in Signify's global product and services development as well. We have one big R & D center in Bangalore which is also our global R & D center that works for Signify globally and a local R & D center in Noida which develops products for India and is also the global hub for our solar business.
Are there in specific challenges you would like highlight for India market?
Due to government electrification schemes like SAUBHAGYA, remote towns and villages in rural areas now have access to electricity. Moreover, with rising rural incomes and penetration of media, aspirations and awareness about new products amongst rural households has increased over the past few years.
Most rural households still use conventional lighting on a large scale due to the comparatively higher prices for LED products. However, we are now witnessing a small yet steady demand for LEDs from these areas.
We have created an exclusive LED range of products called Philips Ujjwal to cater to this audience, offering a better price value to suit their budget. The technical specifications of these products have been specially designed keeping in mind rural lighting requirements and preferences.
Another challenge that the industry is facing is the prevalence of sub-standard lighting products that flout consumer safety standards. There is a need for strict surveillance from the government to curb their sales in the market, as they are a threat to consumer safety. However, if the government continues to allow cheap and sub-standard products to be sold in the market, we foresee that it will become a big roadblock for the industry, which can further impact the price point for the whole industry.