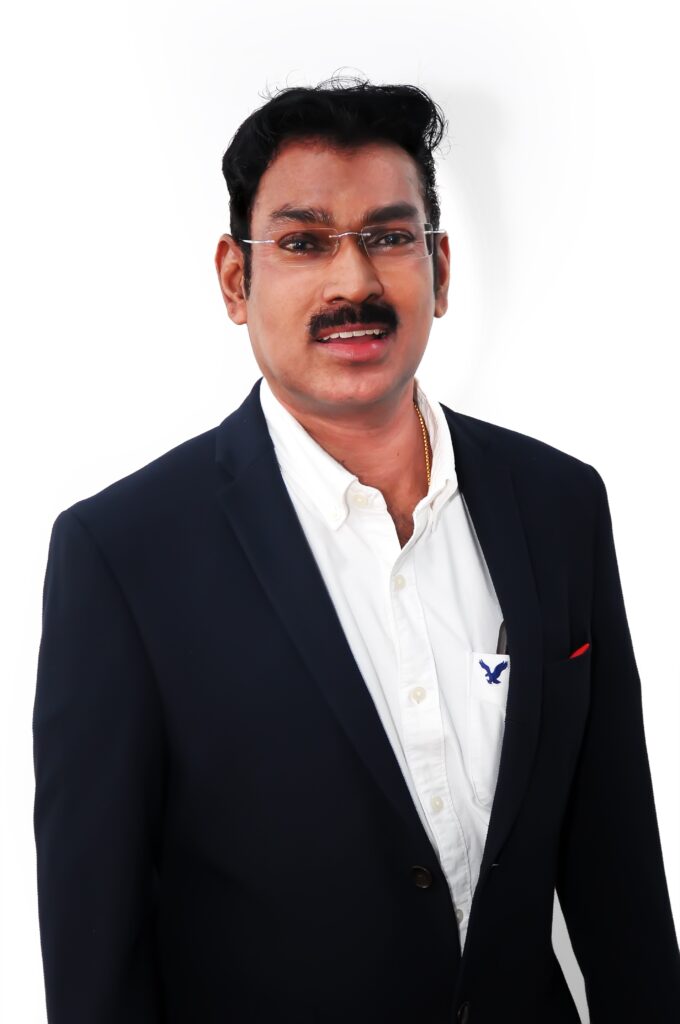 Flex is the manufacturing partner of choice that helps a diverse customer base design and build products that improve the world. Through the collective strength of a global workforce across 30 countries and responsible, sustainable operations, Flex delivers technology innovation, supply chain, and manufacturing solutions to diverse industries and end markets.

Mr. Sekaran Letchumanan, Vice President – Operations, Flex India spoke to Electronics Maker about latest trends and technologies in smart manufacturing and business outlook post pandemic.
Cloud Computing is the enabler for smart manufacturing. What will you say?
Cloud computing has touched and transformed the operations of almost every organization around the world. Every part of the infrastructure is essential – from servers, storage and networking to racks, power and cooling. As public and private clouds provide individuals, businesses and governments essential access to vast amounts of data and services, reliability is paramount.
For manufacturers, productivity can be tracked effortlessly from anywhere using Cloud-based solutions while ensuring that the suppliers and customers are being updated on the status simultaneously. In addition, operational data is accumulated automatically to calculate key performance areas such as line utilization and machine utilization. Predictive models can be created using automated data from each production line to reduce unplanned downtime and optimize future production plans, boosting productivity and profits. Cloud computing equips you to extract, analyze and save information that may impact the production line.
When organizations transfer their information technology and manufacturing operations systems to the cloud, they can still retain full access to critical systems even in the event of an unexpected crisis such as a pandemic, irrespective of where they are physically located. Remote visibility into activities can aid in the tracking of other major manufacturing sites throughout the world.
Creating a technology framework that incorporates hardware and software monitors to track the status of key machines and provide information back into the Manufacturing Execution System (MES), is extremely important to success. To drive fundamental efficiencies, the system automates scheduling, work in progress (WIP) tracking, order fulfillment, material backflush, and other MES features. These operations' data is then transferred to the cloud and examined to determine the key performance indicators (KPIs).
What does Industry 4.0 mean to the supply chain?
Industry 4.0 has undoubtedly been a game-changer in the manufacturing industry and the way manufacturers function. Advanced technologies such as Virtual Reality, automation, Big Data, Cybersecurity, and Cloud have brought the manufacturer and end-users closer.
Defined by unparalleled machine intelligence and connectivity, industry 4.0 introduces cyber-physical systems and IoT on the factory floor. Flex's modern manufacturing attempts are driving advancements in industry 4.0, bringing greater efficiency, quality, and sustainability to the manufacturing process.
The strong influence of Industry 4.0 will aid in creating intelligent supply chains by incorporating data analytics and IoT advancements into the supply chain. There are complexities that come with new technologies; hence it becomes important for supply chains to maintain transparency. With the increase in near-real-time visibility of the supply chain it will be easier to spot the abnormalities or any disruptions that could affect the supply chain.
One of the best examples of Industry 4.0 in today's times is that it enabled companies maintain business continuity by enabling Smart Automation, Machines-to-Machine communications, the Internet of Things (IoT), Real-Time Analytics and Cloud Computing during the COVID-19 pandemic.
Flex has a proven track record of adjusting quickly to changing market dynamics enabled by its deep partnerships and sophisticated supply chain management tools and processes. COVID-19 showed us that it is no longer only about driving down costs and increasing efficiencies but also about ensuring reliability across the end-to-end value chain. As the world's complexities and uncertainties continue to grow, so do risk exposures. Ensuring end-to-end accountability and real-time asset monitoring is important, especially during current times. That is where Industry 4.0 comes into play.
Please can you share insights on emerging technologies such as IoT, Analytics, and Cloud and how they help manufacturers?
Newer technologies such as Virtual Reality, Autonomy, Cybersecurity, Big Data, and the Cloud hold huge potential for development and innovation. Automation is not a concept of adding new machines but rather having the machines communicate with each other and work alongside human beings. This brings in the requirement to think differently and be coupled with highly targeted business goals.
To stay profitable, manufacturers cannot suffer prolonged downtime. Emerging technologies such as IoT, Analytics, and Cloud enable manufacturers to be quick and nimble in the way they operate. Investing in these technologies helps in maintaining forward momentum. Industry 4.0 is transforming the way that enterprises are handling their core functions and it is definitely revolutionizing the way the manufacturing sector works.
How to ensure business continuity during a pandemic or any such future shocks?
At Flex, we have a proven track record of adjusting quickly to changing market dynamics enabled by our deep partnerships and sophisticated supply chain management tools and processes. The pandemic showed us that it is no longer only about driving down costs and increasing efficiencies but also about ensuring reliability across the end-to-end value chain. As the world's complexities and uncertainties continue to grow, so do risk exposures. Ensuring end-to-end accountability and real-time asset monitoring is important, especially during current times. The biggest learning for us is that it is not entirely the business continuity but resilience, to develop the capacity to address the dynamic situations that we don't expect.
The big learnings from this period are helping us become better and stronger. Indeed, in the wake of the pandemic, resilience has landed on top of the corporate agenda and is now regarded as an integral part of the strategy of every business. Beyond business continuity plans, we must develop the capacity to address fast-moving and unpredictable events, spring back from major disruptions, and emerge stronger to drive greater success.
Virtual reality in manufacturing. What is a digital twin?
Enterprises in several industries are investing in Virtual Reality and Augmented Reality. Worldwide spending on these technologies is estimated to accelerate out of pandemic, growing triple-fold by the end of this decade.
Flex launched an augmented reality (AR) reference design in 2018, to decrease time to market for companies that are making AR devices for enterprise and consumer applications. Using Flex AR reference design companies could substantially reduce product development costs and quickly step up manufacturing.
Flex has adopted the Digital Twin model, globally. It is an advanced simulation capability by using 3D modelling as well as virtual and augmented reality to build real-time, digital models of processes and physical entities. Digital twin applications are only restricted by our imagination. It is used to assemble a digital representation of a proposed production line to simulate processes, in conjunction with other processes and configurations, to ensure that it functions as planned.
Robots obviously are also in the blend, having done a significant part of the heavy lifting for a long time now. As manufacturing gets less simple, the next frontier is industrial IoT to enrich robots with more nuanced control and coordination. Flex is driving the progress of Industry 4.0 by focusing on a combination of technologies and advanced manufacturing capabilities that can offer greater quality and efficiency along with sustainability for customers.
How can robotics and automation work with humans to improve efficiency and productivity?
Manufacturers need to take advantage of automation and robotics to introduce efficiencies. Robotics and Automation frees humans from conducting dangerous tasks. In Flex factories, we witness the benefits of smart automation that works side-by-side with humans. When it comes to manufacturing, we incorporate intelligence not just in the hardware, but in the software that makes the hardware work. Software insights in manufacturing are bridging the gap between the digital and the physical in a transformational way.
For example, using simulation software to test a design before production begins. Software insights can also notify you when machine maintenance is needed, thereby reducing downtime and expenses. This intelligent system reduces the manual process that can lead to recurring mistakes, communication gaps, and lost productivity. Allowing software to drive the factory floor frees team members to provide significant effort in other areas.
Using Flex's home-grown RPA software, we have implemented a bot called Gabriel. Gabriel works 7 days a week and can simplify repetitive and mundane tasks. Gabriel also helped in addressing the process of social insurance benefits for our employees in the China region. We witnessed a high success rate with respect to executing automation and achieved a full-proof accuracy rate in the job completed.
Time-consuming and repetitive tasks were simplified, and Gabriel could finish those efficiently and rapidly. Flex believes that post-Covid-19, there will be a key focus on how the manufacturing processes can be enhanced which will eventually result in greater operational efficiency. Our employees who were working remotely, when COVID-19 hit, used AI effectively which could simplify the process to a larger extent without any human involvement.
Smart robotics capable of capturing production data can use those insights to predict downtime and prescribe corrective action accordingly.
What is predictive maintenance? Why will it be important in electronics manufacturing?
Predictive maintenance helps in reducing expensive and unexpected breakdowns. It provides the manufacturer with an opportunity to prepare maintenance around their own production schedule. Industry 4.0 anticipates and corrects potential issues and failures before they occur. There are lesser number of unexpected breakdowns or failures with predictive maintenance.
For example, spindles tend to break in milling machines, leading to costly repairs. But with predictive maintenance, ultrasonic sensors gather data on each spindle, which is analyzed for a particular pattern that suggests a fragile spindle. From there, an alert flags the problem for scheduled maintenance.