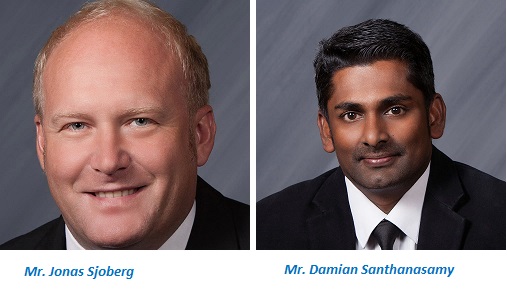 Indium Corporation® is a premier materials refiner, smelter, manufacturer, and supplier to the global electronics, semiconductor, thin-film, and thermal management markets. Products include solders and fluxes; brazes; thermal interface materials; sputtering targets; indium, gallium, germanium, and tin metals and inorganic compounds; and NanoFoil®.
The company recently exhibited at productronica India to showcase their innovative materials solutions for customers. EM had the opportunity to meet with top management and discuss their offerings. Here is the exclusive conversation with Mr. Jonas Sjoberg, associate director for global technical service & application engineering, and Mr. Damian Santhanasamy, senior country sales manager, Malaysia.
Which new products and features have you showcased here to customers?
One of our newest products is Indium Corporation's Indium 10.2 HFA solder paste, a Pb-free halogen-containing solder paste with the lowest levels of voiding for QFNs, BGAs, and pads with large ground planes.
The oxidation-inhibiting properties of Indium 10.2 HFA promotes industry-leading head-in-pillow (HIP) and graping resistance, with complete coalescence even after long reflow profiles. The exceptional soldering ability of Indium 10.2 HFA solder paste makes it the best solution for components with less-than-ideal solderability and challenging RF shield metallizations.
Indium 10.2 HFA solder paste enables the lowest cost of ownership to PCB assembly manufacturers through an all-around balanced performance in both high print and soldering yields. It boasts a versatile, well-balanced set of properties with best-in-class printing and soldering performance. Indium10.2HFA solder paste provides industry-leading print definition and transfer efficiency, low-voiding performance, and HIP and graping resistance.
Indium 10.2 HFA works best in applications that require:
•  Wetting performance on difficult to solder or oxidized metallizations
•  Low BTC voiding
•  Outstanding HIP performance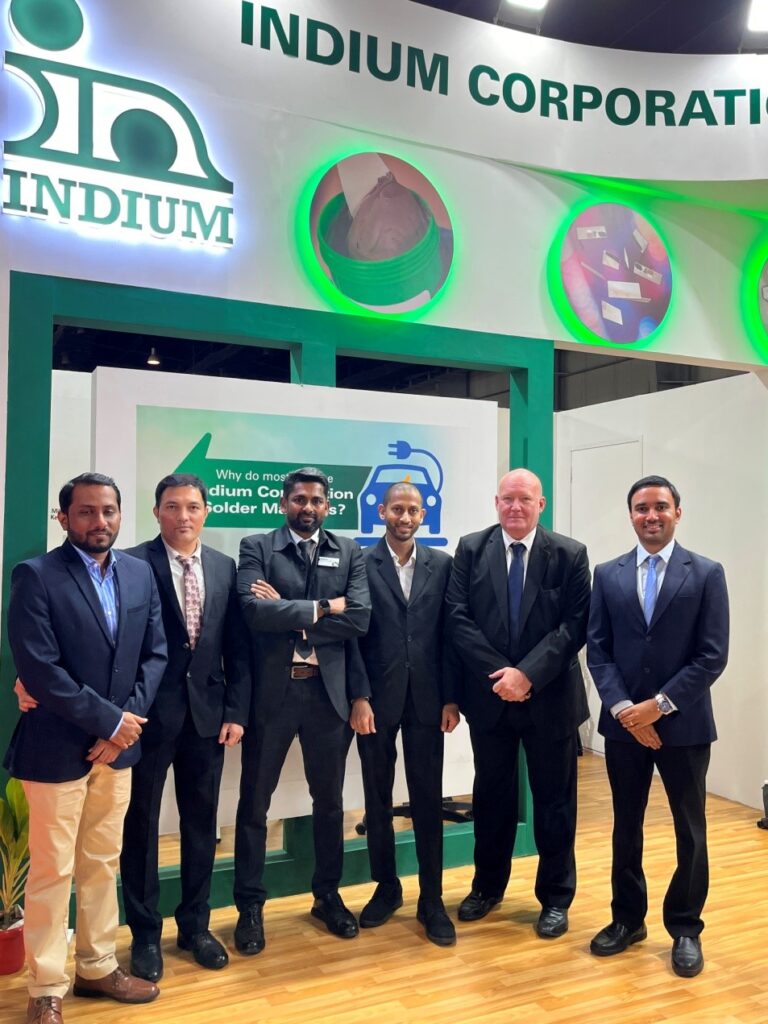 Tell me about Indium Corporation's Rel-ion™ technology for e-Mobility.
Indium Corporation's Rel-ion™ suite of electrical, mechanical, and thermal solutions for e-Mobility are designed to be reliable, scalable, and proven materials, reducing electric vehicle (EV) manufacturers' time to market. Most of Indium Corporation's Rel-ion™ products have more than a decade of running inside of EVs and more than 3 million EVs are on the road today with Indium Corporation's products.
Rel-ion™ materials deliver electrical, mechanical, and thermal reliability by eliminating common defects such as non-wet opens (NWO) and HIP, preventing solder delamination with precise bondline control and increased creep and fatigue resistance, and reducing hot spots-induced voiding through improved thermal efficiency.
What products are you manufacturing in India?
We are producing some selective products like solder paste for now, but are looking forward for more products to be manufactured in India as per customer demand.
What solutions do you have for automotive electrification?
Indium Corporation's suite of proven, high-reliability materials for enhanced performance in automotive electronics assembly and packaging include solder paste and solder preforms, thermal interface materials, innovative solder alloys, metals, and compounds.
Indium Corporation's semiconductor-level solutions for e-Mobility include our comprehensive suite of semiconductor-grade fluxes and solder pastes that improve yields and deliver material compatibility for SoC, GPUs/CPUs, SiP, DDR, AI accelerators, and more.
Indium Corporation's power module level solutions deliver:
•  Bondline control between substrate and baseplate for IGBT and MOSFET applications
•  Improved thermal cycling (4X improvement in reliability)
•  DBC to baseplate-attach with low voiding and high TCE
•  Drop-in processing solution
For PCB assembly solutions for e-Mobility, Indium Corporation offers a suite of solder pastes that meet longer mission profiles, higher operating temperatures, and increased thermal cycles.
Do you sell any products online?
Indium Corporation's products can be purchased online at buy.solder.com or over the telephone by calling 1-800-4-indium. The company's online store features award-winning products including solder flux, paste, ribbon, and wire, along with advanced assembly materials, research kits, and more.