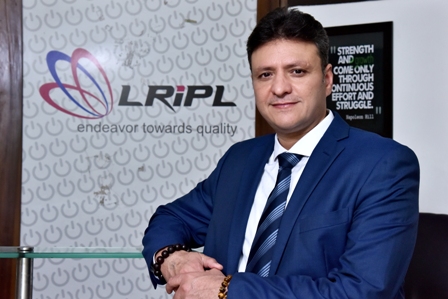 Laxmi Remote (India) Pvt Ltd (LRIPL) is  one of the leading Electronics Manufacturing Service (EMS) providers in India. The company is specialised in manufacturing SMPS Power supplies, set top Box, Mobile chargers, LED TV Boards, Door Bells, lighting solutions and capable of manufacturing other home appliances too. Mr. Vijay Kumar Sachdeva, CEO & MD of LRIPL spoke to EM about the outlook of EMS industry post COVID-19, future plans and their services.
Please detail us about your company's presence in India, Business model.
Laxmi Remote (India) Pvt Ltd was incorporated in the year 1995 and within a span of 25 years, the company has established itself as India's one of the largest remote control manufacturers. The company's business model operates in two verticals i.e, B2B & B2C.
In the consumer segment, the company has a vast product portfolio that include remote controls, set top box, Adapters, CCTV power supplies, Mobile chargers & audio-video cables. The Brand LRIPL has a PAN India presence with well established supply chain having more than 500 distributors to target markets and reach end consumers.
In the business segment, the company has out grown into the state of the art-modish facility & is catering to more than 60 consumer durable brands and is best known for remote manufacturing. Laxmi Remote is an established electronic manufacturing service company in India with 2 manufacturing plants rendering manufacturing services, located in Noida, Uttar Pradesh. The company is specialised in manufacturing remote controls, SMPS Power supplies, Set-Top Box, Mobile chargers, LED TV Boards, Door Bells, lighting solutions and capable of manufacturing various other electronics products as well.
We also manufacture and export remote controls and set top boxes to few of our international clients.
How LRIPL is playing an important role for the manufacturing sector of India
Laxmi Remote is a true Make in India company and has been there for 25 years now. The company has a major contribution in defining remote control manufacturing in India and proven to be a pioneer in this domain. Today LRIPL manufactures more than 3 million remote controls in a month, additionally the company manufactures 1 million set-top boxes, adapters, mobile chargers each in its state-of-the-art manufacturing facilities. The company offers employment to more than 1200 people with different skill sets. LRIPL is also committed to India's GDP growth and Atmanirbhar Bharat initiative.
We provide end-to-end solutions to our clients in business domain. Catering to more than 60 electronics brands, we have already set the benchmark in the industry. We are partnered with big enterprises such as Daikin, Blue Star, Voltas, Havells, Orient Electric, Bajaj, Luminous, Livpure, Whirlpool, Lloyd, Amber, Usha, Halonix, Carrier Midea, Ricoh amongst many others.
What are your growth plans to expand business in India and which vertical/product line will be their major focus?
We have huge expectations from the Indian Market and there is no uncertainty that India will be the next manufacturing hub in the world. The kind of infrastructure we have here, we are definite that we can contribute a lot in the segment.
We are planning to strengthen our facilities and targeting 20% production growth in the coming time. Sticking to our growth plans, we are planning to enter the LED TV manufacturing business and also to set up a manufacturing unit in Chennai in the coming years.
We are now focusing more on electronic manufacturing services and the prime sectors we are considering are Medical, IOT, Consumer Electronics & appliances given the fact that the Consumer Electronics and Appliances Industry in India is expected to become the fifth-largest in the world by 2025.
What is your role in defining the responsibility areas at the company?
I am responsible for overall growth and development of the company. Taking care of scaling up the venture, reinvent business processes, discovering new revenue streams, diversification strategy , strategic alliances and balance risk and reward.
At the forefront of the company's growth, I support, formulate, and implement clear short-term and long-term operational and business strategies. I believe in performing the right things and we want to use our manufacturing expertise to make products that contribute positively to the world. We are going all out in building partnerships for enterprises and different industries and are putting in sufficient time and investment into it.
During COVID-19, how will LRIPL drive transformation in businesses and people's lives?
COVID-19 has given us enough time to introspect and analyse the business opportunities and created ample space for Indian manufacturers to work on their scale and overall business structure.
We are now aiming on increasing the scale and organising the overall processes. We are filling the process gaps and turn them into positives. Our R&D team is working on new remote control technologies like RF, Bluetooth, touch screen & voice control and also on developing Qualcomm and Power Delivery (PD) mobile chargers which will certainly add convenience and values in people's lives.
Laxmi Remote firmly stands with all our employees, channel partners, clients, customers and everyone who is directly or indirectly associated with the company during COVID-19. The company is taking decisions in the best benefits of everyone.
In the post COVID-19 phase, how are you managing your services to the customers?
The Post COVID era is very crucial for Indian electronic manufacturers. We are adapting our manufacturing processes as per the new normal and taking every possible step to facilitate our clients with their orders with us. We are adopting all necessary precautions in manufacturing processes so that we get to face no halt at any point of time and deliver the client's orders on time.
In the consumer segment, we have recently launched our online shopping portal www.shop.lripl.com to facilitate end consumers to get our products at their doorsteps so that they don't have to miss out on their entertainment at home.
Can you elaborate which type of job will be created in the manufacturing and electronic segment due to emerging technology and innovation?
Indian Electronics manufacturing growing quite significantly. The government is projecting electronics manufacturing in the country to record an annual growth rate of Appx. 30 per cent over the next five years. This intends to create over 8,00,000 Jobs.
We believe with emerging technologies and innovation Artificial intelligence, robotics, automation, IOT, medical and consumer electronics will witness a spike and create more and more jobs in sales & marketing, R&D, product development, software development, programming, data intelligence, product Engineering etc.
What are your growth plans in the field of remote controls and other devices?
We are the pioneer and one of the largest manufacturers of remote control manufacturing in India and catering to 20-25% of the overall demands at the moment. market is changing rapidly hence we are working on technologies like RF, touch screen, voice control along with Bluetooth technology in the category of remote controls so that we can aggressively meet the market demands in future.
Apart from remote controls we have also launched Android set-top box (OTT box) and Hybrid box which is India's first 'two in one' Free to Air and Android set top box recently.
How will you forecast your growth for the remainder of 2020?
All industries are hit very hard by this pandemic. We are expecting a steady growth in the remainder of 2020 but market has to bounce back and Electronic manufacturing in India is a sun rise sector currently and is expected to grow in the coming months considering the new schemes and steps recently introduced by government. We really applaud the kind of initiatives that are being offered for our manufacturing in the country. This will further help overcome disabilities of manufacturing electronics in India. As the situation will get normal, the industry will be on track again and witness its golden days.