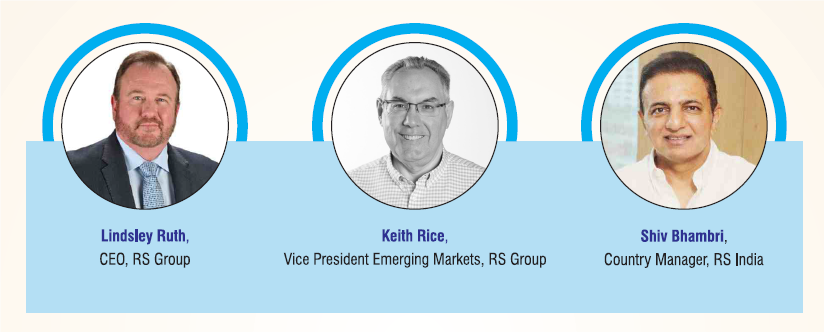 Launched in 1937, RS is a global omni-channel provider of product and service solutions for designers, builders, and maintainers of industrial equipment and operations. With operations in 32 countries, the company offers more than 700,000 industrial and electronic products, sourced from over 2,500 leading suppliers, and provides a wide range of products including semiconductors, interconnect, passives and electromechanical, automation and control, electrical, test and measurement, tools and consumables etc.
•  Kindly brief us about the company, its specialization, and the services that your company offers.
Shiv Bhambri: RS India is part of RS Group plc, a leading global omni-channel industrial product and service solutions provider to customers who are involved in designing, building and maintaining industrial equipment and operations, safely and sustainably. We stock more than 700,000 industrial and electronic products, sourced from over 2,500 leading suppliers, and provide a wide range of product and service solutions to over 1.2 million customers. With operations in 32 countries, we trade through multiple channels and ship over 60,000 parcels a day.
We support customers across the product life cycle, whether via innovation and technical support at the design phase, improving time to market and productivity at the build phase, or reducing purchasing costs and optimising inventory in the maintenance phase. We offer our customers tailored product and service propositions that are essential for the successful operation of their businesses and help them save time and money.
• Please share about the company's journey since its inception. What goals and missions did the company have when it was founded?
Keith Rice: RadioSpares was founded in London in 1937 and promised to supply a replacement parts service that was second to none. Their catalogue of spares boasted 'a replacement for every job! And a 24-hour service on top of it!' Since its earliest days, RS has been totally focussed on customer satisfaction and delighting the customer long before it was in vogue. By 1954, the product range had extended beyond radio and television spares and was addressing other products for the industrial market. Radiospares floated on the London Stock Exchange in 1967 as Electrocomponents plc and then in 1971 adopted RS Components as its trading brand name.
During the 1980s and 1990s, RS continued to expand organically and inorganically across the world and warehouses were opened worldwide. RS always considered itself innovative and
in 1998 was the first distributor in the industry to launch a website. In 1999, Electrocomponents acquired Allied Electronics in the United States and in 2007 moved to a new warehouse and offices in Fort Worth, Texas.
RS's focus on innovation continued with the launch in 2010 of DesignSpark, an online technical community for engineers around the world. With over 1.3 million members, DesignSpark offers a host of free engineering tools and resources.
In 2018, Electrocomponents acquired IESA, an MRO supply chain solutions business, and the first acquisition since 1999 and the acquisition of Allied. Since acquiring IESA, Electrocomponents has acquired Monition, Needlers, Synovos, John Liscombe and Domnik Hunter-RL.
In May 2022, Electrocomponents plc changed its name to RS Group plc and began the journey to incorporate all of the RS Group businesses under one brand to become 'One Brand, One Team, One Culture'. In November 2021, the Group revealed its global 2030 ESG action plan 'For a better world' and introduced its thought leadership platform around sustainable engineering.
• How do you see the company and the industry in the future ahead? What are your growth plans for India in the next 12 months?
Shiv Bhambri: We have seen a healthy double-digit CAGR over the last 5 years (pre-covid), which doubled in financial year 2021-22. This 50% growth indicates that the market has realized and is favouring the real value of the RS business model & RS has moved from an emergency supplier to a preferred supplier to its entire customer across the country.
Below are a few key pointers for RS India's growth this year:
Sustaining the 50%+ growth momentum in FY23
Continued focus on key industries like Medical Electronics, Railways, Automotive etc. where we've made major in-roads
Extend our advanced procurement solutions (eProc, VMI, TCO etc.) to global customers in India
Aggressive customer acquisition in untapped territories across Tier 1 & 2 cities
•  What trends could disrupt the distributor market in the next decade?
Shiv Bhambri: Electronics will remain at the heart of industrial and technological evolution, supply challenges will continue to manifest and we can expect distribution models to be critical to customer needs as they navigate through the prevailing changes both macro and geo political. We're seeing a trend where the electronics space and the industrial space are really starting to come together which puts us in an enviable position since we sell industrial and electronic technologies.
• How important is supply chain management? What is RS Components' own strategy for supply chain management?
Shiv Bhambri: Effective and efficient supply chain management is critical to the success of the RS business. We have a network of 14 distribution networks across the world. Our strategy is to position our products closer to our customers to ensure speed of delivery, reduction of mileage and carbon emissions. We continue to work with our suppliers to improve the sustainability of our value chain and to source and deliver innovative and sustainable product and service solutions closer to our customers. Our strategy is all about delighting our customers with innovative and solutions to solve problems and unlock opportunities.
• There are many methods of combating counterfeiting. What is RS Components doing in this area?
Shiv Bhambri: In respect of anti-counterfeiting the Group policy is to only purchase from OEMs or authorised distributors to minimise the risk of counterfeit products entering our supply chain. If we ever encounter suspect products we have the capability to investigate and resolve any issues.
•  How is RS components different from its competitors?
Keith Rice: Our broad and deep product offering differentiates us – we offer over 700,000 stocked and three million unstocked products. We sell both industrial and electronic technologies, and offer an unrivalled choice of products, services and superior availability to our 1.2 million customers worldwide. We work with over 2,500 suppliers for our stocked product range, shipping over 60,000 parcels daily. We provide a high amount of digitisation, 62% of our Group revenues come through digital channels. Our omni-channel offer ensures we serve our customers through the most appropriate channel to give them a personal, efficient and differentiated experience. We also offer consolidation, and we can work around solutions which help with automation and industrial IoT. In essence, what differentiates our proposition is that we ensure that we provide a compelling customer and supplier experience and value proposition, driven by product choice, product and service solutions and ease of doing business.
• Please share some major achievements of RS components under your leadership.
Lindsley Ruth: "We have come a long way since I joined the company in 2015, transforming the performance and aspirations of our business. We have proven our ability to outperform consistently and deliver market share gains, improved the Group's profitability and we have shown that we can operate better and more sustainably. We have demonstrated the strength of the business through the cycle and particularly in difficult macroeconomic conditions. Our outperformance is underpinned by being resilient and adaptable. We have a long history of delivering first-class customer experience and evolving our proposition to become solutions led. This has been fundamental to our growth journey and sets us aside from our more transactional competitors.
Shiv Bhambri: In the past few years, especially during the tough Covid times that triggered global shortages, we have seen the market changing in our favour like never before &achieving sustainable double-digit growth.
Transformation of RS from an emergency supplier to a preferred supplier for all our customers across a wide spectrum of industries their entire small volume procurement needs
Strategic alliances continue with Global suppliers, Fluke & Tektronix to name a few, to support T&M and TE Connectivity and that has led to 500% growth in these specific verticals
Development of a future-ready, strong & robust management team to achieve, sustain and enhance this growth momentum