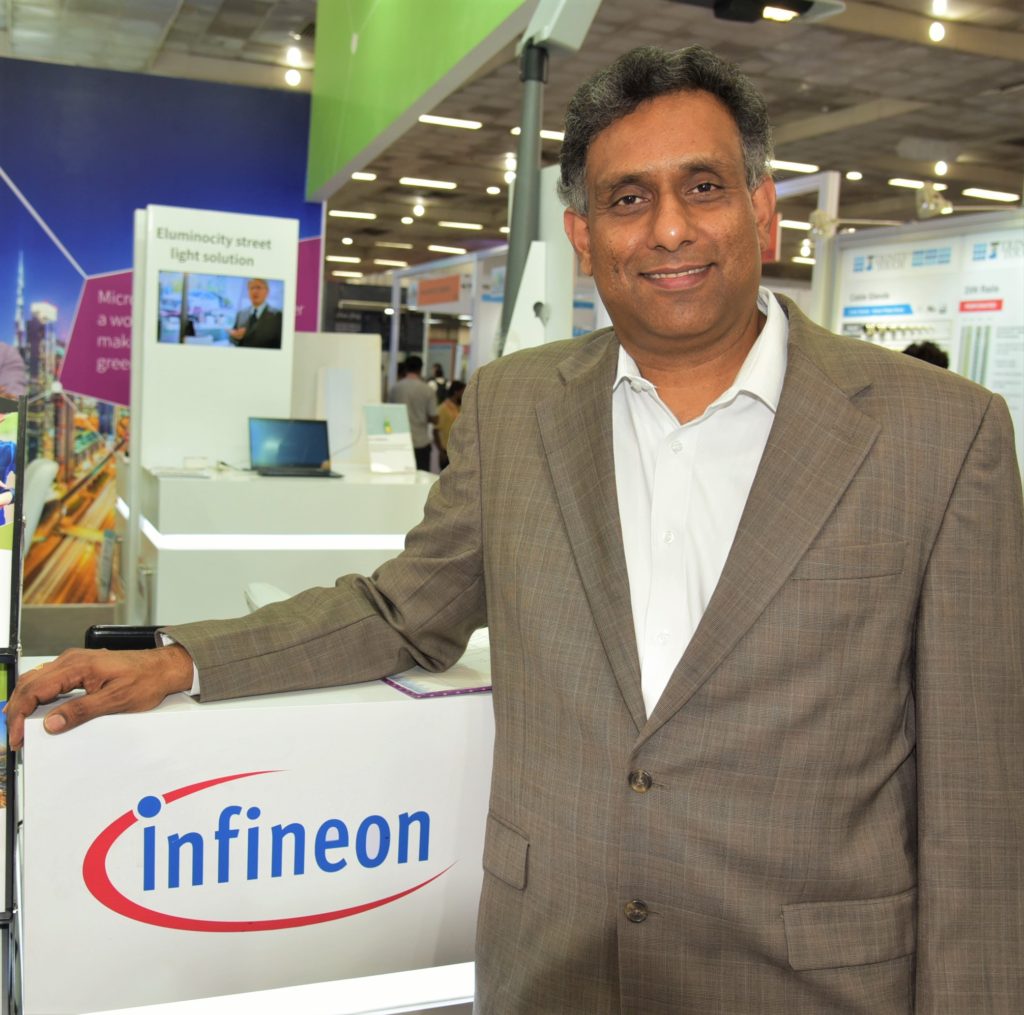 Interview with Mr Girish Kamala, Director & Country Head for Automotive Sales, Infineon India
Share your views on Automotive ICs growth in India.
The automotive industry plays a pivotal role, providing significant business and employment opportunities across the country. In the past year, we have witnessed a global slowdown in the industry, but we do expect demand to pick up once the situation has improved for economies worldwide, and Infineon will be ready to serve the growth, particularly a growth led by automotive grade electronics in vehicles.
In the coming decade, the main focus would be on enhancing efficiency and productivity, and on innovation, both process and product, driven by changing customer demands. Price sensitivity of the Indian consumer, cost optimization needs of manufacturers and increasing focus on environmental concerns will drive critical changes in the market.
According to you which are the key factors driving growth and major applications?
The Indian automotive industry will witness the next phase of rapid transformation and growth, mainly driven by a rebound in economic growth and infrastructure development. Simultaneously, demand for electronics components will shoot up as customers seek more of comfort and convenience features like electronic and automated control AC's in vehicles, electric and memory seats, heated seats, LED lighting, among others.
Another key factor driving demand for electronics would be changing safety regulations, which in turn drive up requirement for airbags, ABS/ESC, Sensors, Pedestrian safety, and roll over sensors. In addition, competition is driving OEM's to create differentiation by adding premium features such as sun roof, moon roof, automated trunk opening, led lighting for styling, mood lighting, infotainment systems and stable connectivity in cars. This will further create demand for electronic components.
Staying connected means sharing of data and security plays an important role to ensure all customer data stays private and safe. The demand for Gateways, Over the air updates, V2X connectivity are all newly introduced arenas where electronic components feature prominently and have potential to grow.
Please highlight  your products for automotive applications.
Infineon Technologies is a leading player and pioneer in automotive electronics. At Infineon, we look back on 40 years of success and proven expertise in supplying high-quality semiconductors to electronic systems for the automotive industry. Today, our sensors, microcontrollers and power semiconductors help car manufacturers worldwide achieve their ever-higher challenging safety, affordability and efficiency targets. This means we are ready and able to help customers design applications that, thanks to their lower emissions and reduced fuel consumption, pave the way for more sustainable mobility options.
Infineon offers a wide product portfolio covering automotive system ICs for alternator electronics, engine management, transmission control systems and System Basis Chips (SBCs). The products have been designed to meet the highest standards, while simultaneously increasing the performance significantly. Infineon's automotive electronics are used in hybrid and electric vehicles, automotive security systems, powertrain systems, body electronics and chassis, safety and ADAS.
For the growing security needs, our product range includes hardware components, such as 32-bit microcontrollers with embedded hardware security modules, SIM cards, and secure elements as well as related software packages. This permits the security level and, consequently, the associated cost to be customized precisely to the protection needs of a particular application. Customers benefit from decades of experience in the analysis of threat and attack scenarios by virtue of security certifications, for instance the ISO/IEC 15408 (Common Criteria), and the extensive portfolio of hard- and software patents. Here Infineon consistently relies on proven industry standards, such as AES-128, ECC-256, SHE, EVITA HSM and TPM, to lower the integration effort as well as the risk of OEMs and their tier suppliers.