Smart TVs have emerged as an advancement that is transforming the entertainment industry throughout the globe. A silent revolution in India's smart television market, which threatens to upend the pecking order in one of the largest domestic durables categories. Smart TV market is growing quite well in India currently. The buying trend of Smart TVs are very encouraging as this has become affordable now for common man as well. Super Plastronics which is a Kodak Brand Licensee bringing their smart TVs, LED TVs and many more products to serve Indian customers, has driven out their plans to increase their presence across market in India.  In a recent interaction with Mr. Avneet Singh Marwah, Director and CEO, Super Plastronics Pvt. Ltd, a Kodak brand Licensee talks about Kodak TV latest launch, their future plans and emerging trends in this segment.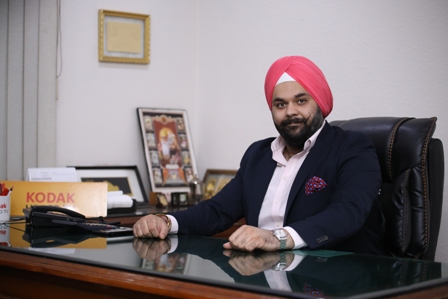 How do you see the growth of Smart TVs in India?
The latest trend in the Indian market is the phenomenal growth of the Smart TV. This segment is growing by 35% in the market today and is expected to see a rise in the coming months. The online market share of the Smart TV has increased to 75% especially in 32-inch and 40-inch categories. Another interesting trend that we are witnessing more people will adapt in Smart TV's. According to 6Wresearch, India Smart TV market is projected to grow at a CAGR of 30.2% by 2024. Surge in number of households with easy accessibility to internet, booming e-commerce industry and rise in purchasing power is driving the adoption of smart TVs in the country. In addition to government initiatives such as Digital India and Make in India, rapid urbanization and growing awareness of smart TVs in tier-II and tier-III cities in the country, has been encouraging the growth of smart TVs in near-future.
Tell us something about your journey so far in India and your association with Kodak Brand?
The journey so far has been great. This is a 130-year-old company and there are very few companies in the world that still exist and are going strong even after 130 years, especially in electronics. We want to thank all our customers who have welcomed us back in India and to all the customers who have bought our television.
Bringing Kodak back to India wasn't always a smooth road.  Kodak is a renowned digital picture brand and to bring the brand back as Kodak TV was very challenging, as we had to make people shift their previously held perception and realign them to look at Kodak as a brand that focused on a digital picture with a digital screen. When bringing a brand into the Indian market, every manufacturer faces a certain number of challenges. Thanks to the love and support from our consumers we have managed to overcome those challenges and rise to their expectations.
A challenge we did face was competitive pricing. As we know India is a very price competitive market and having come back in the midst of so many brands and manufacturers, we have over 2 years gained some good market share. So the idea and journey of bringing Kodak back to India has been hitherto successful.
Tell us about Kodak new launched Smart TVs series.
We have announced the expansion of Kodak XPRO series with the launch of KODAK 43 4KXPRO, 50 4KXPRO   and 55 4KXPROTVs. SPPL is celebrating its three consecutive successful years of selling KODAK HD LED TVs in the consumer electronics segment in India. These products are coupled with an impressive array of features like 1 GB memory and RAM capacity of up to 8 GB.
We have always marked our efforts proactively to support the demands of our customer. Thus, we have come up with these 4K models and recently we have started a new production line at our Noida facility with a production capacity of 3000 units in a day and we will be offering 2-3 variants in every quarter.
How is your presence across India?
SPPL has 28 offices across India and our existing dealer distribution network is very strong. Our company has 350 service centers across India. With our existing infrastructure so far, we have succeeded in working with the top distributors in the country. Alongside this we have just started our business with Tata Croma, which is a great achievement for Kodak as Croma only works with the top 4 multinationals. So for a relatively new TV brand for the Indian market, creating a space on their shelves is a big achievement for us.
How do you assure best service support (Pre-sales & After-sales) to your customers?
We have a full proof CRM support and our company has always assured and been driven by quality. As previously mentioned, we have 350 service centers and a service tie up to ensure that our customers have quality service, should any issue arise. We are currently servicing fourteen thousand pin codes in India. Our SLA in terms of installation is 48 hours. For metro cities the timeline is about 24 hours and for service it is below 48hours.