Lighting is a paramount necessity for manufacturing plants and plays a crucial role in their operations. Ever since the advent of LED lights in the market, industries across the spectrum have quickly adapted to this technology for their numerous benefits.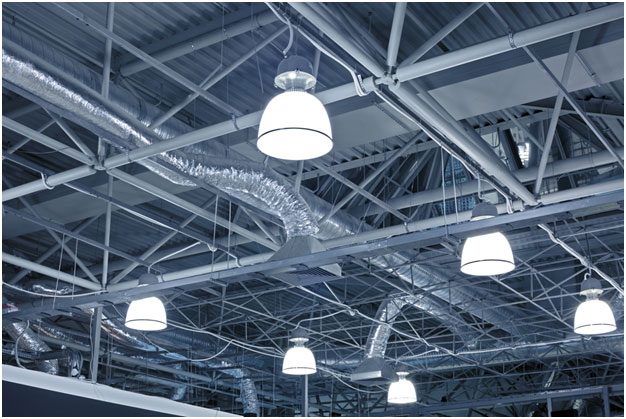 To top that, the rapidly shifting economics of production and distribution coupled with the shifts in consumer demands is pushing industries to explore new ways of creating and capturing value. From refurbishing their lighting solutions to automating the processes, and carrying out robust research and development, industries are adopting all possible changes that can improve both the quantity and quality of their products.
Today, many LED lighting fixtures are made explicitly for industrial purposes. These fixtures have their own set of specifications that are highly suited for manufacturing plants and all types of industries.
Here are some of the most common types of LED lighting fixtures that are used in industries
High-Bay and Mid-Bay Luminaires
High-Bay and Mid-Bay Luminaires are among the most popular industrial lighting fixtures. Manufacturing plants have taller ceilings to accommodate heavy machinery andhave room for better ventilation.These luminaires are ideal for such applications and are extensively utilised in manufacturing facilities, warehouses, and other industrial applications.
Moreover, all industrial units must have superior lighting and should meet the regulatory standards set up the authorities. When LED lights are housed in high-bay and mid-bay luminaires, the entire lighting system becomes more efficient. LED lights are also brighter, cooler and safer than their conventional counterparts, making them the obvious choice for industrial applications.
Wipro Lighting is one of the leading LED lights manufacturers with a range of high-performance LED luminaires. The Radial LED Pro+ is a unique high-bay luminaire that is specifically engineered for excellent heat dissipation and comes with high-efficiency SMD LEDs to ensure maximum energy savings.
Floodlights
Floodlights are an essential part of the lighting system across all industrial units – whether manufacturing plants, warehouses or ports.As the name suggests, floodlights are luminaires that flood an area with light. The intensity is far more increasedwhen LED lights power flood light fixtures.
These fixtures typically work across various applications such as parking lots of industrial facilities, industrial outdoors, ports and such.
Pendant Lights
Manufacturing plants and warehouses have areas such as alleys and small child manufacturing units that need to have ample illumination. Pendant lighting fixtures can effectively keep these areas illuminated while providing a more contemporary feel.
These fixtures arehighly versatile and work best in meeting rooms and cabins of industrial units. Also, a thing to note here is that pendant lights are installed the same way as high-bay and mid-bay luminaires, which makes them ideal for taller ceilings.
High Mast
Industrial units typically have a large outdoor area that is used for loading and unloading of goods, raw materials and such. Most of these units also operate 24 hours a day and 7 days a week, making lighting imperative in outdoor areas.
High Masts are usedto illuminate large outdoor areas. It is the best lighting option as it can achieve a high space to height ratio, leading to uniform illumination.These fixtures are best paired with LED lights and are available across various heights for maximum illumination.
Automation
The lighting industry is witnessing a significant shift leading the way to new products and technologies. IoT (Internet of Things) is the new buzzword and is already turning heads due to its automation capabilities by uniting devices together.
LED lights are also known as smart lighting fixtures because they are inherently capable of integration with other devices over a network. These luminaires can be a part of the IoT environment. The entire system allows LED lights to be monitored and controlled from a single dashboard, typically used by a facility manager. Moreover, LED lights can also pair with smart control sensors such as occupancy sensors that can detect the presence and absence of people to turn the lights on and off respectively.
Industrial lighting fixtures playa crucial role in the operation of a facility.Having ample illumination, especially when using LED lights leads to a more safer work environment as these fixtures have a uniform beam angle and high lumen output. As per research, an increase in lighting level improves the productivity of the employees, which in turn,increases the overall output of a unit. Using LED lights to illuminate such facilities also keeps the energy costs in check. LED lights are also virtually maintenance free that minimises the operating costof a facility.