The most versatile Lighting Technology
Light Tape – the revolutionary light bulb technology as a credit card, in any color, that you can bend around any surface, for hundreds and hundreds of feet, indoors or outdoors, that costs only a fraction of what traditional bulbs cost to operate. In fact, it is the most important innovation in light since the invention of the bulb. 
Courtesy: Light Tape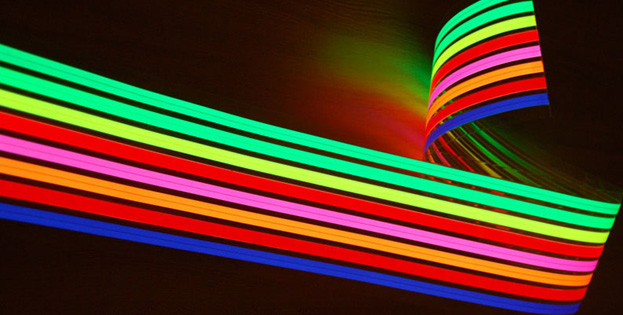 Award winning innovation company Electro-LuminX Lighting Corporation, has spent nearly 20 years developing and refining their exciting patent protected Light Tape® electroluminescent lighting technology, together with their industry defining Smart Driver™ power ballast systems.
In 2004, Steve Pendlebury, formerly a Global Business Leader with Fortune 500 giant Honeywell International Inc, joined the organization as Company President, to spearhead business growth through Light Tape® product re-design, portfolio expansion and to build a dynamic World Class team.
Since then, every aspect of the product family has been improved, transforming Light Tape® into what it is today, a fast growing Global Brand and the industry World leader in the electroluminescent technology field.
History of Electroluminescence
Electroluminescence (EL) or the generation of light by the electrical excitation of light emitting phosphors has been around for many years. Electroluminescent was first observed in silicon carbide (SiC) by Captain Henry Joseph Round in 1907. Round reported that a yellow light was produced when a current was passed through a silicon carbide detector. An employee of the Marconi Company and a personal assistant to Guglielmo Marconi, Round was an inventor in his own right with 117 patents to his name by the end of his life.
The first thin-film EL structures were fabricated in the late 1950s by Vlasenko and Popkov. These two scientists observed that luminance increased markedly in EL devices when they used a thin film of Zinc Sulfide doped with Manganese (ZnS:Mn). Luminance was much higher in thin film EL (TFEL) devices than in those using powdered substances. Such devices however were still too unreliable for commercial use.
Several large U.S. companies were also conducting research on ELDs in the 1970s, including: IBM, GTE, Westinghouse, Aerojet General, and Rockwell. All of these companies realised that ELDs had potential advantages over existing LCD technology in the following areas: Contrast, Multiplexing, and Viewing angle.
The use of Electroluminescence has been limited until relatively recent times. The major obstacles to effective use of EL in the past have been: low light output, susceptibility to moisture and ultraviolet, colour shift, cost effective manufacture and short life.
In the past several years improvements have been made in the manufacture of EL lamps that have for the most part meant the product being recognized as a modern alternative to Neon and Cold Cathode lighting, where a non pollutant light source is required. A non pollutant light source being one that is not incandescent and so does not produce glare or effect night vision.
Advancement in EL technology in the early 2000's, were brought about while developing a new generation television screen (Plasma). Plasma televisions are backlit using the same phosphor technology as used in EL lighting, though obviously applied in a different way. For this new application of the technology to be viable the phosphor had to be of a much higher quality, the resulting light produced brighter and the life of the phosphor needed to be longer than any previously developed. New research and experimentation soon provided the technical advances to do exactly that resulting in a new generation high quality phosphor that is brighter and does indeed have a hugely extended life span.
This breakthrough achieved, the resulting EL technology was used in the production of the Plasma T V one of the most sought after reincarnations of the everyday household electrical product and has been a mainstream product for the past 5 to 7 years.
This evolution greatly benefited EL technology in general and what has become the product known as "Light Tape®" in particular as Light Tape® is the direct result of this EL advancement. Light Tape® is manufactured in the United States by ElectroluminX to a high specification, using Sylvania premium quality light emitting phosphors and Honeywell Encapsulant Systems. Light Tape® is the brightest electroluminescent light source in the world. It is in effect an incredibly thin, flat, flexible, moisture resistant light bulb. It can be supplied in a range of colours and widths, in lengths up to 300ft. Driven by specially devised power supplies; it can be used in flashing or steady state modes in indoor or outdoor application.
Technology Changing the Way
Light Tape® uses less than one tenth of the power and is half the price of Neon and Cold Cathode display lighting, is easier to install and maintain, reduces light pollution, produces no waste heat or infrared light, is fully recyclable, and uses No Gas, No Glass and No Mercury.
Light Tape® with its wealth of benefits, versatility, ease of application, cost effectiveness and extremely low carbon footprint is fast becoming the chosen, viable alternative to more traditional forms of display lighting. (1 Watt per Meter at 25mm (1") wide, a 100m length of 25mm wide Light Tape® only uses the same power as a 100w light bulb),
Architecture, Automotive, Advertising, Interior Design, Exhibitions, Events, Marine, Point of Sale, Hotels, Bars, Restaurants, around staging and entertainment areas, Emergency Egress and Health and Safety are just a few of the sectors benefitting from this exciting, innovative light source. And, imagine your individualized creative sign artwork with animated illumination, to command attention at a point of purchase or anywhere you need it. This too can be manufactured using the EL product, producing something that is truly eye catching
Light Tape® lamps are changing the way people think of a light bulb. Imagine a light bulb as thin as a credit card, available in any colour, which can bend around any surface, is available in continuous lengths of up to 300ft, for use indoors or outdoors, that costs only a fraction of what traditional light bulbs cost to operate. In fact, it is the most important innovation in lighting since the invention of the bulb. 
Extremely Energy Efficient
Not only is Light Tape easy to install, but it is easy on the wallet. The unique low energy design uses only 6 watts per square foot  (0.5 watts per linear foot for 1inch width), with even illumination.
Minimal Carbon Footprint!
At an equal brightness of 140 cd/m², a 1" width strip of Light Tape is 40% more efficient than LED's, and our 1/2" Light Tape is 80% more efficient than LED's. Expect to pay no more than $100 per year in operating costs. You can run 300 feet of Light Tape around your venue and only consume 100 watts.
Light Tape is virtually unbreakable… you can walk on it!
With times especially tough and cost cutting essential, energy saving Light Tape with its huge potential in retail and displays, becomes particularly significant.
So from retail displays to way finding signage, even in H&S scenarios, as well as architectural and entertainment applications, advertising, graphics display light boxes and more, the boundaries of Light Tape usage seem to be simply your imagination. It's even great at replacing neon.
Light Tape can be seen for miles. Light Tape produces no heat and fit in the smallest of spaces.
A beautiful accent as well as practical lighting for evening access to the truck bed. Nothing to break and you do not need to be a professional to install. Light Tape has no glass, gasses or breakable components and is available in multiple colors. Installs in minutes with double backed tape and one electrical connection at one end of the lamp.
Light Tape in Action
Point Of Sale
Light Tape offers a perfect contemporary alternative lighting solution for Display and Point of Sale enhancement.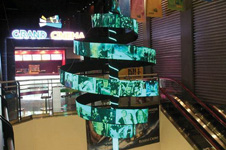 Becoming increasingly popular, Light Tape offers not only a clean ultra modern option to the more traditional spot light type of lighting used in this field, but also offers versatility of application as it is not bulky and so can be fitted just about anywhere, providing the right kind of lighting to compliment whatever mood is required to help promote the particular product/s being marketed and displayed.
Tapes, Panels and Cutout Shapes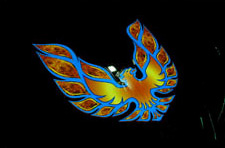 Light Tape can be supplied as cut out shapes e.g. letters, numbers and figures, putting a contemporary twist on the artistic/creative presentation of images. This has proven especially successful in the area of entertainment, namely TV and Theatre.
Engraving or Laser Etchings into Acrylic's

Edge Lit Acrylic Signs have traditionally been illuminated with bulky fluorescent tubes which limited their application and were expensive to run and maintain.
Light Tape's flexibility and ultra thin profile mean it can be adhered to the edges of an acrylic sign allowing the Light Tape to flood the acrylic sheet with light, any text, logo or shape engraved or laser etched into the surface of the acrylic is instantly illuminated producing a stunning effect.
Also, because the light Tape can be fixed to all sides of the acrylic the light is contained within the sheet concentrating the effect and not spilling out on the bottom and sides like the traditional methods of illumination.
Light Tape Animation
Light Tape latest lighting product the Animated Sign. A Light Tape Animated Sign is similar to neon, but far more realistic because it operates within a high-resolution printed image. The image is divided into several different sections that can be illuminated separately from one another. Each section can be programmed and sequenced to create the appearance of movement within the static printed image.
A Light Tape Animated Sign provides an eye-catching, moving electronic display that utilises high quality, full colour digital images yet is as thin as a credit card! It is energy efficient – less than 6 watts per square foot, is virtually unbreakable, vibration and shock resistant, easy to install, very portable, and does not contain glass.
Applications include: Branding Campaigns, Point of Sale Advertising, Trade Shows, Mobile Advertising, Entertainment and Sporting Events, Night Clubs and Bars, Hotels, Casinos, Concerts, Cinemas, Kiosks etc.
Architecture – Indoor and Outdoor

Light Tape has been used to great effect on the Beetham West Tower in Liverpool (designed by Aedas AHR Architects and developed by the Beetham Organisation) adding an elegant edge to the magnificent building. Standing 134 meters in height the Beetham Tower is almost 50% taller than its 90 meter tall neighbour. Ideally located for both business and pleasure near the world famous waterfront, this 40 story apartment/office tower block is Liverpool´s tallest building so providing the perfect location and opportunity to show the effectiveness of Light Tape to its best advantage.
Light Tape is becoming increasingly popular as the contemporary alternative to the more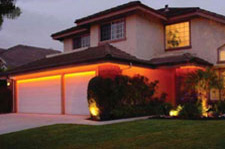 traditional "enhancing and decorative" lighting solutions already used in architecturally based projects. It offers not only a clean ultra modern option to these more commonly used light forms but also proves to be both more ecological and economical in its long term use of energy.