In the market, there is a misunderstanding that TFT displays are different from IPS displays.  Actually, TFT encompasses IPS.
The word TFT means Thin Film Transistor. It is the technology that is used in LCD or Liquid Crystal Display. It is also called Active Matrix LCD which differentializes from Passive Matrix LCD. A TFT substrate is composed of a matrix of pixels and ITO electrode (Indium Tin Oxide, a transparent electric conducting film) each with a TFT device and is so called array. Thousands or millions of these pixels together create an image on the display. The diagram below shows the simple structure of a pixel.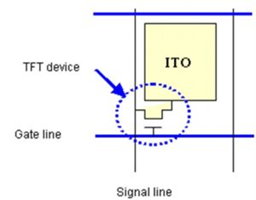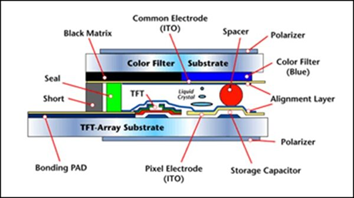 As long as there are TFT in the LCD, the LCD should be called a TFT LCD. But when the TFT LCD display was first commercialized, 100% TFT LCDs were TN (twisted Nematic) type TFT displays. As TN is a very technical term so most of the users ignored TN and named TN type TFT display as TFT display. While the newly developed TFT LCD display technologies such as IPS (in-plane-switching ) type TFT display, O-Film type TFT display (derived from TN type TFT display), MVA( Multi-domain Vertical Alignment) type TFT display, AFFS (Advanced Fringe Field Switching) type TFT display, they are widely call IPS display, O-Film display, MVA display and AFFS display. As the above terms have been used for long and widely accepted in the market, we will not try to correct the misunderstanding here. We will still use the TFT display (should be TN type TFT display) and IPS display (should be IPS type TFT display) in the following.
What is a TFT Display Technology?
TFT is a display technology that can be applied in a variety of different situations. In the following, we will focus on a TN type TFT display.
The twisted nematic effect (TN-LCD) was a main technology breakthrough that made LCDs practical. TN LCDs first make battery powered devices popular. TN-LCD displays led to the rapid expansion in the display field, quickly replacing other displays like LEDs, plasma, CRTs etc. By the 1990s, TN LCDs were widely used in portable electronics.
The TN display takes advantage of the ability of the nematic substance to rotate the polarization of light beams passing through it. Two polarizing filters, parallel planes of glass with their polarizing lines oriented at right angles with respect to each other, are positioned on either side of the liquid crystal. When light enters the display, it is polarized by the input filter. In the absence of an electric field, all the incoming light is transmitted. This is because the light polarization is rotated 90 degrees by the nematic liquid crystal, and the light therefore passes easily through the output filter, which is oriented to match the 90-degree shift. With the application of a voltage, an electric field is produced in the nematic liquid crystal. Under these conditions the polarization effect is reduced. If the voltage is large enough, the polarization effect disappears altogether, and the light is blocked by the output polarizing filter. The diagram below shows how a TN LCD works.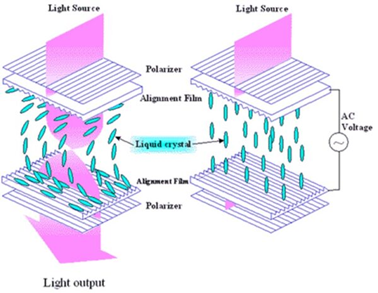 Features of TFT Displays
The best feature of TFT displays is the low cost due to a simpler manufacturing process, low-cost raw materials, and one of the oldest technologies for LCD displays. But they are not the best quality considering poor viewing angles, lower contrast ratio, slower response time, lower aperture ratio (each pixel not bright enough), and the worst is that there is one view angle with gray scale inversion (reversed image), see the below picture for reference.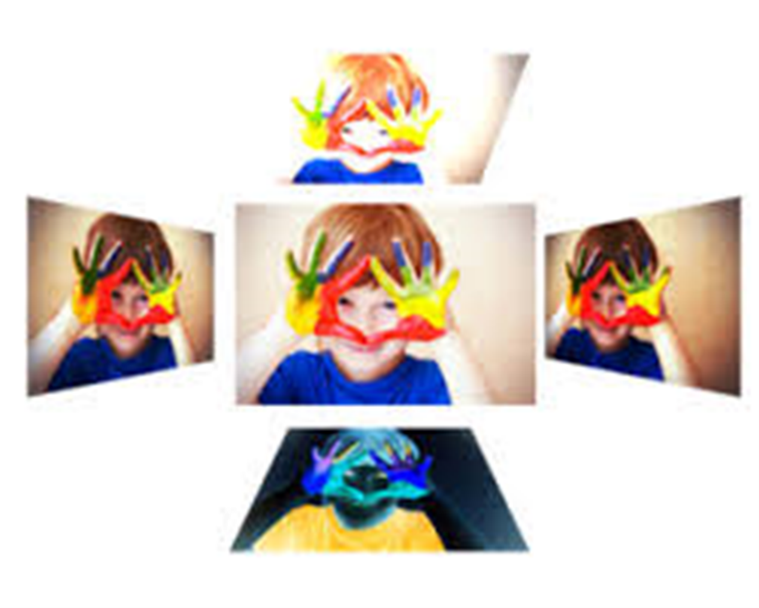 What is IPS Display Technology?
IPS (in-plane-switching) technology is also one type of TFT LCD display. The basic LCD structure is similar to TN type TFT display but the inside display schematic is different.
In 1992, Hitachi researchers in Japan first developed details of the IPS technology. NEC and Hitachi became early manufacturers of active-matrix addressed LCDs based on the IPS technology. In 1996, Samsung developed the optical patterning technique that enables multi-domain LCD. Multi-domain and in-plane switching subsequently remained the dominant LCD designs through 2006. IPS technology is widely used in LCD panels for TVs, laptops, monitors, and smartphones. Apple Inc. products branded with the label Retina Display (such as iPhone 4 onward, iPad 3 on, iPad Mini 2 on, MacBook Pro with Retina display adopted IPS LCDs with LED backlighting.
An IPS LCD panel, when no electric field is applied to the liquid crystal cells, the cells naturally align in liquid crystal cells in a horizontal direction between two glass substrates which blocks the transmission of light from the backlight. This makes the display dark and results in a black display screen. When an electric field is applied, the liquid crystal cells are able to rotate through 90° allowing light to pass through resulting in a white display screen. IPS panels have superior image quality, good contrast ratio and wide viewing angles of up to 170°. IPS panels are well suited for graphics design and other applications which require accurate and consistent color reproduction.
The diagram below shows how an IPS LCD works.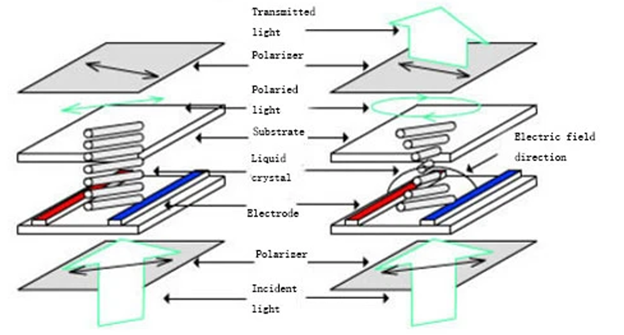 TFT display vs IPS display
| | | |
| --- | --- | --- |
| Feature | TFT Display | IPS Display |
| Wide Viewing Angles | | Winner |
| High Contrast | | Winner |
| Fast Response Time | 10 milliseconds (unsuitable for gaming) | Winner (around 0.3 milliseconds) |
| Cost | Winner ( around 30-50% lower) | |
| Representation and Reproduction of Color | | Winner |
| Color Image Quality | | Winner |
| Energy Consumption | Winner | lower transmittance which forces IPS displays to consume more power via backlights. |
| Image Sticking or "Ghosting" | TFT is less likely to experience this issue | |
In summary, normally high-end products such as Apple Mac computer monitors and Samsung mobile phones generally use IPS panels. Some high-end TV and mobile phones even use AMOLED (Active Matrix Organic Light Emitting Diodes) displays. This cutting-edge technology provides even better color reproduction, clear image quality, better color gamut, less power consumption when compared to LCD technology. Of course, a TFT LCD display can always meet the basic needs at the most efficient price.
About the author
This article is an original piece of content written by Bill Cheung, a marketing manager who has an engineering and technical support background at Orient Display. We are a LCD and display technology provider with over two decades of industry experience in delivering cutting edge display solutions. Please browse our knowledge base if you would like to learn more about LCDs!