The test equipment industry has developed hand-in-hand with the defence and aerospace industry, and that is why it is considered such a vital cog of a nation's defence structure.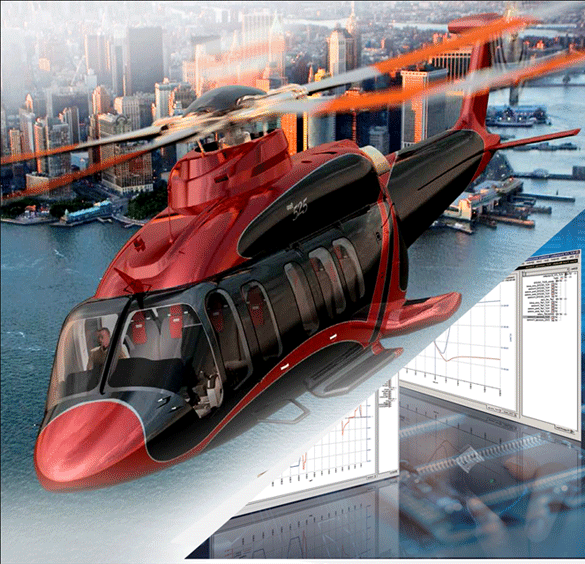 Aerospace and defence companies demand security, speed to market, and the highest levels of service with the most stringent adherence to compliance requirements to ensure the reliably repeated use of mission critical products.
As airlines are actively upgrading their airplanes for more fuel efficient models, adding additional routes to emerging countries and expanding global shipping services, the need for quicker, increased access to components, streamlined manufacturing schedules and rigorous quality testing is becoming the mantra for airline original equipment manufacturers.
Defence companies are looking for new technologies such as wearables, advanced optics and autonomous vehicles which can provide immediate situational awareness and information to equip warfighters and these technologies are reshaping the defense industry.
Companies are looking for ways to mitigate the risk of complex supply chains; meet intensified delivery schedules; and grow their revenues in new and emerging markets.
Role of Electronic Test & Measurement Equipment in Defence and Aerospace
The defence and aerospace industry is one of the most vast and expansive industries in operation the world over. The electronics and technology used in this industry needs to be running at 100% efficiency level to make sure that the equipment doesn't malfunction and get damaged or provide lower utility than it ideally should. This is where electronic test equipment comes to the fore.
This is why the test equipment industry has grown in prominence and developed hand-in-hand with the development of the defence and aerospace industry itself, and this is why the test equipment industry is considered such a vital cog of a nation's defence structure as well. Technicians and engineers are highly respected and highly prized members of all the various divisions of the armed forces, and it is because the responsibility they carry—making sure all the electronic equipment employed by the armed forces is functioning at the highest possible level, is crucial.
Measurement challenges have long confronted the Armed Forces as they try to remain at the forefront of technology, at the same time finding economical solutions at higher frequencies.
Test equipment and measurement solutions have assisted the technological growth of military and aerospace users since World War II, but not without concerns and challenges. Military applications have long been viewed as the backbone of the RF/microwave industry. Not since the early 1990s, with the development and growth of commercial wireless markets, has this industry benefitted from another market sector with the comparable economic size and strength as the military electronics market.
Military forces from around the world are looking to create smaller, more technologically capable forces. Test & Measurement will play a huge role in this transition.
India A&D Market
India's defence market is seeing rapid growth. Factors driving the market in India include a perceived threat from surrounding countries, the need to update obsolete military hardware and technology, and domestic unrest. As the market looks set to continue growing, original equipment manufacturers are being drawn to India from abroad, while domestic private-sector companies also step up to meet demand.
The Indian manufacturing sector is internationally competitive with international quality standards, efficiency and manufacturing facilities. India is fast developing into a manufacturing hub for world corporations wanting to leverage the sector's proven skills in product design, reconfiguration and customization with creativity, assured quality and value addition.
India, also keen to strengthen its own aerospace industry and has asked major weapon exporting countries to transfer technology to India.
The Indian Aerospace Industry is witnessing an unprecedented growth. Hindustan Aeronautics Limited (HAL), which is fully owned by the Government of India, is the premier aerospace company in the country. HAL has played a major role in the Defence aviation of India through design, manufacture and overhaul of fighters, trainers, helicopters, transport aircraft, engines, avionics and system equipment. HAL is now ranked 34th in the list of world's top 100 defence companies.
The government's 'Make in India' policy has generated a lot of interest among India Inc who seek to cash in on the thrust given to indigenous manufacturing and foreign investments. According to a 'Make in India' report, India, one the fastest growing aviation markets and currently the ninth largest civil aviation market in the world, is projected to be the third largest aviation market by 2020 with Indian carriers planning to increase their fleet size to reach 800 aircraft by the same year.The Indian aviation sector is likely to see investments totalling USD 12.10 billion during 2012-17 with USD 9.30 billion expected to come from the private sector. The talent base of scientists and engineers is expected to draw global players in setting up captive R&D units in the country.
The A&D industry is currently one of the key end-user segments for the T&M market. During the economic boom, A&D companies were ready to support even small technological developments since new technology adoption and migration was the order of the day. Even today, despite the economic uncertainty and strict defence budgets, technology development and innovation are considered the hallmarks of the A&D industry. Keeping pace with these developments remains critical for T&M vendors that cater to this industry to introduce new products or capabilities that are in line with the evolving directions of technology.
Mr. Satish Mohanram, Technical Marketing Manager, National Instruments India shares his insights on A&D test demand and trends..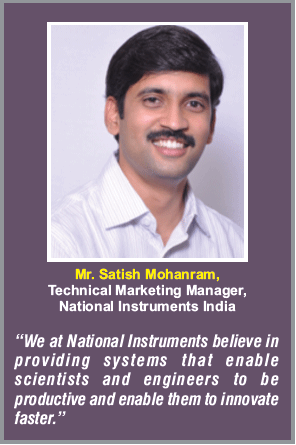 He says, "The self-sufficiency drive of the Indian Aero Defense industry provides a conducive environment for companies that are technology providers for Test, Measurement and control. Quickly prototyping systems and validating them is the key to technology building as it helps scientists and engineers fail fast and succeed even faster. The platform based approach to designing, prototyping, deploying and testing systems is the key to building reliable systems for the Defense and Aero industry. We at National Instruments believe in providing systems that enable scientists and engineers to be productive and enable them to innovate faster.

There are 4 major trends are pervasive in the military and aerospace (mil/aero) market:
Needing to acquire large amounts of data with an emphasis on the lowest-possible cost/signal ratio
Using newer instrument control technologies for new test systems
Needing to maintain test equipment with obsolescence issues and to support systems for more than 20 years
Need to Quickly prototype and validate systems – Communication, Control and more recently Hardware-in-loop testing
Today's incredibly complex products require an ever-growing amount of test. Traditional test instruments aren't proportionally scaling to keep up. Each subsequent generation of technology includes more pieces and more sophisticated technology and the cost of using traditional instrumentation to test these devices is only increasing.One way to minimize hardware costs and reduce test time has always been to use virtual (software) instruments and modular I/O. But a new approach—software-designed instrumentation—is giving engineers the ability to achieve test time reductions that are orders of magnitude beyond what was previously possible unless you used custom chip designs and extensive design investment.
While off-the-shelf instrumentation hardware traditionally has fixed capability, NI is leading the way in more open, flexible measurement devices based on FPGA technology. In summary, FPGAs are high-density digital chips that you can customize to directly incorporate custom signal processing and control algorithms into measurement hardware. The result is off-the-shelf hardware that has the best of both worlds—fixed, high-quality measurement technology, the latest digital bus integration, and user-customizable logic that is highly parallel, provides low latency, and is tied directly to I/O for inline processing and tight control loops.
An example of this type of device, a vector signal transceiver, which combines the functionality of a RF vector signal generator (VSG) with that of a RF vector signal analyzer (VSA), and also contains a user-programmable FPGA for real-time signal processing and control. With the added flexibility of an FPGA, the vector signal transceiver is ideal for channelization, channel emulation, DUT control, power amplifier characterization, instantaneous measurements, and more.
Processing large amounts of data can tax even the most capable commercial CPUs, resulting in systems with multiple processors or extended test times. With software-designed instrumentation you can preprocess data in the hardware, potentially reducing the CPU load significantly. Computations such as fast Fourier transforms (FFTs), filtering, digital down-conversion, and channelization are implemented in hardware, reducing the amount of data passed to and processed by the CPU.
Engineers and scientists traditionally use instrumentation just for test and measurement applications, but the connectivity between I/O and software in modular instruments enables you to prototype electronic systems using instrumentation. As an example, engineers can prototype advanced radar systems using digitizers and RF signal analyzers; the connectivity to a user-programmable FPGA allows quicker advanced algorithm deployment in prototype and faster proof-of-concept validation.
Vendor-defined instruments and fixed-capability, off-the-shelf instruments will remain available for years to come, but increasingly complex devices and time-to-market pressure will lead to the rise of software-based instrumentation systems. The continuation of device complexity and time pressure means that software-designed instruments will play an increasingly important role in test instrumentation.
Software-designed instrumentation provides the highest level of flexibility, performance, and future-proofing currently possible with off-the-shelf hardware. As your system requirements change, software-designed instruments will preserve your software investment across different pieces of modular I/O and also ensure your existing I/O can be modified according to the application at hand.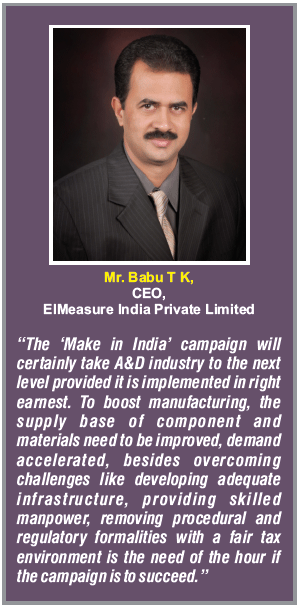 Mr. Babu T K, CEO, ElMeasure India Private Limited comments, "India is ranked ninth in the list of world's top fifteen military spenders. India is also one of the six countries in the world that undertake space launch. India's aerospace and defence industry is also growing rapidly, ever since the government initiated open skies policies. Moreover India is also a developing country and that makes it more the necessary for large investments to come in the Aerospace and Defence sectors.
As the culture of indigenous design grows in India, T&M manufacturers have a lot to contribute and are looking forward to provide latest solutions for safe and high quality developments. Having said this, it is also imperative to deliver cost effective solutions through innovations and value engineering methods without sacrificing the high quality and safety".
Mr. Babu explains, "The A&D sector is currently one of the key end-user segments for the Test and Measurement industry. The rapid changes in technology will pose a huge challenge for T&D industry. Keeping pace with these developments remains critical for T&M vendors that cater to this industry. The other vital requirement is that of reliability and safety which is of a paramount need. Hence the most critical demands shall be on developing international quality solutions at affordable costs bearing in mind all the safety and statutory requirements.
ELMEASURE is aligned with these needs by observing the most modern technological developments in the design, manufacturing and quality assurance aspects. We have the state of the art facilities located in Bangalore, Coimbatore and Dehradun. Our products are type tested by ETDC, CPRI and have the CE & ETL certifications. Our products are sold to some of the developed nations such as Japan, Malaysia and UAE.
Besides the above, our quality of after sales support which is also a very critical factor in today's industry is one of the best and unmatched. We have built valuable relationships with our clients by our sheer product quality and a committed after sales support. We strongly believe that we're very well geared up to meet the growing customer demands on technology, product quality and after sales support".
"With the evolving end-user technologies, the nature of demand in the market has also changed tremendously. Earlier the test equipment were used only by experienced engineers but today the market requires simple and user friendly equipments that can be used by even a non technical person. Hence continuous product upgrades along with new introductions to accommodate customer requirements is a key strategy for the T&D industry to further penetrate this competitive market. However, ease of use can be a key differentiator translating directly to customer value enhancement", he adds.
Commenting on challenges, he says, "India is rated very low by international agencies on the ease of doing business in the country. This reflects poorly on the country's ability to provide a conducive environment. The routine processes that businesses negotiate on a daily basis, starting from simple company registration to land acquisition to filing of regulatory compliances will be a stumbling block for any entrepreneur. Availability of land is a critical input for businesses such as manufacturing and infrastructure. The country's complex and multi-layered tax structure not just makes it a difficult place to do business but make it a high-cost place as well".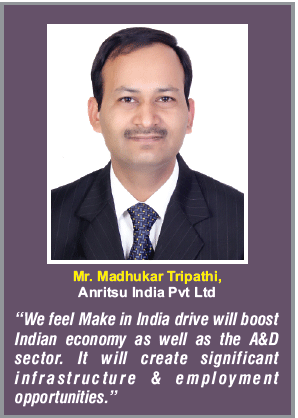 According to Mr. Madhukar Tripathi, Anritsu India Pvt Ltd, "Indian Aerospace and Defence market has been always a potential market for T&M industry. Now a days Defence communication network is under modernization and this has created a wave of T&M demand. Network for Spectrum (NFS) and DSA are major projects at present who have the demand for T&M.
Aerospace & Defence test instrument are always a different class. They are tested to work in very high temperature, highly humid condition and many other special conditions across globe- India as well. Aerospace T&M should be ruggedized& meet MIL standards. Instruments should be portable and battery operated so that they can be taken into field if required".
"Spectrum Analyzer, Signal Generator, Vector Network Analyzer, Power Meter, Oscilloscope are some most demanding test instruments from Aerospace and Defence industry. While OTDR, Ethernet tester, SDH analyser, Optical Loss Test set are some of demanding T&M based on Optical Fiber communication network", says Mr. Madhukar.
Commenting on challenges, he adds, "Generic specification should be framed by the customers to make more competitive bidding. Procurement process in D&A market is slow and takes longer time. Acceptance of supplied products and Payment also takes longer time. More transparency and agility should be introduced into the various operational processes in the sector to have further growth and introduction of cutting edge technology".
Mr.  Shailendra Kalra of Livingston India shares his views as below: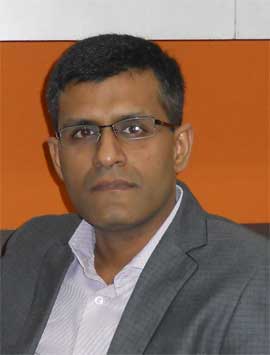 "There is a growing level of indigenous design and manufacturing activity here in India when it comes to avionics and defence applications. This is fuelling increased demand for cutting-edge test equipment. Instrumentation targeted at these industry sectors needs to satisfy a number of key criteria. It must be highly accurate and deliver consistent results. In addition, it needs to have robust construction, supporting extensive operational life spans and offering high degrees of reliability even in very difficult working environments (extreme temperatures, elevated humidity levels, exposure to shocks vibrations and suchlike). Test products that are optimised for such applications also have to be flexible, in many cases they might potentially need customisation. Finally it is critical that they are future-proof.
Modular instruments, such as those based on PXI, PCI, VXI and LXI platforms, are proving increasingly popular, as these offer the sort of inherent flexibility previously outlined. Vector network analysers, signal generators, spectrum analysers, transponder test sets, radio altimeters, logic analysers, oscilloscopes and arbitrary waveform generators are also of great value. Livingston works with its aerospace/defence customers to ensure that they can get access to the advanced test solutions they need while keeping within their budget constraints.
Indian is moving towards greater self-reliance in terms of developing defence hardware, taking more responsibility for meeting its specific defence needs. This is having a huge positive influence on India's manufacturing sector. Output productivity is increasing and so is profitability. The Indian manufacturing sector is now establishing itself on the world stage – proving to not only be competitive financially speaking, but also hitting high benchmarks with respect quality, efficiency and engineering expertise. In addition to becoming a major manufacturing hub, the country's keenness to bolster its own defence and aerospace industries is driving things forward in a broad array of areas, in particular RF and microwave test.
There is no question that India is recognised as a vibrant avionics/defence market. It ranks in the world's top 10 nations in relation to military expenditure. The country is investing 1.8% of its GDP annually into this area – this translates in hundreds of billions of rupees over the last few years. However, currently only around 40% of the current acquired military hardware is manufactured here in India, with imports still making up the rest. This is why the 'Make in India' programme is so important to aerospace and defence projects. It will allow the country to fully modernise the capabilities of its armed forces and also boost its development and manufacturing activity. Livingston strongly supports endeavours of this kind and looks to serve the companies and organisations involved".
Keysight Technologies in Aerospace and Defense
Focus Where It Counts: Missions evolve but one thing stays the same: the need to protect those who go in harm's way. The success of that effort depends on a changing mix of people and technology. As system technology becomes more complex, assuring readiness gets tougher. Keysight is a source of assurance that the mission will succeed. Through Keysight's expertise in testing, we give our aerospace/defense customers more time for the bigger issues: fulfilling today's mission and managing the transition to what comes next. By helping build greater assurance in system readiness, Keysight frees you to focus where it counts most.
About Keysight in India and Its Affiliation with A/D Industry: Keysight has a long and storied presence in Aerospace/Defense around the world and in India. We estimate our installed base of equipment to be larger than all of our competition put together. Within the Aerospace/Defense industry, Keysight is known as a leader in measurement science and recognized for having a broad range of COTS (Commercial-Off-The-Shelf) measurement products than any of our competitors.

Providing a broad, evolving range of application solutions: Keysight's broad offering of instrumentation, software and services supports crucial needs in the following key application and usage areas.

Keep pace with the latest in Radar and Electronic Warfare: As technology evolves, so do the challenges in detection, avoidance, electronic warfare (EW) and countermeasures. In all cases, the testing of today's systems will benefit from high-performance test equipment and EDA solutions.
Ensure interoperability of your Military Communication systems: To meet present and future mission requirements, the countless unique radios of the past are giving way to compatible, software-defined digital systems that ensure easy interoperability. From dynamic probing inside an FPGA to testing digital IF and IQ, from manufacturing test to operational troubleshooting, Keysight can help you ensure system readiness.

Test and verify Satellite guidance, payloads and communications: Design and validation tools from Keysight provide greater assurance that satellites and subsystems will work first time, every time for the duration of the mission.

Ensure the accuracy and reliability of your Avionics, Guidance, and Navigation Systems: Whether you're testing to achieve regulatory certification or meet demanding system specifications, solutions from Keysight enable extensive testing of the systems that ensure safe, successful journeys.
Achieve faster detection, assessment and response – Surveillance and Intelligence: Whether the mission is intercept and collect, detect and eradicate, monitor and track, or trend and analyze, our diverse technology base — and deep familiarity with wireless communications —gives you a meaningful edge.

Maximize system longevity with versatile choices in ATE: From LAN and Web to LXI-based synthetic instruments, our approach to ATE is designed to maximize system longevity and productivity.
Enable rapid identification of faulty subsystems – Operational Tests: The versatility of our handheld and portable instruments accelerates troubleshooting at the O-level and provides insights that help I-level and depot-level teams quickly pinpoint failed modules and components.

Design and Test Platforms that span the entire Aerospace and Defense Market
Network analyzers: Keysight provides premier network analyzers in the market, ranging from handheld models to mm-wave instruments. From 5 Hz to 1.05THz, choose from a growing selection of RF and Microwave network analyzers to measure S-parameters, insertion loss, gain, return loss, balanced parameters, differential measurements, compression, distortion, and noise figure.
Spectrum and signal analyzers: Keysight's spectrum and signal analyzers include an extensive array of products, from DC to 325 GHz and beyond, designed to accurately measure frequency, amplitude, and modulation, including distortion, spurious, phase noise, and 2G to 4G wireless communications signals.
Signal generators: Keysight offers the widest selection of baseband, RF, and microwave signal generator products from baseband to 67 GHz, with frequency extensions to 500 GHz. Signal generator offerings range from basic to advanced functionality; each delivers benchmark performance in its class to address your signal source requirements.
Oscilloscopes: Keysight offers a complete line of oscilloscopes optimized to your test needs, from handheld units to high-performance oscilloscopes and mixed signal scopes. Our platforms range from USB-modular units to high performance real-time and sampling oscilloscopes, with bandwidths from 20 MHz to more than 90 GHz.
Logic Analyzers: Keysight's logic analyzers minimize your project risk by providing the most reliable, accurate data capture and the most complete view of digital system behavior. A comprehensive family of products offers a variety of form factors, acquisition speeds, memory depths, channel counts, and application-specific analysis and protocol tools to create a solution that will meet your toughest digital debug needs.
Modular instrumentation: For data acquisition or automated test applications, Keysight's modular instrumentation is an extension of our measurement expertise into modular form factors. Keysight provides a portfolio of modular devices to fit your diverse needs: from cost-sensitive test requirements to high-performance applications that need increased signal density and high-speed switching.
General-purpose instruments: Our broad selection of bench-friendly and system-ready power supplies can meet your testing challenges—from basic to complex —with a wealth of available capabilities.
Keysight's digital multimeters lead the industry in speed and accuracy and have a proven track record for reliability. Our digital multimeters offer exceptional performance and ease of use provided by intuitive front panels and standards-based programming interfaces. From a bench top to a test rack to a handheld, there's anKeysight digital multimeter that's right for the job.
Keysight arbitrary waveform generators provide both wide bandwidth and outstanding signal quality to fit your electronic testing needs. From complex signal to simple waveforms, there is anKeysight function generator that is right for the job.
Keysight offers a broad family of frequency counters and counter/timers. Frequency counters are used throughout many technical industries for measuring and analyzing frequency, phase, and time-interval signal characteristics. The breadth of the Keysight offering allows the best product to be selected for each application.
Electronic Design Automation (EDA) Software: KeysightEEsof EDA is the leading supplier of Electronic Design Automation (EDA) software for communications product design. Microwave and RF circuit, high-speed, device modeling, and signal-processing design engineers accelerate the development of better products using design flows built on our device modeling, electro-thermal, electromagnetic, circuit and system design and simulation tools.
In-circuit/parametric test: Keysight offers leading board test solutions for electronics manufacturers to tackle a wide range of PCBA test access and coverage issues for today's complex printed circuit assemblies.