New Delhi, January 27, 2014: Su-Kam Power Systems Limited,India's leading power back up solutions provider announced the appointment of Ms. Sonia Nagpal as the General Manager of their Global Business, recently.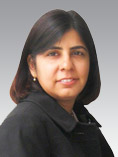 Sonia will be responsible for the company's businesses in overseas markets and for devisingthe sales & marketing strategy for the export business of the company.
With a vast experience spanning over a period of 20 years, Sonia will be responsible for spearheading the global expansion of the brand in more than 70 countries. Prior to joining Su-Kam,she was running her own start-up venture – i360 Staffing and Training – from 2008 to the present date.
Before  starting her own venture, she was working as Country Partner Alliance Manager with HP ('96-'10)wherein she handled partners, customers and alliance partners of the likes of Oracle/ Telecom ISVs. Furthermore, she was also in-charge of marketing management for Telecom, Oracle, BEA Verticals – GO to market engagement, product bundles for channel sell thru, seed arrangements for ISV/SI partners/ key accounts. Her core competencies in execution and innovation have fetched her coveted laurels such as the Winners' Summit Award in HP and the WW HP Summit Award for Excellence.
Welcoming Ms. Sonia Nagpal, Mr. Kunwer Sachdev, MD, Su-Kam said, "We are delighted to have Ms. Nagpal on board. Her diverse background and extensive experience will support the dynamics of our business. I am happy to induct her into our team and am confident that her leadership and vast experience will bring a fresh perspective to various emerging platforms at Su-Kam and also sustain our growth momentum in the international markets."
Talking about her new role at Su-Kam,Ms. Sonia Nagpal said, "I am excited to take this opportunity at Su-Kam – a trusted brand with innovation at its heart.  Su-Kam is poised for a great leap forward in the power back-up arena; and it would be an enriching experience for me to be a part their new growth journey.
Ms.Nagpal's competencies consist of handling personnel and rendering advisory services and business consultation for sales and business planning and operational process improvements. She has also been instrumental in extending industry-rich experience from subject-matter experts in a variety of verticals. Appropriately, she was conferred with the prestigious 100 Most Desirable SMB Business Award by Franchise India in April 2010.