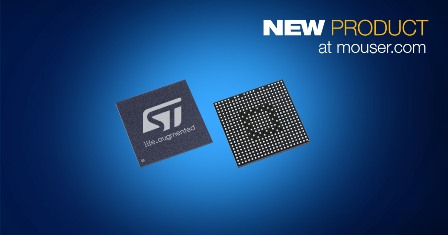 July 25, 2019 – Mouser Electronics, Inc., the authorized global distributor with the newest semiconductors and electronic components, is now stocking the STM32MP1 microprocessor series from STMicroelectronics (ST). Boasting high feature integration and impressive graphics support, the STM32MP1 devices are based on a heterogeneous multicore Arm® Cortex® architecture. The powerful microprocessor units (MPUs) support both open-source OpenSTLinux distribution and STM32Cube toolset to facilitate the rapid development of Internet of Things (IoT), industrial, consumer, and health and wellness applications.
ST's STM32MP1 microprocessor series, available from Mouser Electronics, delivers rapid processing based on one or two Arm Cortex-A7 cores plus an Arm Cortex-M4 core for real-time and low-power tasks. Designers can allocate the device's peripherals to either the Cortex-A7 core for ST's OpenSTLinux distribution or the Cortex-M4 core for real-time tasks using ST's STM32Cube tools.
The STM32MP1 devices offer 708 Kbytes of system RAM, 64 Kbytes of retention RAM, and 384 Kbytes of system RAM, plus support for a broad range of external flash and DDR SRAM memories. The MPUs also integrate a LCD-TFT touch controller, with optional MIPI-DSI controller and 3D graphics processor unit to support human machine interface displays.
Mouser is also stocking the STM32MP157C-DK2 Discovery Kit, which features an onboard STM32MP157 MPU. The kit includes an ST-LINK embedded debug tool, push buttons, and LEDs. The versatile kit also features a broad range of connectors, including a Gigabit Ethernet connector, four USB Type-A Host connectors, one USB Type-C OTG connector, and an HDMI transceiver. The STM32MP157C-DK2 Discovery Kit offers Wi-Fi and Bluetooth® Low Energy capabilities, as well as a touch-enabled LCD display for HMI designs.
To learn more, visit www.mouser.com/stm-stm32mp1.
Mouser / STMicroelectronics STM32MP1
Page Two
With its broad product line and unsurpassed customer service, Mouser strives to empower innovation among design engineers and buyers by delivering advanced technologies. Mouser stocks the world's widest selection of the latest semiconductors and electronic components for the newest design projects. Mouser Electronics' website is continually updated and offers advanced search methods to help customers quickly locate inventory. Mouser.com also houses data sheets, supplier-specific reference designs, application notes, technical design information, and engineering tools.