STMicroelectronics, a global semiconductor leader serving customers across the spectrum of electronics applications, showcased cutting-edge solutions in Smart Mobility, Power Management, and IoT and Connectivity with hands-on demonstrations at EFY expo in Pune, India
During the two day exhibition, the company exhibited a slew of unique user-centric innovations around optimizing power consumption, IoT technologies, and EV capabilities.
ST had a large booth presence, and was keen to show off emerging technology trends to an eager audience. The Smart Mobility section had  Vehicle Tracking System based on ASM330LHHX  on display to showcase the use of micro-electromechanical systems (MEMS) sensors that are integrated into various components of a vehicle to provide accurate data on their movement, orientation, and environmental conditions, was on special display.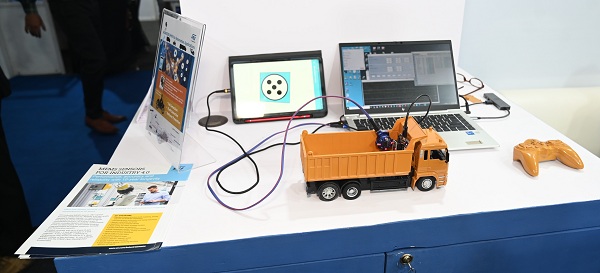 Featuring 5 demos at the Power and Energy section were some fascinating array of products and applications:
ST and WE USB Type C dev Kit
USB Type-C and Power Delivery
Wireless Charger 100 W
65W Mastergan USB PD adapter
Power management Solutions for wearable and IoT
45W USB PD adaptor reference design with VIPERGAN50
45 W QR mode flyback adaptor reference design for USB Type-C™ PD adaptors. This reference design meets CoC Tier 2 and DoE Level 6 efficiency requirements with peak efficiency of 92.4% at full load. The evaluation board implements at the primary side a quasi-resonant flyback converter based on the VIPERGAN50 controller with optocoupler feedback for voltage regulation.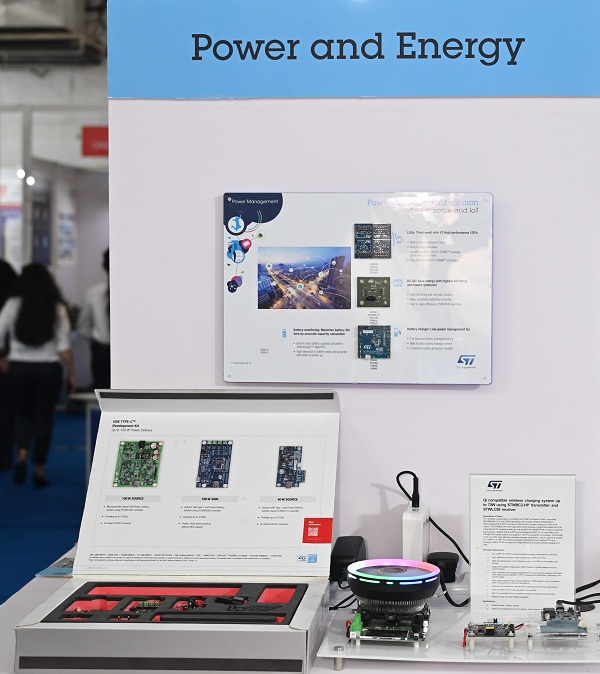 At the Internet of Things and Connectivity section, key demos that attracted visitors attention were: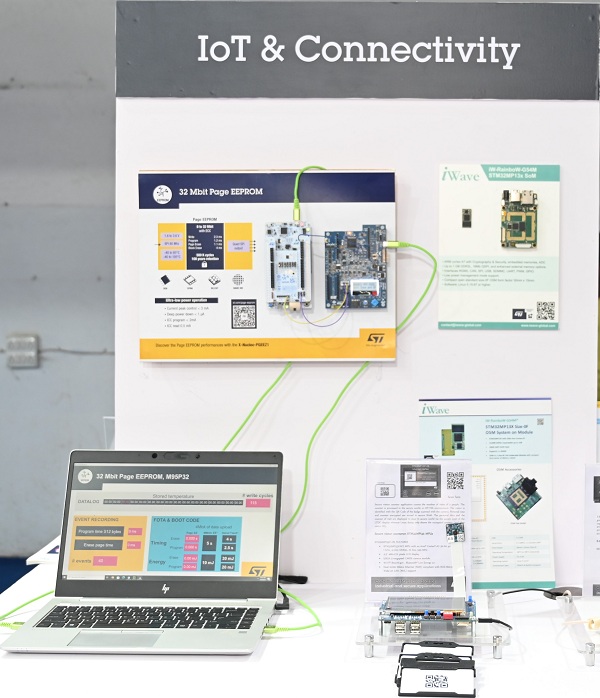 32 Mbit Page EEPROM
Serial Page EEPROM is a high-density, page-erasable SPI EEPROM memory that combines flexibility, performance, and ultra-low power. The Serial Page EEPROM with proprietary NVM cell technology delivers fast erase/write performance with high cycling endurance and robust retention. The new architecture allows fast wake up and byte flexibility, as well as block management and fast quad output, while keeping current surge and energy budget at very low levels. This is the all-in-one non-volatile memory solution for ultra-low power systems that requires an external NVM to boot by downloading firmware before execution in RAM, upload firmware versions by OTA and to run parameter monitoring, data log, or event recording. The nonvolatile memory solution of Page EEPROM opens new possibilities by incorporating efficient management of different data types such as read only data, cycled parameters, and firmware in a single device.
STEVAL-ASTRA1B LoRa tracker
STEVAL-ASTRA1B is a versatile asset tracking reference design from STMicroelectronics offering multiple wireless connectivity options like BLE, LoRa, NFC, and other 2.4GHz /Sub-GHz connectivity options. Centered around STM32WB5MMG BLE module as core SoC, the board has multiple MEMS Sensors, GNNS, battery management. It is shipped with plastic case and rechargeable battery. ST supports various example applications like Cold chain monitor, Livestock tracking, fleet management etc. and these can be interchanged using OTA with provided mobile app. There is also a cloud dashboard for evaluation to which data can be pushed via the LoRaWAN or any mobile phone via BLE app based WAN connectivity.
In addition, the company at an Innovation Counter, where  recently launched  STM32 products covering STM32C0, STM32H5, STM32MP13, and STM32 WBA were displayed . This section was most popular amongst the visitors and  reiterated STM32 as the first choice for embedded developers.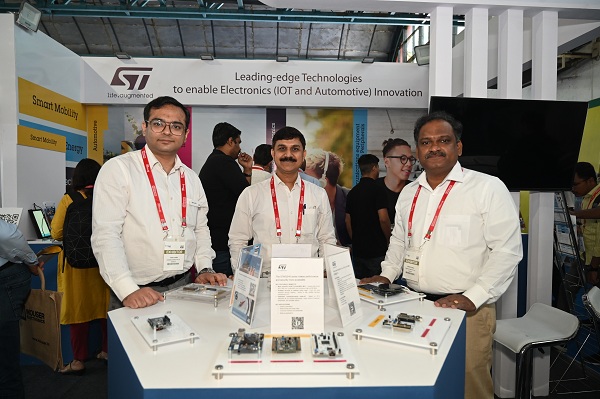 There was presentation from Vinay Thapliyal, Group Manager, Technical Marketing India, STMicroelectronics who talked about Udyog 4.0: Enabling digital factories and the evolution of IIoT. He shared a few use cases: Asset Tracking, Predictive Maintenance, PLC, Digital IO link solutions, and factory automation which are evolving to make factories smarter. Their building blocks are connectivity, sensors and edge computing.
In another session, Chen Hong Shao, Product Marketing and Application Manager, STMicroelectronics highlighted the evolution of ST MEMS Technology, inertial measurement units (IMU) in automotive applications, Edge Computing in automotive applications, and ST's Automotive MEMS Sensor roadmap.