We recently met with Alessandro Cremonesi, Group Vice President, General Manager, ST Central Labs, on his India visit and he highlighted ST's leadership in IoT, innovation and strategy to offer products specifically tailored for the local market. Excerpts of the interview: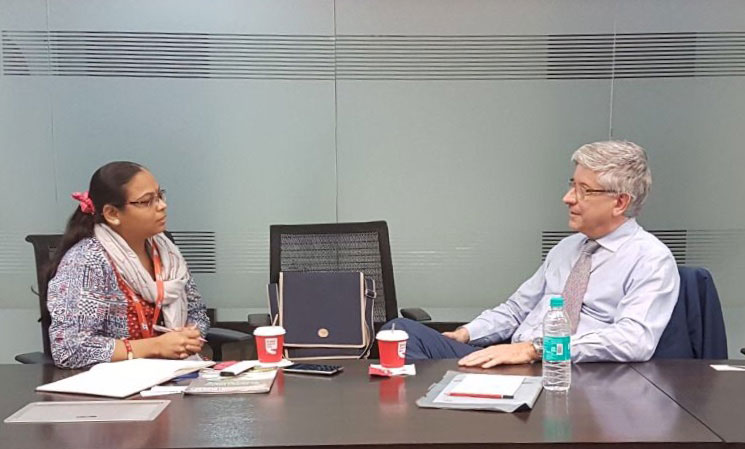 Q: What are your views on next generation IoT progress and applications?

The Internet of Things, or IoT, is an arrangement in which "things" such as sensors and devices are connected to the cloud and servers via the internet and control one another by exchanging information.
IoT will move toward a better 'robotization' of all the processes of the human life making everything simpler and more automated.  IoT will allow to capture data from everywhere in the planet creating opportunities for many new services and applications.
Cloud and Artificial Intelligence technologies are very important for the IoT because they will allow to process data and extract additional info for better services .This processing will start in the cloud but soon will be moved to objects to make them more and more intelligent.
Q: How ST IoT development platform help designers for their prototyping?

Any device of our life can become an IoT device, you simply add connectivity and sensing or actuation and it is part of a new virtual dimension presenting a broader view of the environment, equipment, or individuals where it can deliver new unexpected services and applications.
For IoT developers, the task of designing a suitable multisensor wireless system can present multiple challenges that typically slow development. For this reason they need then flexible development systems able to respond to diverse, fast changing requirements.
An IoT development kit from STMicroelectronics,named STM32 Open Development Environment, meets this need providing different technologies in a single platform that can speed development of the workflow from the IoT device to the cloud. STMicroelectronics multisensor IoT kit addresses these challenges.
STMicroelectronics STM32 Open Development Environment (ODE) enables fast, open, easy, and cost effective prototyping. Combined with other state-of-the-art ST components and free ST software for additional flexibility, innovative devices and applications can be quickly transformed from idea to prototype to final design.
The STM32 ODE consists of modular, stackable boards designed around the STM32 MCU family. This broad range of expandable boards a comprehensive set of functions for sensing, connectivity, power, audio, motor control, and much more.
Supporting multiple sensors and connectivity options, the STMicroelectronics IoT development kit offers a pre-built solution for complex IoT designs. Using the kit hardware and software, developers can rapidly implement sophisticated IoT designs and integrate them in end-to-end IoT applications built on the major cloud infrastructures.
Q: How IoT can help India in agriculture?

IoT is beneficial for India in agriculture as one can improve the quality of the agriculture products and the efficiency of their production. In agriculture, for example proper sensors and actuators and remote control can help grow vegetables with less water, less agricultural fertilizer, less pesticides or herbicides with a positive effect at overall planet level.
It's similar for the industrial environment, or Industry 4.0. We can achieve a cleaner manufacturing with less energy consumption, more efficient usage of the equipment's, preventive maintenance, and safer working environment.
Smart City is another key application of IoT. Intelligent Lighting, pollution control, traffic management are just few examples of that. All these examples explain how those technologies can be positive for our life and for our planet.
Q: How wearable technology plays in India?
ST has a lot of solutions and customers in wearable technology. The ICs used in this field are very much driven by the mobile phones industry. If you properly analyze, most of technologies in mobile phones that are related to advanced user interactions are coming from ST. Image, motion, environment, proximity and touch are some examples. With our leadership in low power microcontroller, you have in your hand all the needed technologies for wearables.
Q: What are your views on IoT and Automotive?
The car can be considered per se a very complex IoT object. But, it is connected, capable to sense and actuate, more and more as electric and is playing an important role for mobility services. The remote connections cars can be managed as a fleet improving traffic and decreasing pollution.
Today, everyone is talking about autonomous cars. ST is leader with our chip for autonomous driving, and it is clear that the more the car will be electric, the easier will be to drive it electronically.
For this reason we have invested a lot in new technology for electrification such as SiC where we play now a leading position.
In EVs and hybrids, where better electrical efficiency means greater mileage, ST's latest silicon-carbide (SiC) technology enables auto makers to create vehicles that travel further, recharge faster, and fit better into owners' lives. A leader in silicon carbide, ST is among the first to present new-generation rectifiers and MOSFETs for high-voltage power modules and discrete solutions addressing all the vehicle's main electrical blocks. These include the traction inverter, on-board battery charger, and auxiliary DC-DC converter.
Q:Tell us about ST lab advancements and your role to play?

In India, we have one of our major application labs. My organization is responsible of system solution. ST's goal is to make available not only the most advanced technologies but also system solution to our customer through which they can implement competitive products in a global marketplace. In India, ST has major team that has all the competences, skills and access to proper technological building blocks and IPs to transfer components into final solution in the most efficient way.
Q:What about security and how it is important in electronics?

Security in electronics devices is becoming increasingly important, and with the explosion of internet-based applications we need to protect our data, our identity, and our living environment. And as the management of "Things" around us is being automated, security becomes even more important. We do not want an unauthorized user to turn off all the Smart Lights in an entire city or someone to insert false data in a system to damage performance, reputation, or health.
ST knows very well how to build secure ICs and systems being active in this field since long time and developing HW & SW solutions to protect our life. This ranges from smart card to devices and data protection.
Q:Finally what are your views on ST India's design talent?

Our Indian group is fantastic. I have met many talented people and we've had deep discussions covering both short-term business cases and long-term vision. More generally I think India has great potential for growth in electronics, leveraging its well-educated engineers and the strong energy and entrepreneurship felt everywhere in the country.