Technology mentorship prepares graduating engineers for Upcoming major trends in Internet of Things and Wearable Technologies
New Delhi, May 21, 2014– STMicroelectronics, a global semiconductor leader serving customers across the spectrum of electronics applications,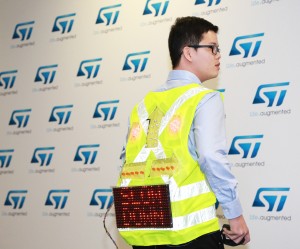 the world's top MEMS (Micro-Electro-Mechanical Systems) manufacturer and the leading supplier of MEMS for devices for consumer and mobile applications[1], announced the winners of its University iNEMO Design Contest 2014. The announcement concludes a year-long technology mentoring engagement with final-year engineering students from the National University of Singapore and The Nanyang Technological University.The students were mentored by ST engineers in using the iNEMO®MEMS smart-sensor module to create prototypes of innovative and original applications.
Giuseppe Noviello, Marketing Director High-End Sensors and Analog Division, STMicroelectronics, explained the objective of the project, "Smart sensor technology will significantly change the world we live in, from Smart Homes, Smart Cars and Smart Cities to Healthcare, Wellness and Fitness. Smart sensor technology is also a key building block for the upcoming major trends in Internet of Things and Wearable Technologies. It is therefore vital for young engineers in Singapore to get hands-on experience withworld-class sensor technology."
STMicroelectronics sees MEMS technology bringing many "smart" features into areas such as healthcare, wellness, recreation, navigation, security, and even industrial applications. The students participating in this competition were encouraged to create applications in such areas that were not yet commercialized in the market. Therefore originality of ideas and practicality to real-life applications were factors given high weight in selecting the winners.
The champion team comprising Tan Sze Wei and Low Kang Jiang from the National University of Singapore developed a smart signaling vest for cycling enthusiasts riding their bikes at night. Sensors convert the rider's hand signals into LED indications such as "turns", "slow down", "watch out", "pull thru", and "stop", and will automatically stop indicating after the corresponding action has taken place.The champion team wins a SGD 10,000 cash prize awarded by ST.
The first runner-up team comprising SamdishSuri and Bai Xiao from the National University of Singapore developed a gesture-recognition system with neural networks.The project aims to create an open-source application for re-trainable gesture recognition that can be applied to various applications that require the ability to recognize more complex un-segmented gestures.The first runner-up team wins a SGD 5,000 cash prize presented by ST.
The second runner-up team comprising VivekKamatchiSundaram and AdeelSafdar from the National University of Singapore developed a home-based physiotherapy guide and monitoring device. This system allows recovering stroke patients to carry out physiotherapy rehabilitation at home, guided and monitored by an iNEMO-powered device that ensures their exercise movements are carried out correctly. The device is also connected to the physiotherapist at the hospital.The second runner-up team wins a SGD 3,000 cash prize awardedby ST.
All 13 contest participants are final-year engineering students from the National University of Singapore and the Nanyang Technological University. Sponsored by STMicroelectronics, the participants all had access to ST's iNEMO modules, technical support, and financial support of SGD 500 per student for the purchase of 3rd party materials. Their submissions for the iNEMO contest were also part of their final-year project.
ST's iNEMO is a unique evaluation and development tool that offers up to 10 degrees of freedom, combining 3-axis linear acceleration, 3-axis angular rate, and 3-axis motion sensing through a magnetic field, together with barometric/altitude readings, managed by an STM32 microcontroller. The integration of multiple sensors with processing capabilities, dedicated software, and wireless connectivity in a single platform enables leaps in functionality and performance in a wide variety of applications.