Offers multiple sources and integrated supply chain control to customers with technologies that enable product differentiation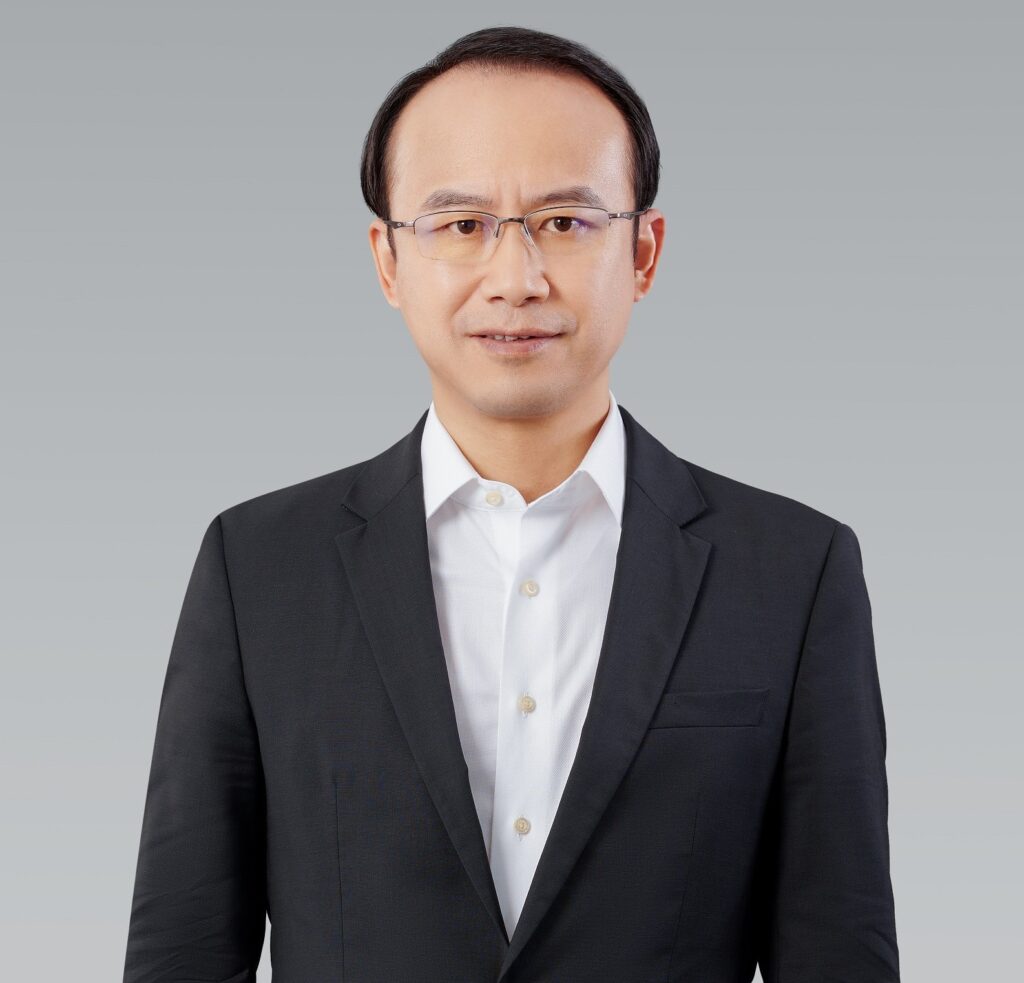 STMicroelectronics hosted online manufacturing Strategy media briefing event. Henry CAO, Executive Vice President, Sales & Marketing, China Region, STMicroelectronics shared his insights on semiconductor manufacturing challenges, overview of ST manufacturing and company's future manufacturing programs.
In the presentation, he explained that technology R&D and manufacturing strategy is a key enabler for ST.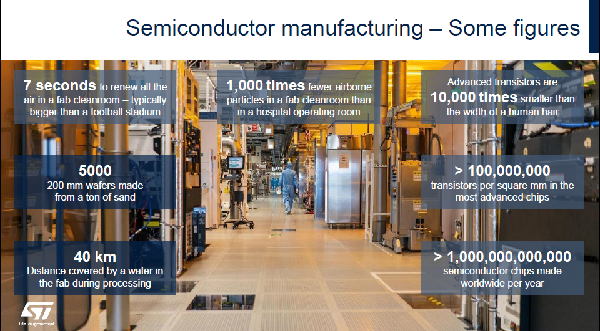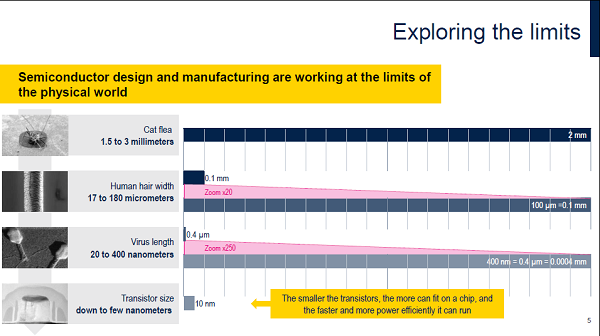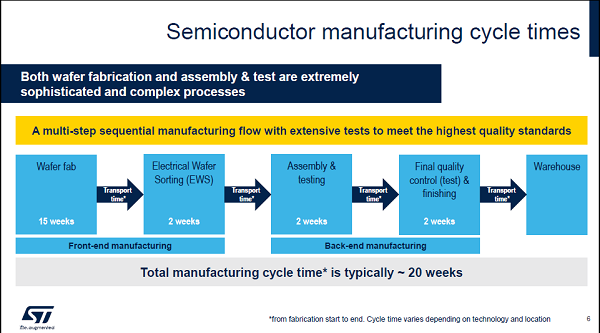 Please give us an overview of ST Manufacturing.
Semiconductor industry is very complex. Due to long cycletime for making a chip, customers need to share with us their reliable business plan, designing plan, their production plan, how much volume they need, what kind of product they need so that we can have a long term win-win situation.
ST is an IDM (integrated device manufacturer) that covers all the value chain, ranging from design, from wafer fabrication to assembly & test, and sales & support, which means we cover fabless, foundry and back end (packaging & testing).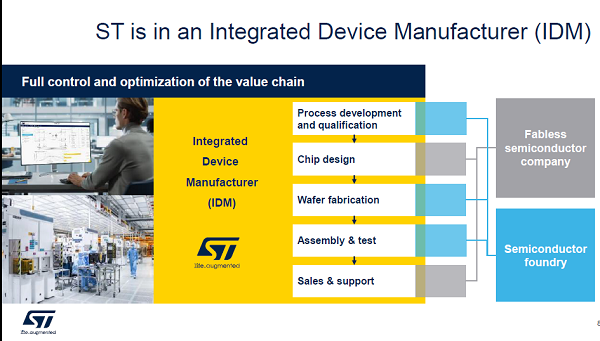 ST owns a lot of facilities across the entire world. For frontend foundry, the major locations are mainly in four countries, including Sweden, France, Italy and Singapore. Packaging and testing facilities located in Italy, France, Morocco, Malta, Malaysia and Shenzhen (China) and Philippines. It means supply chain, factories covering frontend and backend spread across many different countries. This provides us with a unique advantage, especially during the past three years with challenges of the pandemic, in which sometimes there were lockdowns happening in some locations, but ST can still manage our manufacturing and supply chain quite smoothly. Because we can diversify our production, so we don't need to rely on one single location to provide customer the highest level of services.
Our manufacturing starts with our people. At ST, globally, we have around 50,000 to 60,000 employees with a balanced distribution among France, Italy, Asia, and some other countries. So ST is a global company and we have global force across different countries.
ST offers customers multiple sources and integrated supply chain control. As we are present in different locations, we can focus on different technologies and products, and in extreme cases we can shift the production workload across different locations. In this way, we will not be impacted by a single location for any reason and we can still keep the entire supply chain very smoothly managed.
Please tell us about your technology innovations and R&D?
ST has a rich portfolio of technologies, and most of technologies are proprietary ones, which mean (technologies) only owned by ST.
Smart Power : BCD, STi²GaN, VIPower
Specialized optical imaging Processes
Power MOSFET, IGBT – Discrete Silicon Carbide, Gallium Nitride
MEMS for sensors & micro-actuators
Analog & Mixed-signal
Advanced FD-SOI FinFET through Foundry
embedded-NVM CMOS
RF CMOS BiCMOS
For packaging technologies, we are quite nimble and resilient in providing the best combinations of leadframe, laminate, sensor module, wafer level, and all those kind of technologies.
Our factory is not only a factory, but technology R&D is also integrated into it.
Our design facilities are very close to our manufacturing in many locations with lot of human resources focusing on R&D and design to provide continuous innovation of the technologies.
In addition to the fab technology R&D, we also focus on the innovations in assembly and testing. We are working with OSAT, our subcontractors for packaging and testing to continuously innovate with the latest technology to serve our end markets such as the smart mobility market, power& energy market, and IoT &connectivity market.
What is ST manufacturing strategy?
Our technology R&D and manufacturing strategy is one of the key enablers of our business ambition. ST is continuously investing in competitive proprietary technologies and in-house manufacturing complemented by outsourcing. We create a reliable supply chain for our customers. Our plan is to double the internal manufacturing capacity for the 300 millimeter, which is the 12 inch, from 2022 to 2025.Our focus is to invest in SiC, which has huge demand from car electrification and renewable energy areas. With continuous investment in GaN, we are building internal technology capacity to offer 200 millimeter, and plan to achieve the internal production of the 8 inch in 2023.Beyond internal manufacturing facilities, we are working with outsourcing partners ranging from fab and OSAT to cope with the growing capacity demand. And we also work with the leading digital technology and packaging technology providers.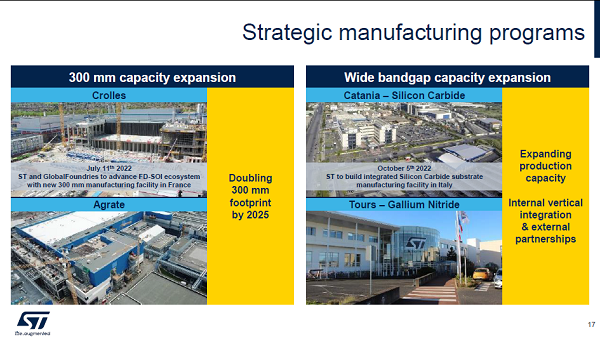 Last year, we announced a partnership with GlobalFoundrie to set up a new manufacturing facility in France, focusing on FD-SOI technologies and it will be the world's cleanest fab in the semiconductor industry.
How do you maintain the sustainability in the manufacturing?
ST is a company focusing on sustainability a lot. We have a global ambition to reach carbon neutrality by 2027 on the company level. So to reach this target, we need to drive sustainability in manufacturing.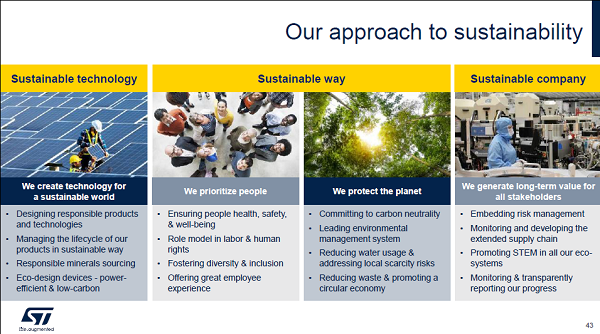 Our approaches to drive sustainability:
Using sustainable technologies like solar technologies.
Prioritizing people to ensure their health, safety .
Focusing on protecting the planet.
We are committed to carbon neutrality.
Using leading environmental management system.
Reduce water usage and address local scarcity risks.
We generate longterm value for all the stakeholders.
We monitor and develop the extended supply chain
Energy management initiatives are very important targets for ST. During 2021, our EHS team focusing on health, safety, etc. at all of our sites worked on 53 energy management improvement projects, saving 35 GWh of energies. And all these have generated quite positive results in terms of carbon emission, electricity consumption, water consumption, etc.
And we are trying to reduce carbon footprint in every site. We adopted a district cooling system at ST's single largest wafer-fabrication site by volume globally. We eliminated up to 120,000 tons of carbon from the environment, which is equivalent to 30% of ST Singapore's carbon emissions in 2021.
What is your investment in digital transformation technologies?
Today our world is full of challenges of market fluctuation, disruptions, supply chain duplication, environment challenges, trade war, etc. Digital technologies play an important role to reduce waste, to make sure our supply chain is very robust and resilient to whatever change we can see from the market. ST leverages digital transformation to do product life cycle management. We connect and digitalize products related to information and processes for a more efficient and effective innovation engine. We use digital technologies to analyze our manufacturing data, to industrialize ST's manufacturing data and analytics capabilities.
Our fab is highly automated. We use 100% automated material handling system and our production tools are managed automatically. This is the reason why we can run our manufacturing factories with such a high efficiency.
With latest Industry 4.0 Technologies, we are leveraging mixed reality for remote maintenance. We are leveraging autonomous intelligent vehicles at our fab to enhance the automation of our entire factory.
How technological advancement and manufacturing has been adopted by ST to expand its product portfolio?
Today, semiconductor players rely heavily on advanced manufacturing technologies that streamline production processes, innovate at a faster pace, reduce costs and deliver higher quality products to meet customer demand.
ST is also transforming its manufacturing base. There are a number of areas within manufacturing where technology is being harnessed by ST which involves contributing to improving manufacturing quality, yield, equipment productivity, and manufacturing cost.
Our key digital transformation initiatives are regarding supply chain, product lifecycle management and manufacturing data analytics. With our technological innovations, we have re-engineered our supply chain into a demand driven adaptive one to cope with the challenges of our world.