Demonstrating the pervasiveness of electronics, ST showcased its industry-leading technology and cutting-edge solutions for Automotive, Industrial, Personal Electronics, IoT, and AI applications at the 20th edition of India's leading electronics-industry trade fair.
At electronic India 2019, ST experts presented future-ready solutions for Electric Vehicle Charging, Battery Management Systems, and Smart Agriculture.
Based on theme- If its Smart we're there -Key demo highlights at the Booth included:
Automotive
Automotive section highlighted ST's EV charging system portfolio, including solutions for Battery Management Systems, Onboard Battery Chargers (OBC), and a complete range of power and control devices for electric vehicles; NFC readers for Automotive applications; and reference designs targeting e-bike and e-rickshaw motor drives designed specifically for the Indian market and a fast charger module.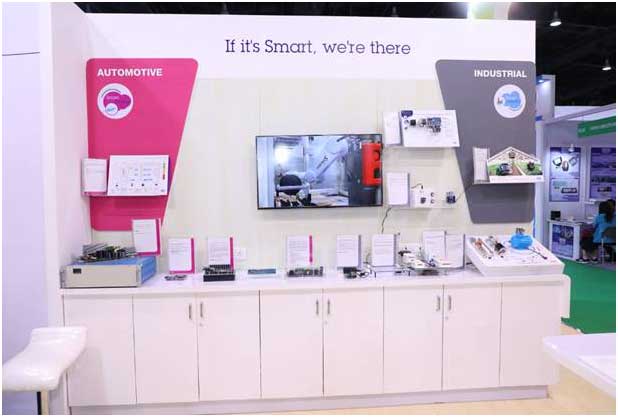 Industrial
Industrial section displayed  ST's solutions for Mesh over BLE on real lighting devices; ISO15693 NFC forum type 5 certified dynamic tags with Pulse Width Modulation (PWM) outputs; ST's latest digital configurable ASIC that can drive three channels as interleaved PFC for industrial applications, Wireless Industrial Node and Smart Agriculture Qi-Charger solution integrated with NFC, STSAFE protection, and PoE-based Lighting.
IOT/AI
IOT /AI focused on ST's wide portfolio of STM32 microcontrollers, with an emphasis on ultra-low-power-budget applications, a multiprotocol ultra-low-power 2.4GHz radio transceiver, Sensortile.box platform for plug-and-play IoT sensing. And several Artificial Intelligence IoT reference designs.
Partner demos at the booth included the smart feedback polling system from Indian startup Gaia. To know more, visit ST's blog: https://blog.st.com/gaia-stm32f0/

E-rickshaw