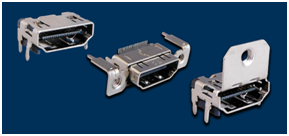 Stewart Connector, a Bel group company, (NASDAQ: BELFA and BELFB) and world class manufacturer of high-speed connectors used in data communication applications announces the release of HDMI version 1.4 connectors.
Stewart Connector's HDMI connectors are designed to deliver the highest quality, high-definition content in an economical and easy to use design. Stewart's HDMI connectors combine both video and multi-channel audio into a single port connection helping to eliminate cost and confusion of multiple cables in complex A/V systems. Our HDMI connectors have 30 micro-inches of gold on the contacts, a compact and user-friendly design, mounting flanges and are fully shielded. HDMI connectors can be used in digital TV's, set-top boxes, high definition monitors, audio/visual receivers and various IoT applications.
As an authorized distributor for Bel, Heilind Asia provides Bel's products and also value added services. Heilind Asia supports both original equipment and contract manufacturers in all market segments of the electronics industry, stocking products from the industry's leading manufacturers in 25 component categories, with a particular focus on interconnect, electromechanical, fastener/hardware and sensor products.