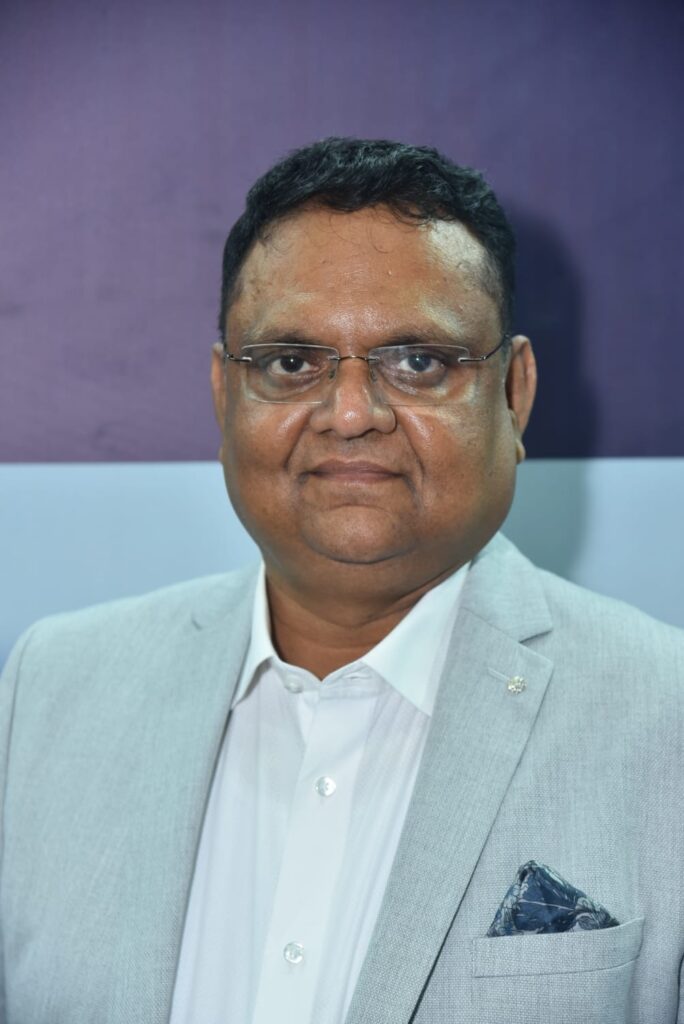 STMicroelectronics, a global leader in semiconductors covering the spectrum of electronics applications, showcased power and energy innovations at the electronica India event from Sept. 21-23.
Vaishali Umredkar of Electronics Maker had the opportunity to speak with Mr. Zeya Wase, Group Manager Marketing (Power Discrete and Analog Products), India to learn more about the next generation application demos.
Q. What innovations have you displayed at this exhibition?
The semiconductor industry is changing and many new applications are emerging, which need very specific products. Consumer demand is also changing almost every year. So, we are adapting according to what we are seeing and what future looks like.
We are displaying a 'wireless charger demo' with the transmitter based on our STWBC2-HP digital controller, which supports a Tx power up to 100 W+ using our proprietary STSC protocol, and also complies with Qi V1.3 EPP 15 W in MP-A2 topology. The features innovative Q factor measurement for high accuracy QFOD (foreign object detection) and embeds many protections, including static and dynamic OVP, OCP, OTP, and power balanced FOD.
The receiver section is based on the highly integrated STWLC98 wireless power receiver, which is suitable for phones and other applications requiring an output power up to 70 W. It is a complementary match for STWBC2 family, and its integrated low-loss synchronous rectifier and low drop-out linear regulator ensures high efficiency with low power dissipation. We have a receiver solution based on STWLC99 that can support up to 100W receiver applications. Our receivers are powered by a unique ARC mode feature that improves the ping up and power transfer spatial freedom by 50% in all directions.
As I said, lifestyles are changing, and consumers are demanding more compact solutions. We are also displaying the 65 W charger solution based on VIPERGAN65 with a power density of 21.86 W/in³. We also have VIPERGAN100 with a power density of 22.5 W/in³.
Q. Which devices you are using to make these types of chargers?
The STWBC2-HP is a system-in-package with an STM32 microcontroller and an application-specific front-end die. We are using a new gallium nitride wide bandgap technology in VIPERGAN. SiC and GaN wide bandgap technologies are dramatically accelerating miniaturization and efficiency gains across applications for high power conversion. Power converter efficiency is the key driving force for GaN adoption. GaN device shipments from 2025 to 2028 are forecast to grow at 30% CAGR (source: IHS market)
Q. What is the 3.3kW telecom rectifier charger?
This is a high efficiency SiC-based charging solution for telecom base stations and other telecom infrastructures that require compact, high efficiency, high power density, and rugged SMPS solutions. It features a totem pole PFC with 98.5% peak efficiency and a DC-DC stage based on a full-bridge LLC driven by an STM32 microcontroller. You can also scale the solution to use the electric vehicle charging applications. It really demonstrates ST leadership in application support as well as superior products.

Q. What is the basic complication of these products?
The complication in these kinds of products is the basic understanding of the device and how to drive them. It is not easy to design such complex systems. When you build the layout for this kind of high-density power supply, you have to be very careful because to isolate the power line and analog signals. The form factor is also critical, and to make compact power solutions, you need fast-switching power devices to allow smaller inductors and capacitors to save on the size and cost of these passives and heatsink, thereby improving overall system efficiency and cost.
Q. What makes this particular design compact?
When we talk about compactness of any kind of power system, the most important thing is the need to control power dissipation. You must implement precise switching control of the power devices, which you can achieve with digital control, and the power devices themselves must be highly efficient.
ST has its own R&D and manufacturing facilities for the major product families used in this design, like our STPOWER silicon carbide MOSFETs and diodes. The other factor that contributes to compact design is the kind of topology we choose for PFC stage and DC-DC, and certain topologies like totem pole PFC offer very compact and efficient solutions. We are always researching ways of delivering more power per square centimeter area of a PCB.
Q. What is this 5kW board?
This is a 5kW board for e-rikshaw applications. This highly versatile and efficient electric traction inverter solution can deliver 5 kW of power for an automotive drivetrain at the common low-speed electric vehicle with battery voltage of 48V. The design features an automotive SPC5 MCU with FOC library to control a programmable L9907 gate driver for three-phase synchronous motors, with fault monitoring and diagnostics capabilities. The power is delivered through 36 STripFET F7 automotive-grade STPOWER MOSFETs arrayed on an insulated metal substrate (IMS) for superior thermal dissipation. Bus link capacitors ensure a more stable supply input, and sensing elements provide the necessary motor current feedback information for effective motor control.
Electric vehicles run on batteries, and battery efficiency directly impacts vehicle range, so it's critical to have precise control and the right semiconductors together in the system. Our expertise in making the devices means we know exactly how they should be driven for best system performance.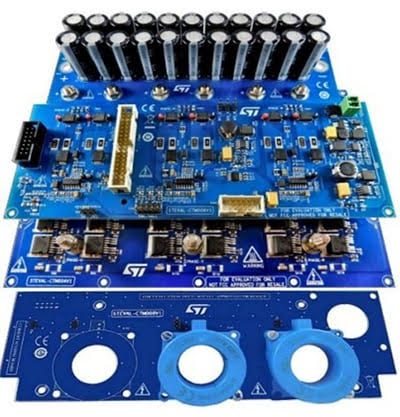 More details available @ https://www.st.com/en/evaluation-tools/steval-ctm009v1.html
Q. What has ST done in the EV segment?
Many automotive applications are safety critical, so we always try to achieve zero PPM for these devices to ensure that there are no device failures that present risks to human safety. ST has a dedicated automotive product organization with R&D, marketing application resources, and a competence center for building reference designs and field technical support.
Here is a 3.3 kW on-board charger so you can charge your car battery at home. You cannot just plug batteries to an AC source as charging requires a DC input. So, the on-board charger in the car takes AC power from your power system and converts to DC as per the battery specifications. This solution uses many state-of-the-art ST devices, including automotive-grade microcontroller, STPOWER MOSFETs, silicon carbide diodes, amplifiers, and comparators. Most of the key components for a charging/DC-DC are ST devices with automotive compliance.
Apart from the chargers, we have many automotive peripherals in vehicle, like internal security and safety systems, power windows, climate control, rain sensing, user interfaces, ABS with a lot of safety features, camera systems, sensors, and infotainment systems. All these peripherals need a 12 V input, so we need a solution for converting the 340 V from battery to 14 V DC output to run most of the functions inside the car. Generally, this DC-DC system would be rated around 2.5 kW power.