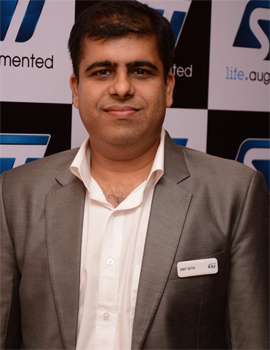 Interview with Amit Sethi, Marketing Manager – RF/NFC & NVM, STMicroelectronics India

What are the advantages of NFC vs BT or other short distance wireless communication?
Many overlapping technologies have a place in today's world.  Both NFC and Bluetooth are wireless technologies for short-distance communication, NFC has some advantages over BT – and ST offers these and other wireless technologies to ensure that developers have access to the right technology for their applications.
NFC technology consumes less power when compared to standard Bluetooth technology, though BLE is more efficient. In cases, where NFC has to power up the passive devices like tags, it may require more power than a standard Bluetooth transmission. NFC technology shines in its ease of use. Where Bluetooth requires users to manually pair connections between smartphones and takes some time, NFC file sharing doesn't require paring and connects automatically in a fraction of a second, which makes it faster and seems instantaneous. In addition, as NFC operates over a very short range for the transfer of data, it helps maintain data security.
In short, over other wireless communications NFC technology offers higher security, faster connection & negligible power consumption.
Highlight the different product offerings from ST on the NFC technology?
As a pioneer of RFID and NFC technology, ST offers a comprehensive range of products, covering all NFC application needs. Our products are also supported by a rich ecosystem. The devices include NFC / RFID tags, Dynamic NFC tags, NFC / RFID readers and NFC controllers, including secure elements and turnkey solutions.
The ST25TA series provides an NFC Forum tag type 4 RF interface and supports the NFC data exchange format (NDEF). This enables NFC use cases such as NFC tags, NFC tokens, NFC smart posters, and NFC business cards (Virtual card). Products in this series can be used in a wide variety of applications, including consumer electronics, computer peripherals, gaming, home appliances, industrial automation and healthcare products.
The ST25R HF reader series provides multiprotocol support for 13.56 MHz NFC / RFID communications as ISO / IEC 14443 Type A or B, ISO / IEC 15693, ISO / IEC 18092, FeliCa and NFC Forum protocols. They are optimized for solutions for supply-chain and logistics applications, asset tracking, cold chain management, and a variety of IoT applications.
What are ST's solution for the development and promotion of NFC technology?
The ST33 family is designed for secure applications like SWP-SIM (Single-Wire Protocol-Subscriber Identity Module), with 512 Kbytes to 1.2 Mbytes of Flash with or without MIFARE, ST33 solutions are great for embedded secure elements, terminal host (baseband) NFC stack firmware.
NFC Controller: The ST21NFCA offers a ready-to use solution covering all the contact interfaces to the terminal processor. It also includes drivers for all standard RF protocols. It provides a flexible and open solution for a market in evolution by integrating a microcontroller and embedded non-volatile memory that allow an efficient and easy upgrade of the firmware and user functions.
Secure element  :The ST33 family has been designed to meet advanced security and performance requirements, combining the latest 90nm Flash technologies with the highest security levels on the ARM SC300 (secure ARM CortexTM-M3).With Flash densities ranging from 512 Kbytes to 1.2 Mbytes and a SWP interface for NFC connectivity, its unrivalled performance and high security level (including CC-EAL5+ certification) make the ST33 family ideal for supporting SIM-centric contactless applications, including the latest transport/ticketing MIFARE technologies
Which products are more interesting for customers consumption?
Our ST25 NFC solution could manage a Smart Electronic Lock. This lock could be opened with an NFC tag or NFC-enabled smart device Android Smartphone. The unique selling proposition is that no mechanical key is needed.
Similarly, a Smart Watch, can use the ST25 NFC solution. A user can enjoy easy & fast data synchronization between a Smartphone & watch by just a tap, and can download ones exercise record & adjusting the watch settings
Because M24SR uses passive NFC technology, power is supplied by the reader and data synchronization consumes ZERO power from the watch itself, so one can enjoy much longer battery life for the wearable device.
How NFC could be used in the future?
In the very near future, Near Field Communication technology could  replace ones bulky things like your wallet and keys, making your smartphone the only tool you need. The latest smartphones have more utility and with new wireless communication technology, these devices will continue to impact more and more parts of our lives.
Some of the potential application areas to look at are:
Contactless/ Cashless transactions (Payment)
Keyless entry
More effective healthcare
ID and transport applications
Data exchange and service initiations