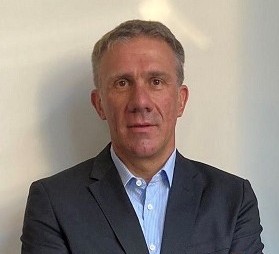 In the fast growing digital world, ST products and solutions protect your privacy and your assets by ensuring their confidentiality, their integrity and their availability to authorized requesters where and when needed. ST deliver hardware- and software-certified solutions, offer seamless integration of security features, and are experts in cryptography and device architecture.  ST is securing all your applications from traditional applications, such as SIM, banking and ID, to the latest ones including contactless transactions and IoT connectivity.

In a recent virtual media briefing where Electronics Maker participated, Jerome JUVIN, Head of Marketing and Application, Secure Microcontroller Division, STMicroelectronics shares insights on ST payment solutions in banking and mobile sector, market dynamics and technology advantages.
1. Tell us in brief about ST SMD portfolio?
Our Secure Microcontroller Division is located in France, in the heart of the invention of smart card IC for banking application. Over the last 30 years, ST has contributed to the development of smart card technology for overall smart card industry. We support all of the applications we are using today including banking cards, SIM cards, transport cards, eID cards, Passport, conditional access for pay-TV, and providing authentication solution in Laptop, brand protection application in order for brands to protect their assets against counterfeiting. We also provide embedded system solutions targeting mobile solutions such as NFC, embedded secure element and Esim which go into smart devices like mobile phones and wearables, and into connected cars as well. SMD is an organization that operates worldwide, and is among the top three in this industry, with over 14 billion secure MCUs being shipped worldwide today. We are in a leading position in the eSIM market for the last couple of years.
2. What are the special features of your banking payment solutions and your market position in this segment?
Magstripe has been here for banking cards for a very long time. There are still banks issuing Magstripe technology. But over the past 20 years, banks supported by local governments have been deploying microchips into banking cards in order to address fraud with higher security. This deployment of microchip into banking card has been key for overall payment industry. All this market development allows the introduction of new technologies such as contactless technology, and NFC.
The banking card transaction remains a great market today which is growing at 1 digit CAGR. Even though in 2020, it slightly declined due to side effect of COVID, there is still a slight growth in shipment with roughly 3.4 Bu banking cards shipped in 2020. And we expect it to recover after the pandemic, mainly driven by dual interface deployment worldwide. And more innovations coming from bands, new form factors for the banking cards, whether metal, transparent, ecological, and moving forward, biometric which is also being piloted at various places, which we see has been accelerated especially due to the COVID side effect.
Asia represents a significant market for banking cards, roughly 40% of worldwide TAM, with migration from contact to dual interface confirmed in all countries, with a certain level of penetration already. This migration is fully confirmed in Asia Pacific. What is specific about Asia is that although the traditional payment schemes like VISA, MasterCard, AMEX, Discovery, and JCB are being used, most of the countries are also operating local payment schemes. In Southeast Asia, due to the fragmentation of the market and the number of countries, we can see a large number of domestic schemes, which needs to be taken into account in order to support this market.
For payment, ST has shipped roughly more than 5 billion smart card ICs. We are among the Top 3 IC vendors. We are growing well especially following the introduction of our latest product ST31P, the 40-nm technology dual interface which is being used now by a large number of customers. ST offering is based on 3 pillars. The first one is the ST31 hardware platform, then we add the JavaCard OS, and various payment Applets which are required in different countries under the brand name of STPay-Topaz. That is for the traditional dual interface business. We are leveraging the STPay-Topaz to address the biometric market. We are adding some MCUs, leveraging the worldwide-known STM32 MCU, and working with partners providing fingerprint sensors in order to provide a complete solution under the brand name of STPay-Bio. We also work with partners for the Inlay and the module.
As for the benefits of the ST31P hardware and STPay-Topaz, we are using advanced technology which allows us to develop a very small die solution on 12-inch wafers, allowing us to produce cost-competitive solutions, which is very important, especially in the Asian market. For security, it is at the heart of ST to ensure that the products we develop are secure. ST makes its products evolve in order to cope with various types of new attacks. So we develop various counter measures and systems both at the hardware level and software level (sensors). All these are certified against various standards and certification bodies before being put into the market. One great differentiator of the solution is that thanks to the RF performance, and the fast transaction, we significantly reduce the potential interoperability issue with existing infrastructure. That is ST's value proposition in order to make sure that our products are interoperable with all market readers for payment or other types of applications.
3. What's new in Mobile transaction solutions and your market position in this segment?
As mentioned earlier, the introduction of NFC and in particular, the secure element to mobile devices has been quite disruptive, creating a lot of opportunities for the ecosystem, mobile network operators, mobile device manufacturers, technology providers, FinTech and application developers. We can see there is a great acceleration here in terms of acceptance of new technologies and new ways to pay, which also creates a great opportunity for ST. First of all, it brings an addressable market of 1.3Bu smart phones and wearable. Most of them will be attached to NFC technology. As of today, roughly worldwide 55% of smartphones are attached to NFC and secure element technology. 90% of the high-end smart phones are attached with NFC technology.
About our position and offerings in the market, ST is focusing mainly on NFC and secure element into smart devices. We are among the top 2 players in this technology, with a strong focus on China, with ST54 platform which is now deployed at most of the Chinese OEMs. You can see regularly Chinese OEMs introduce new NFC mobile phones which are integrated with ST technology. So, our offering is basically based on ST54 platform which is a single die integrated with NFC, together with a microcontroller, and a secure element to protect the secure applications manufactured on a single die, plus the JavaCard OS. That makes ST54.
The second pillar of our offering is STPay-Mobile which has been developed in order to provide services of payment, transport, access control, and car key. The services required by phone manufacturers are to provide added features into their wallets, so the users can demonstrate their existing contactless cards into their smart phones. We are doing this not only for China, but also for Chinese OEMs who want to go overseas with their wallet. STPay-Mobile is the brand name of this solution platform of ST. For transit companies, payment financial institutions, access control, door lock, and digital car key which are emerging in China, all those are all under the brand name of STPay-Mobile. And STPay-Mobile is facilitating the connection of those services into the ST54 platform.
The STPay-Mobile for transport has great benefits. The first one which you could compare with QR code is interoperability, because it is using the same standard and the same technology as existing contactless card. There is no need to upgrade the infrastructure whereas QR code requires you to upgrade infrastructure andinstall QR code readers, and so it increases cost. In some countries, because there is subsidy, upgrade may be possible, and this iswhat we have seen in China for instance. But in many countries outside of China, governments have little money and there is no subsidy and so they do not have money for upgrade. So they want solutions which are reusable without need for upgrade. That is a great benefit of NFC technology.
After transit, we are also now launching payment in the same way that we have done for transit, where we have the partner SNOWBALL. We are now also preparing for the launch of STPay-Mobile for payment..In the same way, we will connect basically banks, focusing first on VISA and MasterCard payment schemes. We connect banks to a cloud-based platform to the OEM and the solution will be pre-validated to ST54. So again, with the objective to improve time to development, time to integration, and therefore time to market. This is the key to help Chinese manufacturers in order to go overseas because overseas NFC payment is very popular and in wide use today.
ST is taking a leadership position in the payment industry both in banking side and mobile transaction side, serving with end-to-end solutions, System-on-Chip, through working on the infrastructure and the ecosystem especially on the mobile in order to accelerate the time to integration, and the time to market. We are very much localized. So we understand the local requirements, especially in Asia, we adapt in order to fulfill the local requirements for not only the traditional banking cards, but also mobile. We are working with smart phone manufacturer with the strategy of going overseas. All these strategies are based on our partnership with local ecosystem players in order to help us build this entire infrastructure.
4. How does ST manage power consumption in the system?
Power consumption is at the heart of ST's priority especially for devices which are integrated into smart devices like smart phones and smart watches for instance. ST will continue to develop new architecture in MCUs and new architecture in RF to best manage the way in which the power consumption is used either during transaction or during the sleeping mode. So the most important is to ensure that the chip is not consuming during the sleeping mode. This is where most of the power is consumed. ST has developed advanced architectures into the chip both on hardware and software. Moreover, thanks to the technology, we are able to develop chips which consume less power. So it is a combination of architecture, hardware and software, and it is also a combination with the technology that we develop at silicon level in order to reduce the power consumption especially when the chip is not being used.
5. How do you ensure the security for contactless payment?
For all of our solutions whether it is STPay-Mobile or STPay for banking cards, they are being developed in line with the most stringent security requirements in order to ensure the best protection against any fraud. So whenever we develop our products, whatever it is for mobile, contactless, or traditional banking cards, we take into account various potential attacks, and we continuously improve our architecture, our softwares and our systems in order to cope with advanced fraud. This is underpinned by well-known standards i.e., EMVCo, Common Criteria, CUP, etc. who set the rules in terms of expectations on security. ST also contributes a lot to various groups, organizations, and committees including various bodies which drives system security. It is at the heart of our strategy and our product development. Whenever we develop a product, security is actually integrated in the full development from engineering, specification, development, to manufacturing. And all these have to comply with various standards.
6. What are the key technology advancements in payment sector by ST? What are the new product roll outs to target the payment industry that ST plans to do in near future or in 2021?
For STPay for banking, new products ST31and STPay-Topaz have been launched into the markets and they are widely deployed in 2021 with many customers, and that is going to serve the massive migration from contact to dual interface. This product was designed last year, and it is now being massively deployed at various regions and areas with all the different payment schemes we have mentioned both worldwide and locally. Then the second product we are going to launch is the ST31N for the STPay-Bio which is going to serve the biometric market. It is sampling now and we are going to see the commercial launch later this year or at the beginning of next year. So that is for the banking cards.
For the mobile transaction, the product which has been massively deployed right now is called ST54H. Another next generation which is already available in the market at certain phone manufacturers is called the ST54J, which is a single die NFC secure element. That is the platform and on top of this platform, the new solution coming from ST is the STPay-Mobile brand, which is ready to bring services into the platform and headphone manufacturers to integrate and dematerialize various cards either it is for transit, payment, access control or digital key in an easy way into their smart phones, not only for the Chinese market, but also to go overseas. As you may have understood in the presentation, the services are very key and important in order to sell hardware and microchip technologies into smart devices because the services are bringing differentiators to many phone manufacturers, and phone manufacturers pay a lot of attention to what services they are going to deploy because it improves their brands, and creates stickiness with the user. This is why they are launching the ApplePay, Huawei Pay, XiaomiPay and OPPO Pay. It creates stickiness with the user and the service is very important. For semiconductor vendors like ST, associating services to the silicon is very important, because this is one of the key drivers for OEMs to deploy new technologies into their markets. STPay-Mobile is the next technology that ST is going to deploy with partners on our ST54 platform.