Growing consumer demand for "always-on" motion tracking features in fitness trackers and other personal mobile devices has in the past meant designers needed to choose between those features and battery life. Attempts to reduce power consumption inevitably meant sacrificing tracking capability or resolution, thereby compromising the user experience.
The emergence of low-power sensors with built-in motion detection capabilities helps developers eliminate this compromise in their designs.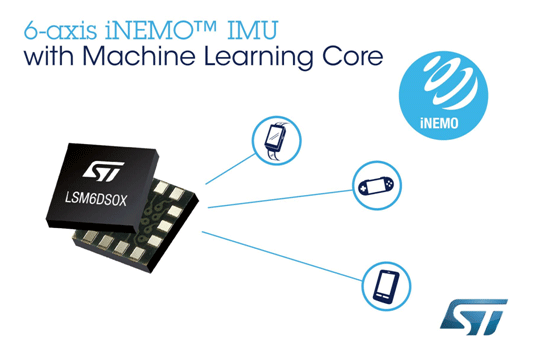 STMicroelectronics, a global semiconductor leader has integrated machine-learning technology into its advanced inertial sensors to improve activity-tracking performance and battery life in mobiles and wearables.
The LSM6DSOX iNEMO™ sensor contains a machine-learning core to classify motion data based on known patterns. Relieving this first stage of activity tracking from the main processor saves energy and accelerates motion-based apps such as fitness logging, wellness monitoring, personal navigation, and fall detection.
Devices equipped with ST's LSM6DSOX can deliver a convenient and responsive "always-on" user experience without trading battery runtime. The sensor also has more internal memory than conventional sensors, and a state-of-the-art high-speed I3C digital interface, allowing longer periods between interactions with the main controller and shorter connection times for extra energy savings.
The sensor is easy to integrate with popular mobile platforms such as Android and iOS, simplifying use in smart devices for consumer, medical, and industrial markets.
In a recent MEMS Media briefing conducted at ST Design Center, Greater Noida, Mr. Vishal Goyal, Senior Technical Marketing Manager, Analog and MEMS Group, RF, Sensors and Analog Custom Products, Asean-ANZ and India, STMicroelectronics presented exclusive demos to media and give briefs about this new product.
Here are some demos described:
SensorTile.box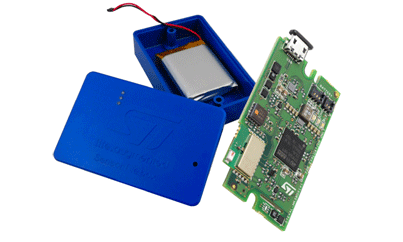 Human Activity detection demo on SensorTile. Detection results displayed on Mobile App.
The STEVAL-MKSBOX1V1 (SensorTile.box) is a ready-to-use box kit with wireless IoT and wearable sensor platform to help you use and develop apps based on remote motion and environmental sensor data, regardless of your level of expertise.
The SensorTile.box board fits into a small plastic box with a long-life rechargeable battery, and the ST BLE Sensor app on your smartphone connects via Bluetooth to the board and allows you to immediately begin using the wide range of default IoT and wearable sensor applications.
In Expert Mode, you can build customs apps from your selection of SensorTile.box sensors, operating parameters, data and output types, and special functions and algorithms available. This multi sensor kit therefore allows you to design wireless IoT and wearable sensor applications quickly and easily, without performing any programming.
SensorTile.box includes a firmware programming and debugging interface that allows professional developers to engage in more complex firmware code development using the STM32 Open Development Environment (STM32 ODE), which includes a sensing AI function pack with neural network libraries.
Key Features
o             Easy-to-use app with immediate functionality for the following motion and environmental sensor applications:
Pedometer optimized for belt positioning
Baby crying detection with Cloud AI learning
Barometer / environmental monitoring
Vehicle / goods tracking
Vibration monitoring
Compass and inclinometer
Sensor data logger
o             Expert Mode with additional sensor app parameter settings
o             Compact board with the following high precision sensors:
Digital temperature sensor (STTS751)
6-axis inertial measurement unit (LSM6DSOX)
3-axis accelerometers (LIS2DW12 and LIS3DHH)
3-axis magnetometer (LIS2MDL)
Altimeter / pressure sensor (LPS22HH)
Microphone / audio sensor (MP23ABS1)
Humidity sensor (HTS221)
o             Ultra-low-power ARM Cortex-M4 microcontroller with DSP and FPU (STM32L4R9)
o             Bluetooth Smart connectivity v4.2 (SPBTLE-1S)
o             Programming and debugging interface for professional firmware development
AlgoBuilder

A new version of the AlgoBuilder (v 2.1.0) is available with a NEW Feature that allows you to upload your developed code on the cloud, run your application, perform machine learning computation, everything in cloud. It is one of the most important features for Industry 4.0 and is called the AWS connectivity.
AlgoBuilder is a graphical design application to build and use algorithms. It quickly elaborates prototypes of applications for STM32 microcontrollers and MEMS sensors, including already existing algorithms (i.e. sensor fusion or pedometer), user-defined data processing blocks and additional functionalities.
The application eases the process of implementing proof of concept using a graphical interface without writing the code. AlgoBuilder reuses previously defined blocks, combines multiple functionalities in a single project and visualizes data using Unicleo-GUI in real time using plot and display.
AlgoBuilder utilizes the STM32 ODE (Open Development Environment) ecosystem which combines hardware like STM32 Nucleo boards (NUCLEO-F401RE or NUCLEO-L476RG), X-NUCLEO-IKS01A2 or X-NUCLEO-IKS01A3 expansion board and software (STM32 HAL drivers, BSP structure, low and high-level sensor drivers) and Unicleo-GUI.
Key Features
Simple graphical design of algorithms (drag and drop, connect, set properties, build, upload)
Optional multi-level design
Wide range of function blocks available in libraries, including motion sensor algorithms (sensor fusion, gyroscope, magnetometer calibration and pedometer, for example)
Integrated function blocks for FFT analysis
Function block creator for custom block creation
Automatic validation of design rules
C code generation from the graphical design
Use of external compilers (System Workbench for STM32, IAR EWARM, Keil µVision®)
Generated firmware output displayed through integrated output data monitor or Unicleo-GUI
Open XML format for function blocks and design storage
Possibility to send output data to AWS cloud using MQTT protocol
Support for NUCLEO-F401RE or NUCLEO-L476RG with connected X-NUCLEO-IKS01A2 or X-NUCLEO-IKS01A3 expansion board and SensorTile STEVAL-STLKT01V1
Network updates with automatic notification of new releases
Free user-friendly licensing terms
Unico GUI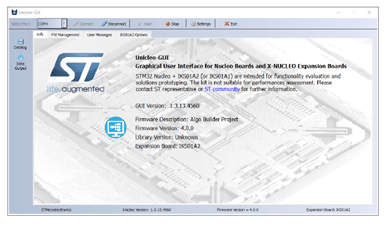 Designed for use with our ready-to-use MEMS motherboard (STEVAL-MKI109V3), this multi-platform GUI lets you easily set up sensors, configure registers and explore advanced features.
Unico interacts with all the MEMS demonstration boards supported by the STEVAL-MKI109V3 (Professional MEMS tool) motherboard and allows a quick and easy set up of the sensors, as well as the complete configuration of all the registers and the advanced features embedded in the digital output devices. The software visualizes the output of the sensors in both graphical and numeric format and allows the user to save or generally manage data coming from the device.
The UNICO-GUI STSW-MKI109 series package is available for three different platforms
Key Features
–              Complete software package for MEMS evaluation boards
–              Programmable voltage power supply between 1.8 to 3.6 V
–              Sensors current consumption measurement
–              Communication protocol SPI/I2C selectable on the fly
–              Graphical User Interface (GUI) for:
Linux (Debian-based) platforms
Mac OS X platforms
Windows platforms
–              Device firmware upgrade application (DfuSe)
For more details, visit: www.st.com/sensors