We recently met up with global semiconductor leader STMicroelectronics at Smart Cities India 2018 in New Delhi to understand its product portfolio for Indian market.
SPOKESPEOPLE

Sapna Mongia,

Head -Smart Grids and Metering, STMicroelectronics, South Asia, Power and Discretes

Vishal Goyal,

Senior Technical Marketing Manager, Analog and MEMS Group, RF, Sensors and Analog Custom Products, Asean-Anz and India, STmicroelectronics

Vinay Thapliyal

, Marketing Manager, MCU, India, STMicroelectronics

Amit Sethi,

Technical Marketing Manager, MMY, India, STMicroelectronics
Which ST products does the exhibition bring to Indian customers?
Vinay Thapliyal: In this exhibition, we have showcased all our products related to Smart City based on the theme: ST is making Cities Smarter.
Our objective of participation is to clearly demonstrate the unique value and benefits of ST's Smart Home/City products and technologies for the varied stakeholders.
ST has all the key ingredients for the IoT: Technologies, Products and Partnerships to continue fueling our growth. We have displayed sensors, connectivity, and microcontrollers and also showcased some solutions such as smart metering solutions, street lighting solutions, smartparking which are the major components of smart cities.
We showcased demos for customers:
Amazon's Alexa Voice Service: XCUBE-VS4A software package from STMicroelectronics enables Amazon's Alexa Voice Service (AVS) to run on STM32* microcontrollers, allowing simple connected objects such as smart appliances, home-automation devices, and office products to support advanced conversational user interfaces with Cloud-based intelligence like automatic speech recognition and natural language understanding.
Ref https://www.st.com/content/st_com/en/about/mediacenter/pressitem.html/n4031.html /
Vishal Goyal:
Bluetooth® Mesh Networking: Bluetooth Low Energy[BLE] Mesh networks enables several BLE devices to be connected to each other in Mesh. Therefore, even if a node is out of range, it can be reached using hops using intermediate devices. All compatible smartphones currently on the market can connect to objects in Bluetooth mesh networks directly without requiring a central gateway or router. It allows easier control of smart lighting, general building automation and other Internet of Things (IoT) applications, such as environmental sensing, industrial monitoring and asset tracking.
STSW-BNRG-Mesh is our first software pack enabling developers to create Bluetooth mesh solutions. It works in conjunction with the BlueNRGMesh apps for iOS and Android, which is highly symbolic since it's the first time someone ports Bluetooth mesh libraries to these operating systems. The new standard, introduced in 2017, uses Bluetooth Low Energy (LE) to create a mesh network of up to 32,000 devices. It compares in some ways to 6LoWPAN as data travels the mesh to reach a gateway with a connection to the Internet. We ensured that the creation of a 6LoWPAN network would be straightforward, and we are now doing the same with Bluetooth mesh. Furthermore, our BlueNRG–1 and BlueNRG–2 Systems-on-Chip (SoC), the SPBTLE–1S ready-to use Bluetooth LE module, and BlueNRG-MS (with at least an STM32L152RE as host) just need a firmware update to take advantage of this new technology.
Ref: https://blog.st.com/stsw-bnrgmesh-bluetooth-mesh/
Sapna Mongia:
Prysm Single phase smart Meter: Single Phase smart Meter based on STCOMET.STCOMET is single chip solution for METERING and PLC. It is based on cortex-M4 core.
What is ST's technological strength in NFC?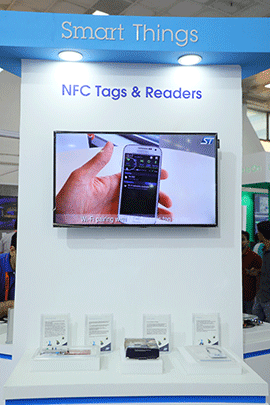 Amit Sethi: ST offers a comprehensive portfolio of NFC/RFID products, which operate at 13.56 MHz and are based on NFC and ISO standards:
Dynamic NFC tags, featuring a reliable EEPROM memory with data protection (password), an I2C interface to connect to a MCU and a RFID/NFC tag interface, enabling multiple use cases for Consumer, Industrial and IoT applications
NFC/RFID tags, ideal for wireless pairing (Bluetooth or Wi-Fi) and product identification, feature counters, data protection (password) and able to wake-up the Host chip thanks to a general-purpose output
NFC/RFID readers, which support multiple NFC protocols in Reader or Peer-to-Peer modes, accessed via SPI interface and able to cope with the most challenging environments thanks to their high RF performance and advanced features ST provides an exhaustive offer of NFC products and solutions to address secure mobile transaction applications:
ST21NFC state-of-the-art NFC Controller
Embedded secure elements ST31/ST33
ST53/ST54 NFC & eSE, integrating the widely deployed ST31/ST33 Secure Element combined with STS3922 booster / ST21NFC controller
Please highlight the industrial MEMS sensors?
Vishal Goyal: ST is #1 in MEMS sensors for consumer and  mobile and #2 in MEMS microactuators.
Our MEMS products target a wide array of applications in consumer, mobile, automotive and industrial markets. ST has a comprehensive offer of sensors (Accelerometer, Gyroscope, Magnetometer, Pressure, humidity and temperature).
ST is a leader in consumer and mobile applications and fastest growing company in automotive sensors. ST is extending its commitment to markets to address need of industrial market using its advanced technology and leveraging investment in consumer MEMS sensors, our new industrial sensors covered by 10-year longevity commitment assures long-term availability of a wide range of high-performing components used in industrial equipment. It helps our customers to handle the typically long in-market lifetimes of their products.
The new sensors, to be made available during 2018, begin with the IIS3DHHC, a 3-axis accelerometer optimized for high measurement resolution and stability to ensure accuracy over time and temperature. The IIS3DHHC targets precision inclinometers in antenna positioning mechanisms for communication systems, Structural Health Monitoring (SHM) equipment for keeping buildings and bridges safe, and stabilizers or levelers for a wide variety of industrial platforms. Its long-term accuracy and robustness are also ideal for high-sensitivity tilt and security sensors, as well as image stabilization in high-end Digital Still Cameras (DSCs).
Ref:https://www.st.com/content/st_com/en/about/mediacenter/pressitem.html/p4035.html
What are the other applications of STCOMET other than smart metering and smart grid?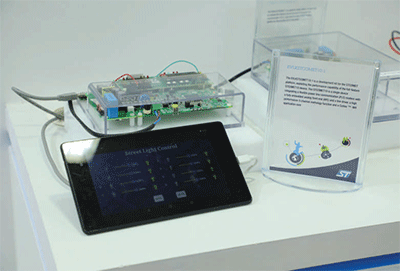 Sapna Mongia: STCOMET is the industry's first super-integrated complete smart-meter System on-Chip (SoC). It combines a precision metering front-end with programmable application processing and multi-standard PLC (Power-Line Communication) subsystems along with a line driver and advanced security engine in a single device. The STCOMET10 SoC delivers unprecedented integration, leveraging ST's expertise gained over 20 years and through more than 60 million PLC and smart-meter ICs delivered.
STCOMET caters multiple applications as it is powerline communication platform and now it can be used for multiple aspects. For example, for metering if you have a meter outside your house but you want to see the display inside the house. So you just put a display and you put it in any plug of your house. Because meter and the plug are connected by the same power line so you will start to see the meter reading. And networking within your home irrespective of your meter, you can control anything from anywhere from the room. You can do the same thing with PLC also that runs on NFC powerline communication because now if you're communicating on powerline which is present in all of the house you can control the light of any room from anywhere, you can take the readings of the individual devices and you can take all those reading at one place
Ref: http://www.st.com/content/st_com/en/products/interfacesand-transceivers/power-linetransceivers/stcomet.html
How semiconductor industry is affected by IoT?
Vishal Goyal: IoT industry is booming, almost every company is adopting this technology whether it is smart personal things, smart home, smart Industry or smart cities. These booming requirements has positively influenced need of semiconductors. The level of content of semiconductors has increased a lot. The IoT creates the need for semiconductors delivering embedded intelligence, connectivity, data security and smart power – all of which are focus areas for ST. Our portfolio allows us to deliver complete solutions to meet these needs.
Let's take an example of LED bulb, it is a simple bulb, but if the bulb becomes smart it will have connectivity in it and requires more sensors. So more requirements from the devices is coming to us. So IOT has a very positive impact on our company and it will be one of the key growth drivers for our company.
Please explain about your Smart Parking solutions demo.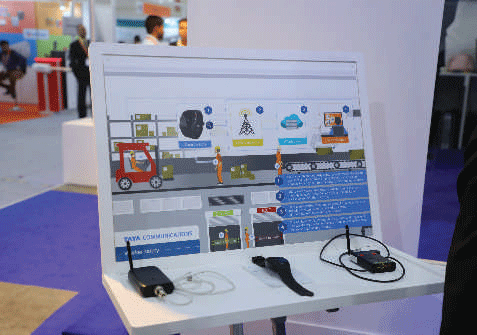 Vishal Goyal: Smart Parking is becoming a reality now. Smart parking solution is based on LPWAN technology called SIGFOX. These are the two state-of-the-art technologies from us. Low power consumption is a strong requirement for almost 80% of the Low-Power Wide-Area Network (LPWAN)-based use cases, ranging from Smart Parking solutions to Smart Grid applications. These services often demand wide communication coverage with massive connection availability LPWAN technologies has a clear potential in the wireless market, as they are capable of providing connections to large number of IoT devices. These communication modules are embedded along with the sensors, which transmit the occupancy status of the parking spots, providing the necessary inputs to calculate the available parking opportunities in a certain area. The sensor information is wirelessly transferred to a Sigfoxgateway which finally forwards to parking management server and eventually to the User Mobile App.
Key components include:
– Dual radio Smart Parking Demo based on Sigfox network
– Embeds Ultra-low power, high performance, sub-1GHz transceiver – S2-LP
– Compatible to all the Zones supported by Sigfox – RCZ1, RCZ2, RCZ3, RCZ4, RCZ5
– Sigfox stack running inside BLE SOC – BlueNRG-1
– Time of flight technology used to detect prespne of vehicle
What has triggered the current popularity of Smart Grid as a concept in India?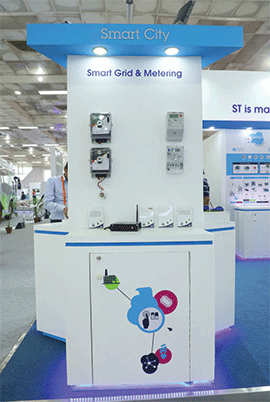 Sapna Mongia: Smart Grid in India is becoming the key application in Indian power sector. Smart meters will help to overcome the challenges in the power sector as they will enable utilities to access energy consumption data from remote without manually reading the meter. It will help in managing the power supply distribution from remote and it will benefit the consumers to monitor and reduce their power consumption remotely as it will provide real time accurate power consumption data. This data can be accessed frequently as required and also available in the consumer premises on In-Home display unit. So the communication feature of the smart meter provides the utility to manage power load and reduce losses. Depending on the load requirement and by constant monitoring of the load of a particular area, the utilities can implement the different tariff plan for that area to manage peak hour's demands. Also
Smart meters will help to check the theft, power pilferage and monitor the quality of power supplied to the consumers ST has major programs in place to support the smart-grid concept where semiconductor technology will play a critical role. Our products find application in (a) smart metering, (b) building automation, (c) PHEVs (plug-in hybrid electric vehicles) and (d) renewable energy sources.