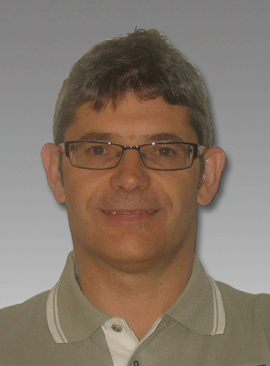 By Mr. Tim Carey, Senior Product Manager for Modular Instruments at Cobham Wireless.
Small cell vendors need to carry out manufacturing test at high volumes and within tight budgets, and with the rapid growth in the deployment of small cells this is becoming a significant challenge. Automated multi-DUT testing combined with intelligent sequencing can enable the rapid and economical testing of small cell devices, allowing small cell OEMs (original equipment manufacturers) to align and authenticate up to four devices in parallel on a single RF channel. The choice of a standard tester with customizable test software also offers compelling benefits in relation to either the development of an in-house ATE system or outsourcing development to a third-party system integrator, in terms of integration time, cost, reduced complexity and technical risk, as well as in reducing resources that are needed for ongoing support and maintenance.
Recognizing the combined challenges to OEMs of ever-increasing product complexity, acute commercial pressures, and the need to maintain test engineering competencies, a suite of configurable hardware and software tools based on an industry-standard PXI modular architecture has been developed. The most recent addition to this range is the 3041 Small Cell RF Tester, which was designed to provide small cell OEMs with the ability to run fast multi-device RF alignment and RF performance verification measurements. It does this by incorporating advanced test software, which manages the usage of the equipment to ensure the shortest possible test time.
Software
The small cell tester uses the PXI Maestro test sequencing software suite, which has been developed to expedite test system evolution and shorten the test time, thus lowering the cost of test. A schematic of the software architecture is shown in Figure 1. By testing up to four devices in parallel, as shown in Figure 2, productivity gains approaching 400% can be achieved, and test engineering costs can be almost eliminated since virtually no customer integration effort is required. Figure 3 shows the operator test interface when testing four devices in parallel.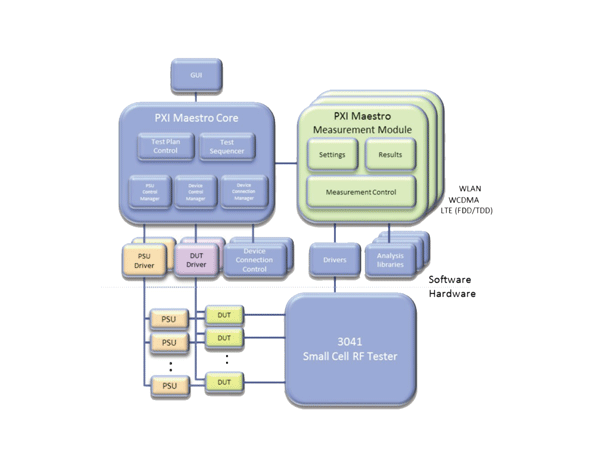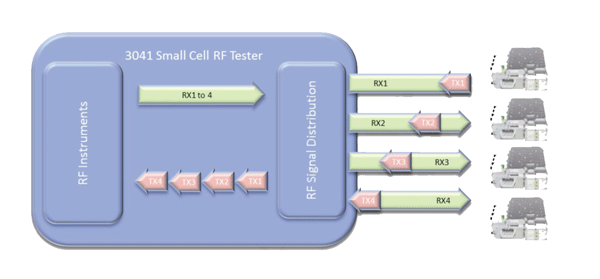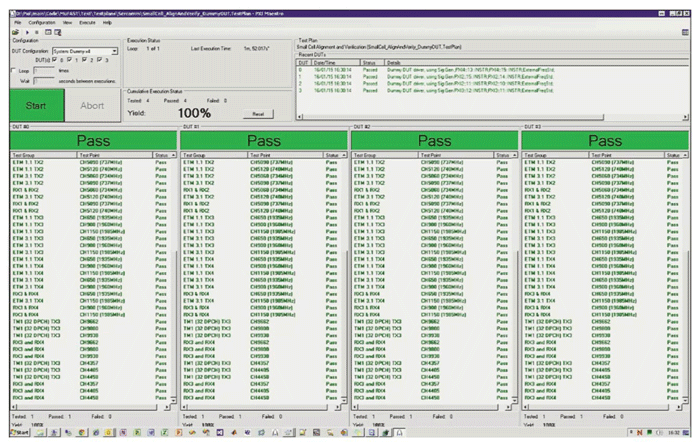 Reducing Test Time
PXI Maestro reduces test time and therefore maximizes production throughput by highly efficient test flow management. The multi-threaded intelligent sequencer has been developed to exploit the power of modern multi-core computers, arranging for different tasks within a measurement sequence or measurement step to be overlapped or executed simultaneously, rather than sequentially as with conventional instrumentation. Where multiple RF measurements are necessary for a single test condition, intelligent data capture is used to execute the tests in parallel or on the same captured data and thus saving time. Measurement signal acquisition and post-processing are decoupled, which means captured signals can be queued for processing, thereby accelerating the test time.
A single channel 3041 Small Cell RF Tester has demonstrated the capability to run a full calibration and test plan for LTE, WLAN and GPS, including custom diagnostic tests, on two devices in only 8 minutes as compared to 12 minutes using an existing ATE installation with two RF channels. This means that the 3041 solution running PXI Maestro cuts the test time by 33% while requiring 50% less test hardware.
Testing Devices in Parallel
There is no need to reconfigure additional hardware or software elements when testing multiple devices in parallel, with a single tester. The tester can be configured to concurrently test between one and four devices connected in parallel. Synchronous testing can produce higher throughputs than sequential testing, and is especially beneficial for time-consuming receiver sensitivity test cases, or where device initialization times are long compared with validation times. Production process flow can also be further enhanced by testing the devices in two groups each consisting of two devices, as shown in Figure 4. In this case the first group is tested while the operator loads the second group into the test fixtures—an approach that can prove effective where device handling times make up a significant portion of the overall test cycle, because an even flow rate in and out of the test station can be maintained. The PXI Maestro user interface for this configuration is shown in Figure 5.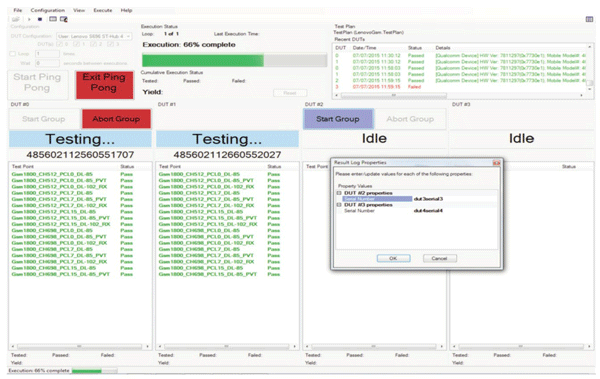 Integration Complexity
Production test system engineers face challenges in developing, adapting and optimizing RF test systems to cope with the continual evolution in wireless device complexity. It is a tedious task which requires highly skilled staff with comprehensive knowledge of their test tools and the communications control interface to third party chipset suppliers. Employing an optimized ATE solution that is ready for testing multi-standard devices, and which is software-upgradeable, rationalizes the process of test system integration to speed up the introduction of new products while helping to save on cost of ownership.
The simple graphical user interface of PXI Maestro allows the test engineer to generate and execute test plans and to make application changes without any proficiency in controlling instrumentation or the DUT. This eliminates the effort normally required to develop and maintain test system code. All tester and device control commands are executed as an uninterrupted measurement sequence with no further user input. Measurement results are displayed as they are executed, with a final test report provided in a user-friendly format.
Standards
The tester can implement accurate calibration and standards-compliant RF performance verification of LTE, UMTS or WLAN transceivers as well as other RF broadcast receivers such as GPS or Network Listening receivers. It comes with a test sequencer fully integrated with device control for Qualcomm FSM99xx family of devices, and can be easily expanded to support devices from other silicon vendors. The test system can complete all of this while retaining the inherent flexibility of its PXI modular architecture, which allows it to broaden the test coverage beyond just the RF functionality.
Conclusion
The 3401 Small Cell RF Tester provides a cost-effective production-ready solution that eliminates the need for costly and sometimes risky in-house test system development Test times are substantially reduced by implementing parallel testing and intelligent sequencing, and the system can readily be adapted to meet the specific test needs of OEMs. It also reduces the time required to ramp to high volume production.