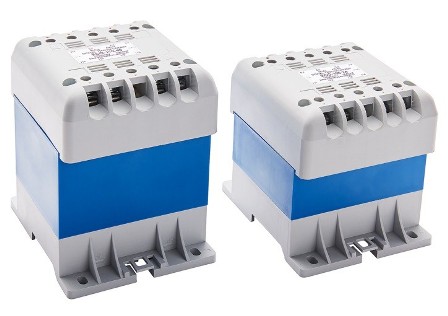 The Eco Tran Standard Series Transformers are used to step up or step down voltage and keep it isolated from the main line. It features visually appealing cases which mitigate accidental contact with sharp metal surfaces.
The Eco Tran Series is UL listed and CE mark backed by TUV. It includes CE certified reinforced insulation and meets UL Insulation Class F. It also utilizes split bobbin construction that provides superior isolation with no exposed metallic surfaces.
DIN Rail mounting options and efficiencies of 97% across the product line distinguishes this series from others currently on the market. The Eco Tran Series also uses the highest quality silicon steel laminations to reduce core losses.
Eco Tran can be chassis mounted with conventional threaded fasteners or set onto 35 mm DIN Rail for ease of installation in DIN-based machine control cabinets or similar industrial enclosures. But whether mounting is bolt-based or via DIN Rail interlock, the inherent damping characteristics of the Eco Tran's plastic mounting structure will act to reduce vibration transmission to the host device's metal mounting panel.
The series is Eco-friendly in that it uses the highest quality silicon steel laminations to reduce core losses, in conjunction with oversize wire diameters on many windings, to hold copper losses to a minimum. These design features, provide a cooler running, highly-efficient power source readily adaptable to a host of applications.
The Eco Tran streamlined shells provide a completely non-conductive exterior, allowing close proximity to live terminals, devices or "hot" heat sinks. Further, unlike open frame transformers, the Eco Tran's smooth outline is devoid of sharp core corners that can puncture the hands and arms of installers and service techs working in tight quarters. Wire ports are segregated by isolation barriers and, whether hard wired or Fast-on connected, will be IP20 touch safe and provide appropriate insulated Fast-On connectors and/or properly stripped wires, eliminating potential shock hazards.
The Eco Tran Standard Series Transformer is quite economical. In most cases, this series is highly competitive with typical devices having the same electrical specifications and VA rating. It features power 105, 140, 170, 200, 330, 450 VA ratings, 4000V dielectric strength and CE Compliant Reinforced Insulation. The markets it involves are medical equipment, industrial lighting and vending machines.
As an authorized distributor for Signal, Heilind Asia provides its products and also value added services. Heilind Asia supports both original equipment and contract manufacturers in all market segments of the electronics industry, stocking products from the industry's leading manufacturers in 25 component categories, with a particular focus on interconnect and electromechanical products.