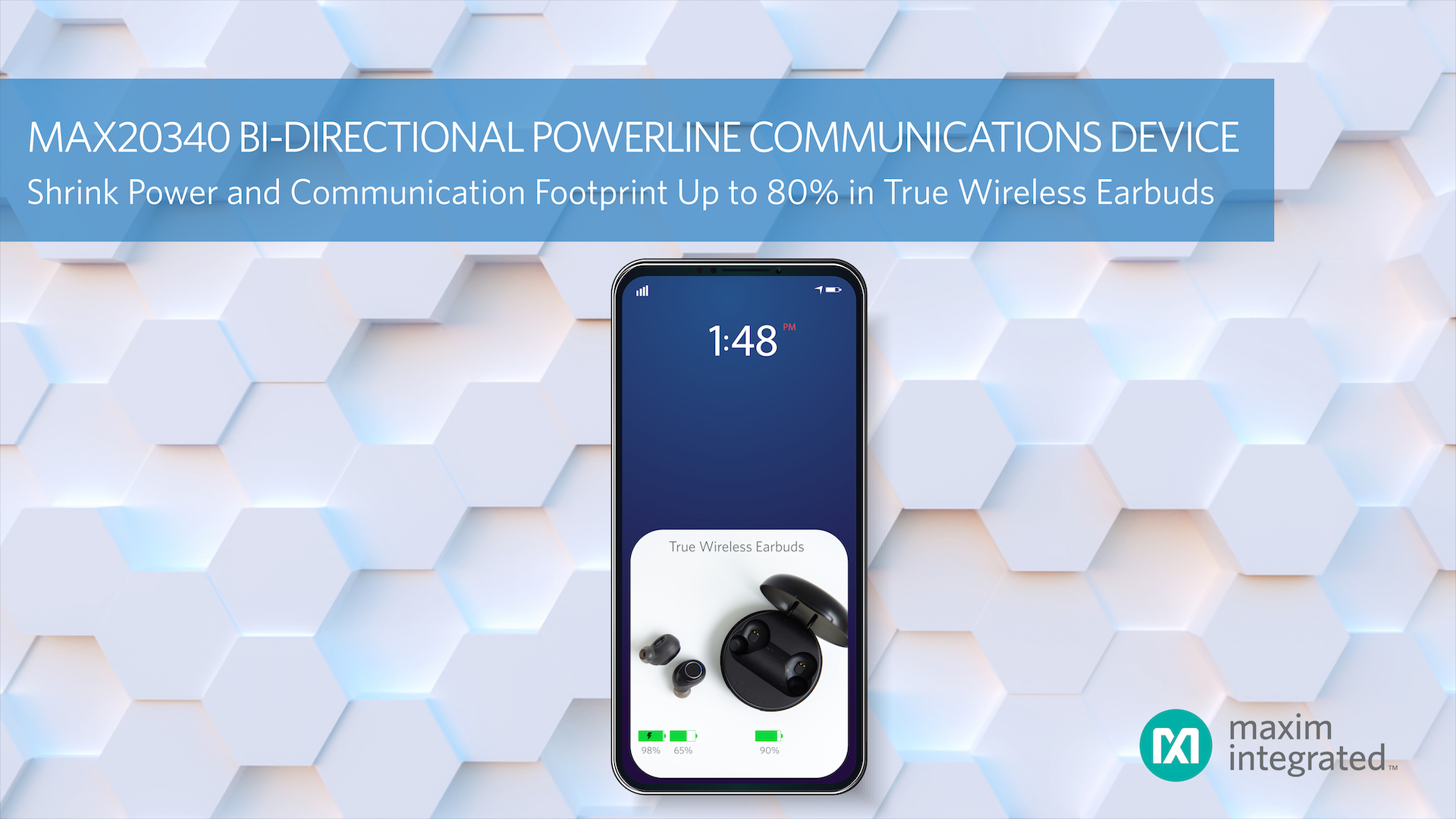 MAX20340 reduces form factor and cost while improving reliability by enabling simultaneous charging and communication over a single contact
MUNICH, Germany – January 8, 2020 – Designers of ultra-low-power portables and wearables can shrink the size of a power and communication interface to the charging dock by up to 80 percent with the MAX20340, the industry's smallest 2-pin bi-directional DC powerline communications (PLC) device from Maxim Integrated Products, Inc. (NASDAQ: MXIM). With power and communication on a single line, the MAX20340 eliminates pins and discrete devices needed to communicate between a charging dock and a low-voltage end product such as true wireless earbuds, rings and other small wearables. This simplifies the design process and saves up to 13mm2 per earbud compared to the closest competitive solution.
Customers are demanding smaller consumer products, especially for wearables, for comfort and convenience in their daily lives. This ultra-small PLC chip minimizes the number of mechanical contact points for the charging and communication interface, which reduces cost, limits points of failure and increases reliability. In addition, the MAX20340 incorporates automatic presence detection, enabling flexible design and eliminating unreliable and costly alternative methods such as mechanical pogo pins or hall effect sensors. The device is configured as either a communication master or slave by a single external resistor. Multiple modes of operation offer designers the opportunity to minimize power consumption based on their application needs. Finally, the communication protocol is as simple as reading and writing via I2C with the MAX20340 managing all communication across the interface.
Key Advantages
Smallest Solution Size: MAX20340 provides an 80 percent size reduction versus the closest competitive solution; each MAX20340 PLC IC is only 1.84mm2 and does not require any large external components such as inductors.
Reliability: Hosting communication and power over the same line reduces potential points of failure and cost.
Ease of Design: A simple mailbox communication scheme for read and write functions is handled through an I2C interface.
Commentary
"Customers demand smaller form factors without sacrificing features and performance. The MAX20340 enables wireless earbud and bio-sensing ring makers to create the comfortable, lightweight products consumers demand," said Andrew Baker, managing director, Industrial and Healthcare Business Unit at Maxim Integrated.
Availability and Pricing
The MAX20340 is available at Maxim's website for $0.82 (1000-up, FOB USA); also available from authorized distributors.
The MAX20340EVKIT# evaluation kit is available for $57.
Further Information
To order MAX20340 or learn more, visit https://maxim.click/Product_MAX20340
For a hi-res image, visit https://maxim.click/MAX20340_Image