Our hands use the sense of touch to inform us of our surroundings. Similar mechanism is the principal of Touch Sensing, sensors in the electronics senses the surrounding activities and commanded the device to react accordingly. Phones or Tablets are now a day's very common consumer item and possibly a most simple example of touch sensing. In this article we will try to bring out some of the advances in touch sensing technology & its applications area.
The technology of touch sensing is much diversified, and can be further differentiate broadly as, touch sensors, detection mechanism, communication software & firmware. With the advancements of technology & applications, we can see innovations in all aspects of touch sensing engineering. In this article ahead, we shall try to explore all of them.
Touch Sensors
Touch-sensing technology can reliably replace mechanical buttons and switches to eliminate mechanical wear and tear. Very basic element of a touch sensing system is touch sensors that detects touch mechanism of the surface and send signal for further actions. Touch sensors are available from many manufacturers for different applications, For example, Freescale offers touch-sensing solutions providing the best fit for HMI designs. Freescale touch sensors can be configured into simple sliders, rotary wheels and touch pads to offer significant advantages for more intuitive user interfaces, allowing greater freedom for designers while reducing overall system cost. Atmel flexible touch sensors and 0.4 mm Corning Gorilla Glass enable groundbreaking, ultra-thin, Exceptional Multi-touch Functionality touch screen for consumer, industrial, and emerging applications. Sensors capable under wet conditions like laundry etc from On Sem. NXP family of capacitive touch and proximity sensors are equally well-suited for implementing buttons, sliders, wheels or in combination with LCD drivers – to enable high-performance, cost-effective Touch-On-Display solutions. Small and robust, these sensors make interacting with devices like climate control units, car radios and infotainment systems a seamless experience. Banner Engineering iVu Plus TG Gen2 and iVu Plus BCR Gen2 vision sensor series that offers faster response times and multiple inspection resolution choices. Banner's iVu Plus Gen2 touch screen vision sensors advance inspection performance with Ethernet connectivity and multiple inspection capability. Ethernet connectivity enables sensors to share inspection data directly with PLCs, PCs or other factory devices, making communications and control even easier on the plant floor.
PC Development Tool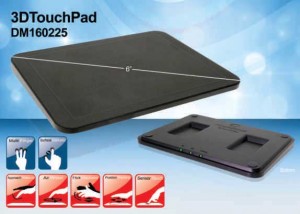 Microchip Technology Inc. has introduced the 3D Touch-Pad, a PC peripheral and world's first development platform for 2D multi-touch and 3D gestures. The 3D Touch-Pad reinvents input sensing by adding free space gesture recognition to projected-capacitive multi-touch as a compelling development platform and reference design. The 3D Touch-Pad is the first development platform that combines 2D multi-touch and 3D air gesture input focused on the PC/peripheral market. The 3D Touch-Pad provides robust and innovative 3D gesture recognition utilising Microchip's GestIC technology that offers a detection range of up to 10 cm for 3D gestures, along with Microchip's highly responsive projected-capacitive 2D multi-touch solution supporting up to 10 touch points and multi-finger surface gestures. The 2D multi-touch is enhanced by Microchip's new capacitive touch-screen line driver, MTCH652. The new 3D Touch-Pad includes driverless, out-of-the-box features for Windows 7/8.X and OS X, 3D air gestures, advanced multi-touch performance including surface gestures, and a free downloadable GUI and SDK/API package tailored for developers. The possibilities for this technology also expand beyond the PC market and computer touch pads to include hands-free sanitary products, home automation, remote controls, game controllers, wearable devices and automotive applications.
Interface Software & Solutions
A touch sensor generates a kind of alarm when detects a touch, the next step to communicate this signal to the associate circuitry and take appropriate action. Texas Instruments offers an interface, C-library for enabling capacitive touch capabilities on any MSP-430 device. It features several capacitive touch implementations including the RO and RC method. Evolution boards are available from ST Microelectronics. The Analog Devices, AD7151 delivers a complete signal processing solution for capacitive proximity sensors, featuring an ultra-low power converter with fast response time. The AD7150 is a two-channel alternative to the AD7151. The AD7151 uses Analog Devices, Inc., capacitance-to-digital converter (CDC) technology, which combines features important for interfacing to real sensors, such as high input sensitivity and high tolerance of both input parasitic ground capacitance and leakage current. Semtech's SX9510 is an 8–button capacitive touch sensor controller that includes 8-channels of LED drivers, a buzzer, an IR detector and analog outputs designed ideally for TV applications. The SX9510 also offers proximity sensing. The SX9510 operates autonomously using a set of programmable button sensitivities and thresholds, plus LED intensities and breathing functions with no external I2C communication required.
Touch-screens or Human Machine Interface (HMI)
The touch-screen enables the user to interact directly with what is displayed, rather than using a mouse, Touch-Pad, or any other intermediate device. Touch-screens are common in devices such as game consoles, personal computers, tablet computers, and smart-phones. They can also be attached to computers or, as terminals, to networks. They also play a prominent role in the design of digital appliances such as personal digital assistants (PDAs), satellite navigation devices, mobile phones, and video games and some books (Electronic books).
Touch Sensing in Mobile Phones & Consumer Items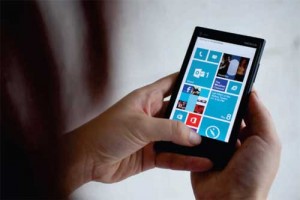 Proximity sensing technology is becoming popular across wide range of industries, especially in consumer electronics, because OEMs introduce new products to market every year. The largest application within consumer electronics is the mobile phone. Given the competition in this particular market, it is important for OEMs to adopt the latest technology and offer unique features to differentiate their products. Mobile phones use IR-based proximity sensors to detect the presence of a human ear. This sensing is done for two purposes: Reduce display power consumption by turning off the LCD backlight and to disable the touch screen to avoid inadvertent touches by the cheek. IR sensors have a number of disadvantages, including high power consumption, high cost, blind zones, and accumulation of dirt, as well as unreliable performance over temperature, hair, and skin color variations. Recent advances in capacitive proximity sensing technology address these designs disadvantages and could potentially replace every IR sensor in the mobile phone market. Capacitive proximity sensing has enabled several features in mobile phones. While these features may not be evident to end users, they provide many important capabilities, including optimized power consumption, integrated functionality, and cost reduction. It is essential that product designers understand the different features that can be implemented through capacitive proximity sensing. Some of the features include, Face detection, SAR (Specific Absorption Rate) Wake-on approach feature.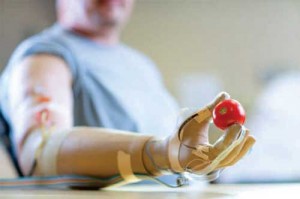 Scientists and engineers at the Cleveland Veterans Affairs Medical Center and Case Western Reserve University have developed a prosthetic hand that returns a sense of touch via 20 sensors that are tied into the wearer's nervous system. At the heart of the technology is a custom version of an interface known as a cuff electrode. Three nerve bundles in the arm—radial, median, and ulnar—are held in the seven-millimeter cuffs, which gently flatten them, putting the normally round bundles in a more rectangular configuration to maximize surface area. Then a total of 20 electrodes on the three cuffs deliver electrical signals to nerve fibers called axons from outside a protective sheath of living cells that surround those nerve fibers. This approach differs from other experimental technologies, which penetrate the sheath in order to directly touch the axons. These sheath-penetrating interfaces are thought to offer higher resolution, at least initially, but with a potentially higher risk of signal degradation or nerve damage over the long term. And so they have not been tested for longer than a few weeks. While there have been other prosthetic hands that provide feedback to the user through neural interfaces, the large number of touch-sensitive points appears to be a first. Researchers have been testing the new hand with a local former factory worker, Igor Spetic, who had his hand amputated after it was crushed in a drop forge.
Conclusion
Touch sensing or HMI is today one of the most popular sensing technology in consumer electronics items, and paving new areas like, medical & security. The most prominent reason of the popularity is the ease of use & its depletion free nature of operation. In near future we may see more areas being influenced by Touch sensing technology or HMI.