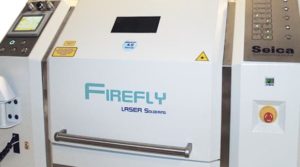 Carate Brianza, Italy, November 2019. Seica Automation, a Seica Group company, will be showcasing their latest board handling and process automation solutions at Productronica 2019 in Hall A3, booth 337.
The solutions on display will include an automated selective soldering and optical inspection line featuring Seica's laser-based selective soldering system Firefly Next> and optical inspection system Dragonfly Next>.
The Firefly Next> is a new generation, technologically advanced solution, with its perfect integration, on a single axis, of a high-efficiency LASER source, fully-programmable donut spot, vision system and temperature sensor,  redefines the levels of performance of selective soldering technology in terms of flexibility, throughput, reliability, applicability and process traceability.
The DRAGONFLY Next >  provides optical inspection of THT components: the combination of multi-colored LED lighting and color scan camera enables detailed inspection of the solder joint meniscus and shorts detection, while the full scan acquisition of the PCB surface and not only of the components allows the detection of solder balls. The DRAGONFLY Next > series also includes the configuration for conformal coating inspection of finished products, as well as for process control and setup.  Configurable for single and double sided inspection of the board, its intuitive and streamlined management software environment enables the user to develop and deploy an application program in a few hours.
The automated line on display exemplifies the solutions on offer from Seica Automation: the FLO line includes economical, standard, off-the-shelf solutions, while the FLEX line of board handlers can be highly customized to meet customer-specific requirements. Visitors will also be able to view the latest label applicator, which is one of Seica Automation's full spectrum of automated process solutions including handlers, routers, laser marking, press fit, and Robotic process automation (RPA).
Among the process solutions on display is the new Label Applicator and the SERVO PRESS. The Label Applicator is dedicated to all board manufacturers  that need to apply labels directly on Multipanel PCBs with position angle 0°- 360°. The Labeller can be used offline or deployed in a HIGH SPEED SMD Line (less than 2 Sec per label). The new X-Y gantry placing head ensure high accuracy placement, and allow insertion of 2 printers of different brands. The software is extremely flexible, permitting joint "Father-Child" or direct reading of data from the customer data base, and an optional camera can be included to assure quality in placing and quality with Grading Control.
The SERVO PRESS is an optimized solution for those processes that aim to produce precise assemblies by joining together low-cost individual components with different tolerances. Electrically driven spindle presses, servo presses, are ideal for such tasks, and SCHMIDT® Servo Press systems, distributed by Seica Automation, offer an integrated solution and meet the most complex requirements, as stand- alone machines or in automatic production lines.