An innovative solution for productive panel builders and a safer solution for responsible Users 
Panel builders can deliver medium-voltage switchgear for electrical power distribution faster than ever before,
Schneider Electric provides swift delivery, quick and easy online ordering, and personalised technical support for panel builders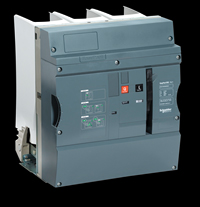 New Delhi, 4 June 2019 – Schneider Electric, the global specialist in energy management and automation, has launched the brand new EasyPact EXE MV vacuum circuit breaker. With EasyPact EXE, panel builders get the main MV circuit breaker and modular kits with all the components needed to customize fixed- and withdrawable-type switchgear solutions.
This innovative new approach means panel builders can save both money on engineering costs, and time on delivery as the circuit breaker and the kits can be stocked as standard items. This has a direct impact on flexibility and profitability and lets panel builders provide a better service to their customers.
Mastering panel builder challenges
Designed with panel builders in mind, EasyPact EXE helps them tackle availability issues, long delivery times, and growing cost pressures.
The product takes just five days* to arrive after ordering online from Schneider Electric's Ecoreal MV platform. With on-the-shelf availability and a range of options to choose from, panel builders can order EasyPact EXE as easily as they would purchase a plane ticket. It means they can react to Customers' short request times and easily make last-minute amendments.
For some select panel builders, EasyPact EXE comes with personalised technical support to facilitate efficient and correct integration of the vacuum circuit breaker in the panel builder's switchboard, and access to online documents, customer care centers, and service offers.
Enhancing switchgear safety
Built on Schneider Electric's long experience in the industry, EasyPact EXE circuit breakers are robust and reliable. They have been designed for greater safety for both the operator and the end user applications, and are also compliant with the latest IEC 62271-100 standard.
Innovation At Every Level
Serving as another example of Schneider Electric's continued Innovation At Every Level, EasyPact EXE enables panel builders to design and build MV switchgear faster and with lower costs, enjoying more productivity than ever before.
Speaking on the launch, Ponniah Sankarakumar, Director, Power System, Schneider Electric-India said, "Schneider Electric is committed to investing and creating innovative, future-ready products that can meet the needs of industry 4.0. The EasyPact EXE is one such product which offers more customization options than other products in its class. This in turn ensures that panel builders can enjoy more flexibility while delivering switch gear faster to their customers. At Schneider Electric, we strive to bring such innovation and technology to facilitate a sustainable and efficient industrial India."
For more information about Schneider's EasyPact EXE, please visit the Product page.
*Delivery time may vary depending on the location. Panel builders can also go to the nearest designated Distributor to buy EasyPact EXE, thereby further optimising the delivery time.